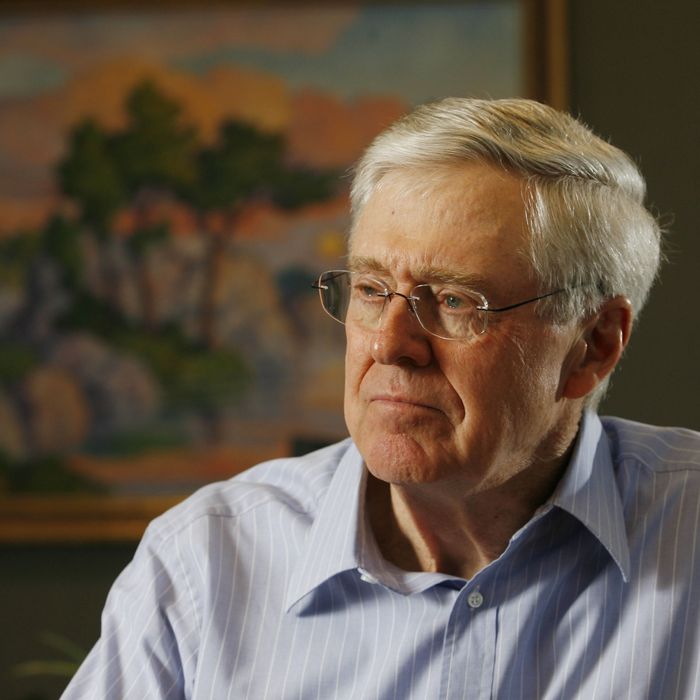 Charles Koch, master of hyperbole.
Photo: Wichita Eagle/2011 MCT
Charles Koch would like to clear something up: Despite media speculation, he will by no means support Democratic nominee Hillary Clinton in the upcoming election. Indeed, although he previously admitted it's "possible" Clinton is the best choice for president in November, he called the notion he would support her "blood libel."
"[The] first thing I want to do is correct a rumor that the media keeps stimulating, and that is that I'm probably going to support Hillary," he said at a gathering of donors to the Kochs' Freedom Partners network in Colorado on Saturday. "That is a blood libel. At this point, I can't support either candidate, but I am certainly not going to support Hillary."
He and his brother David, both longtime conservative megadonors, skipped the GOP convention, but at the meeting Charles Koch laid out their organization's plans for political activism in support of the right, including pushing for state-level reforms and investing in education and community organizations.
"My viewpoint is that we're facing a tragedy in this country," he said. "To address the current political crisis, our first objective is to stop the worst federal policies, regardless of who is the next president."
He went on, "In this, our first priority is to preserve the country's financial future and to eliminate corporate welfare. Since it appears that neither presidential candidate is likely to support us in this effort, we're focused on maximizing the number of principled leaders in the House and Senate who will." In other words, when it comes to the general election, Koch would very much like to be excluded from the narrative.