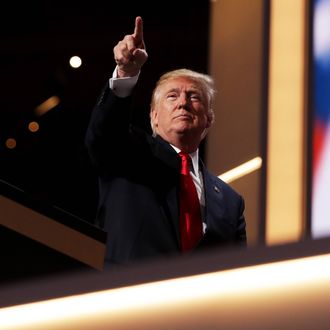 Believe me.
Photo: Chip Somodevilla/Getty Images
As Jerry Falwell Jr. spoke on the Republican convention's final night, longtime observers of the Christian Right movement, of which his father was a founder, had to shake their heads in wonder. Gone was the usual claim that the Republican candidate was a Man of God motivated by profound faith and humbled by a sense of religious duty. Gone was any long recitation of Christian Right issue positions or accomplishments. Gone, perhaps most significantly, was any reminder of the covenant between conservative Christians and the Republican Party in which the former took the spiritual risk of political engagement in exchange for the latter's promise to turn back the cultural clock. 
Instead, Falwell emphasized Trump's pledge to change the half-century-old IRS rule in which nonprofit groups (including churches and other religious institutions) were told they had to choose between tax-exempt status and the ability to endorse political candidates and engage in direct electioneering activities — a pledge the tycoon made in a recent meeting with conservative Evangelical leaders designed to win them over. Like many of these leaders, Falwell, who endorsed this Philistine at the very beginning of the 2016 cycle, has in a crude, transactional manner sold out, like a ward heeler with a constituency that needs favors from the Boss.
Yes, Trump has also gone to some lengths to promise judicial appointments sure to support reversals of the constitutional right to abortion and same-sex marriage. And, even more important, he's made the Christian Right's enemies his own — the "elitists" and "cultural relativists" of the secular left and mainstream media, the Muslims that deny Jesus as the exclusive Way, and the disparagers of Israel's biblical role in the Last Days. Going along with this politician's ambitions is a small matter of overlooking his crudity and egoism; his instrumental treatment of other people (especially women); his deep involvement in the Babylon of mass popular culture; and his "populist" manipulation of very un-Christian racial and ethnic resentments.
It's hard to know what goes through the minds of people who consider themselves followers of a messiah who preached love for one's enemies as they cheer Trump's declarations that he wants to torture and kill terrorism suspects and their families, and deport millions of Christians and their children into destitution and violence, and reverse years of conservative Christian investment in criminal-justice reform, and intimidate other countries into letting America always be first. Like Falwell, they do mostly refrain from claiming that Trump — who has not been able to bring himself to admit the need for divine forgiveness — is himself a man of faith, though the Christian Right warhorse tried to suggest he was a "Baby Christian" who had only recently found God. But for the most part, they implicitly treat him as the Scourge of God (as Attila the Hun was once described), a pagan sent to smite the wicked.
Some conservative Christian leaders may simply emulate other conservative ideologues who, as a purely practical manner, have decided to go along with the Trump candidacy in hopes of inheriting the GOP after he loses, or cashing in chits if he wins. Or perhaps they are just following their flocks, unlike some (notably Southern Baptist spokesperson Russell Moore and longtime Christian Right and homeschooling advocate Michael Farris) who have made a prophetic stand against Trump. As longtime observer of Christian conservatives Sarah Posner noted:
 A July 13 Pew Research Center survey found that 78 percent of white evangelicals intend to vote for Trump — meaning Trump will likely match the level of support among white evangelicals enjoyed by George W. Bush in 2004, when white evangelicals made up 23 percent of the electorate, and were an essential 36 percent of all Bush voters.
This is obviously not the first time in Western history that religious people have followed irreligious politicians who promise to fight against the forces of cultural change that threaten all entrenched sources of privilege. But it must be painful to some to observe that, despite the trappings of religious invocations and the country musicians touting their Bible-believin' (along with their trucks and their guns) as tokens of defiance toward liberals, this has been a profane convention celebrating profane values. Farris recently said the acceptance of Trump represented the "end of the Christian Right." That may overstate the case, but the days when the GOP could comport itself as the Christian conservative party are gone for the immediate future. Conservative Catholic columnist Ross Douthat read the draft of Trump's speech tonight and tweeted: "The speech is basically Buchananism without the religion." That means culture war with no restraint, and perhaps no survivors. And that's scary.