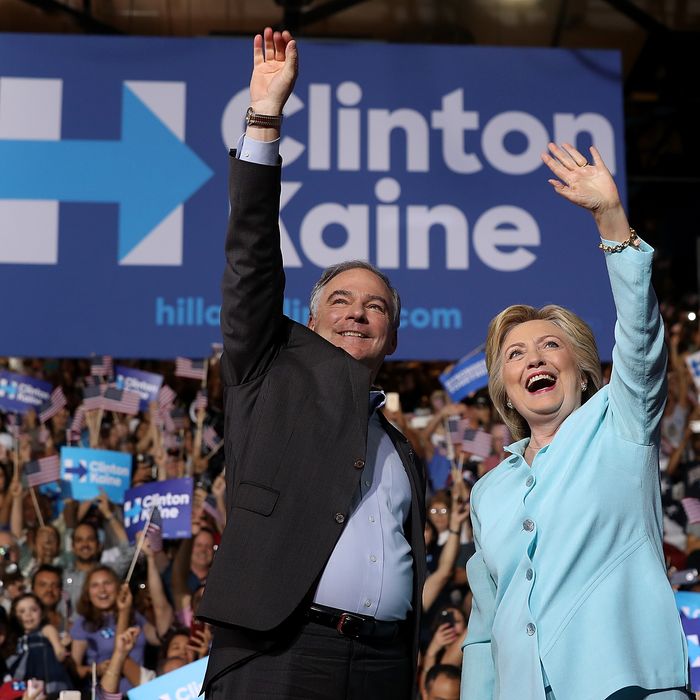 Hello, world!
Photo: Justin Sullivan/2016 Getty Images
The Hillary Clinton–Tim Kaine ticket — and some new signage — made their debut Saturday afternoon, at Florida International University in Miami. Clinton dropped her choice for vice-president Friday night, through a text message to supporters and a tweet. Virginia senator Tim Kaine also tweeted Friday that he was "honored" to be Clinton's running mate, and he couldn't "wait to hit the trail."
First stop: Miami for the official introduction. Clinton and Kaine entered the rally to cheering crowds waving American flags, and some oldies.
Clinton kicked the festivities off with an attack on Donald Trump's doomsday Republican National Convention speech, echoing some of her rebukes from a rally Friday in Tampa. "'I alone can fix it.' He's not only wrong, he's dangerously wrong," Clinton said. "We Americans, we solve problems together. And if Donald doesn't understand, he doesn't understand America.
"I know no one does anything alone. Part of our challenge is to make sure we work together," she said, arguing that diversity and standing together made America great. She used that as a pivot to introduce Kaine: "My running mate doesn't just share those values, he lives them."
Clinton described Kaine as a man "qualified to step into this job and lead on day one," and as a "progressive who likes to get things done." She drew parallels between their shared backgrounds: Midwesterners, and church, and family businesses. Clinton extolled Kaine's résumé as a civil-rights lawyer and his accomplishments as Virginia's governor, drawing comparisons with the record of the other governor on a presidential ticket, Mike Pence of Indiana. Kaine "is everything Trump and Pence are not," she said at one point.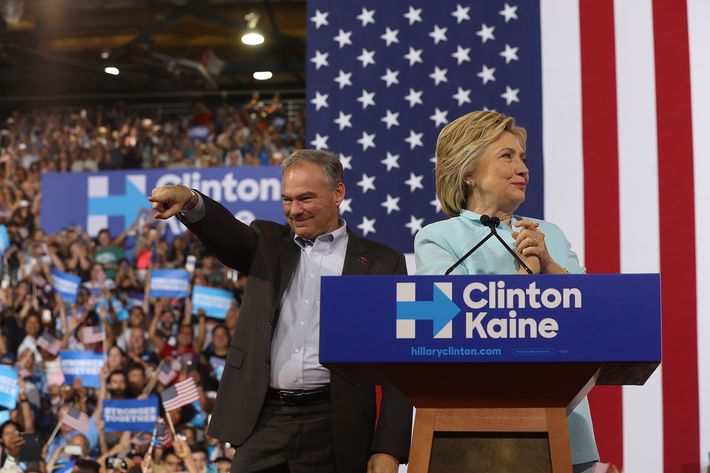 Through it all, Kaine beamed behind Clinton, waving at the crowd. "Behind that smile, Tim also has a backbone of steel," said Clinton. "Just ask the NRA." She discussed his efforts on gun control to loud cheers, before doubling down on a forceful and pointed critique of Trump and his promises: "When someone says 'I alone can fix it,' that should set off alarm bells in not just Democrats' minds, but Republicans', independents, people of all ages and backgrounds. That is not a democracy." She continued:
"We fought a revolution because we didn't want one man making all the decisions for us. It's just nonsense — no one does anything alone. We don't have a one-person military, we don't have a one-person teaching corps, we don't have one doctor, or one nurse who fixes everything, do we? We work together. That is what has traditionally set us apart from places that have turned to single leaders, despots, dictators, and authoritarians who have promised people, 'I can fix it alone.' You know what that says about us? It says that we are somehow helpless, that we can't do this work that needs to be done in America ourselves."
"I reject that," she said, promising "you're going to see a very different kind of vision in Philadelphia next week." The audience burst into a chant of "USA! USA! USA!"
Clinton ceded the floor to Kaine, who wasted no time showcasing his Spanish fluency. "Somos americanos todos" — we are all Americans — he declared. About the new Democratic ticket, he said, "We're going to be compañeros del alma in this great lucha" — Spanglish for: "We're going to be soulmates in this great fight."
Kaine also went straight after Trump, denouncing his stance on NATO — while calling attention to his own son, a Marine, who was about to deploy to Europe — and Trump's disparaging comments about the military. "When Donald Trump says he has your back, you better watch out," Kaine said. From Atlantic City to Trump University, Kaine said, Trump has left "broken promises and wrecked lives wherever he goes."
Kaine admitted that plenty of people had no idea who he was, but the biography he outlined for the audience and the news cameras nailed many of the reasons a "vanilla" guy was an appealing veep choice. He spoke sincerely about his deep Catholic faith and his commitment to service, peppering his address with Spanish throughout.
Kaine talked about his education record as Virginia governor, and was genuinely moved when he recalled the Virginia Tech massacre, which happened during his gubernatorial tenure. "We will not rest!" he repeated, and forcefully, when discussing his and Clinton's plans for gun-control legislation.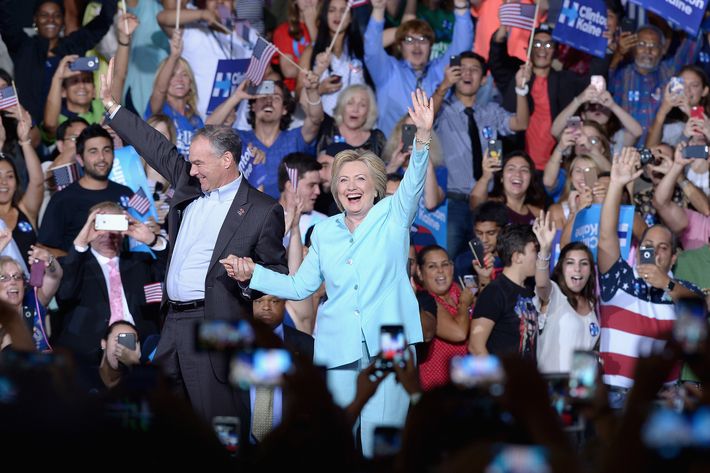 He also made a concrete policy promise: The Clinton-Kaine White House would introduce comprehensive immigration reform in the first 100 days of the administration, adding in Spanish that the House had failed to vote on such a bill three years ago. He segued into a subtle and piercing rebuke of the GOP's anti-immigration sentiment, which had dominated the RNC. "What a great country," Kaine said. "God has created a rich and beautiful tapestry. It is a rainbow of cultural diversity that embraces all people regardless of their race or economic status, regardless of their sexual orientation, or where they're from. We've got this beautiful country that should be a country of welcome, a country of inclusion. That's a fundamental value that Hillary Clinton shares."
Kaine, overall, did what he had to do: prove to skeptical Democrats and any undecided voter watching CNN on a Saturday why Clinton chose him as her running mate. He positioned himself as someone ready to go after Trump, and as partner who'll defend and bolster Clinton against GOP attacks. He likely silenced some doubters.
What's more, Clinton and Kaine appeared to actually like each other, or at the very least were really, really happy about sharing the stage together — a stark departure from the stilted Trump-Pence announcement. The good vibes did not go unnoticed:
Both Clinton and Kaine's speeches dramatically contrasted with the portrait of a crumbling, depleted America Trump painted in his RNC address. (Though if Kaine's speech had one thing in common with Trump's, it was the length.) In Kaine's first meeting with the American public, he came off as optimistic and actually thrilled to be a part of a Clinton ticket.
Kaine wrapped up with a few Trump digs that we'll likely hear more than a few times through November. He recycled his phrase, "Do you want a 'you're fired' president, or a 'you're hired' president?" — which he had used at a Clinton rally/veep audition last week in Annandale, Virginia.
Another one-liner: Do you want "a trash-talking president, or a bridge-building president?" Although Kaine added, with a little trash talk of his own, "He doesn't trash talk everybody — he likes Vladimir Putin."
He finished off with the choice between a "me-first" president or a "kids-and-family-first" president.
Though the "trash-talking" GOP presidential candidate has not yet come up with a public nickname for Kaine, he did what he always does on Twitter when he heard of Clinton's veep announcement:
But he still managed to insult an entire group of people at the same time:
Kaine, however, ended his speech pretty confidently. "I've never lost an election," Kaine said. "I'm eight-zero, and I'm not about to let that change."