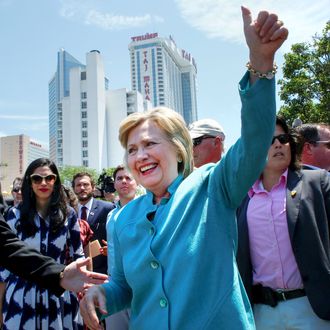 Make Atlantic City Great Again.
Photo: Kena Betancur/AFP/Getty Images
Donald Trump's central qualification for the presidency is his success as a businessman (which is to say, his failure to fully squander the money his father left him). On Wednesday in Atlantic City, Hillary Clinton argued that this résumé is less impressive than it might seem.
"He calls himself the king of debt and he earned that title right here in Atlantic City," the presumptive Democratic nominee declared, standing in front of the barren building that once housed the Trump Plaza Casino. "His bad decisions hurt the whole city." Clinton name-checked a series of recent revelations about the mogul's least-flattering business practices, including his affinity for stiffing contractors and profiting from bankruptcies by shifting his personal debts onto his company's shareholders.
"He doesn't default and go bankrupt as a last resort, he does it over and over again on purpose — even though he knows he will leave others empty-handed while he keeps the plane, the helicopter, the penthouse," Clinton said. "What he did here in Atlantic City is exactly what he will do if he wins in November."
Trump swatted away these attacks, by bragging about how well the Great Recession worked out for him.