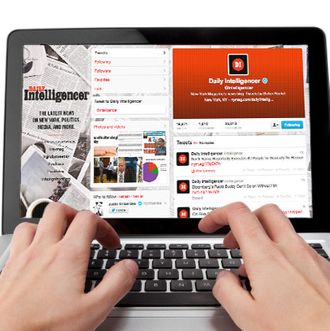 Welcome back to the New York Magazine Competition. On alternate Mondays (this week, Tuesday), we lay out a challenge and offer sample responses. Enter in the comments section or on Twitter with the hashtag we've provided, and the editors will select a winner. Criteria are highly subjective, but heavily retweeted and favorited posts will have an advantage. The prize is a year's subscription to New York in print or a two-year subscription to the iPad edition (winner's choice). Full rules are here.
COMPETITION NO. 74: "BOOKS WE SAFELY SKIPPED." Please offer the title and author of a book whose contents you can probably absorb without reading. For example:
How I Worked My Way Up, by Arthur Sulzberger Jr.

Buddy & Me, by Michael Vick

Listening to Your Critics, by Michael Bay

The Audacity of Hope, by Melania Trump
Enter on Twitter with the hashtag #booksweskipped, or in the comments thread below, by August 4.
RESULTS OF COMPETITION NO. 73, "OVERSOLD HEADLINES," in which you were asked to create a news headline that dramatically misled the reader.

HONORABLE MENTION TO:
INTERNAL REVIEW LEADS TO END OF FOX NEWS. Today the Central Park Zoo discontinued its popular baby fox-cam in the wake of complaints that viewers were dying of too much cute…
—HudsonRiver
PENCE SAYS NO: Hunter Pence turns down a multi million dollar offer to return to the Houston Astros…
— YettaTelebenda
CUBS TAKE PENNANT! Two newborn bears playfully removed a banner left hanging over their cage at the San Diego Zoo yesterday…
—Lexxman
RUTH BADER GINSBURG RESIGNS: Supreme Court Justice replaced a smudged autograph for a grateful Columbia undergrad during visit to her alma mater…
—3North
WHITEY TAPE SURFACES: Swagelok, a global supplier of pipe and tube fittings, has begun selling teflon pipe tape under the legacy brand it acquired in 1958…
—CaptServo
GEORGE BUSH DEAD: British Pop Icon Boy George forgets to water his azaleas while on vacation…
—complicatedjew
CARLSON CLAIMS FOX NEWS IS HOSTILE WORKPLACE: In an interview today, Tucker Carlson claims that his co-workers, most of whom apparently think he is a jerk, routinely leave him off group invitations for after work drinks and hide his bow-ties…
—DonMattingly
CLINTON DROPS OUT OF 2016 RACE: Citing his advanced age, funk legend George Clinton was unable to compete in 5k foot race for a local charity
—CaptServo
NEW YORK MAGAZINE COMPETITION NOT WHAT IT USED TO BE: The Museum of Arts and Design's new show features cover art from defunct periodicals as diverse as Life, Gourmet, Details and Spy, celebrating an era when print ruled and Manhattan..
—3North
AND THE WINNER IS:
RYAN GOSLING KILLED BY WOLVES: Children ran screaming from a petting zoo in Ryan, Oklahoma, after a baby goose wandered into a nearby wolf enclosure and was noisily consumed by the inhabitants…
—KathleenS