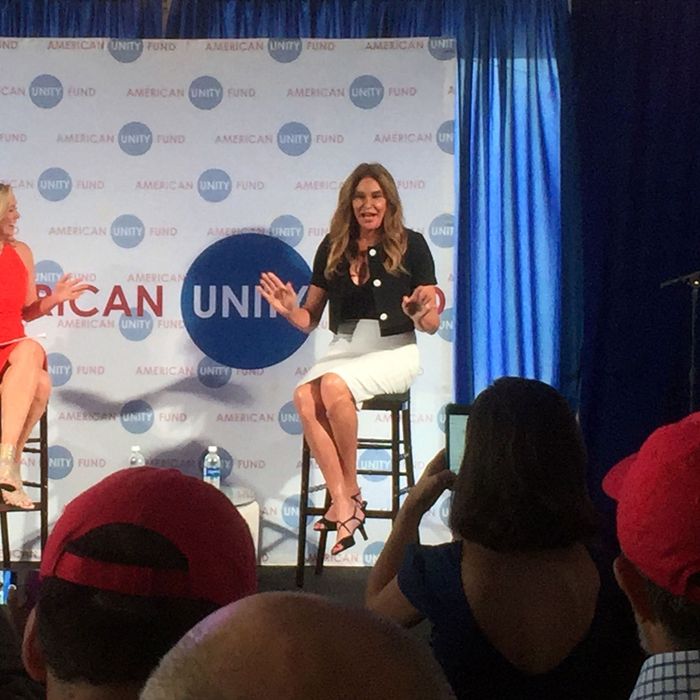 Caitlyn Jenner on the sidelines of the Republican National Convention.
Photo: Josh Lederman/AP
"It was easy to come out as trans," Caitlyn Jenner, doyenne of America's first family, told a crowd assembled at the Rock and Roll Hall of Fame in Cleveland on Wednesday morning. "It was harder for me to come out as a Republican."
She wanted to reform the party, she said, perched on a stool and wearing a Jackie O. blazer, a pencil skirt, and a pair of strappy heels. She praised Barack Obama for lifting the ban on transgender soldiers in the military, criticized the Republican platform for being "downright hostile" to LGBT concerns, and called bathroom use by transgender people a "nonissue."
"Maybe we should ban Republican representatives at the state level from being in bathrooms," Jenner said at the event, hosted by the American Unity Fund, a conservative nonprofit that advocates for LGBT rights.
It was an unusual statement made at an unusual event, one designed to push against the bigotry the Republican Party has quintupled down on this campaign cycle. And unusual not just for that. The Big Tent Brunch was a celebrity-studded corporate-financed fête at a convention that has noticeably lacked them. Jenner is A-list, perhaps the only true celebrity at the Republican confab aside from Trump himself. (Sorry, Gary Busey.) And the breakfast was sponsored by AT&T, Facebook, Microsoft, Pfizer, and Quicken Loans, among others.
Appalled by Trump, many other corporations are staying far, far, far away.
Sure, there was a party at the Rock and Roll site on Monday night funded by Microsoft, Blue Cross Blue Shield, AT&T, and Pepsi. There's a Lee Brice and Pat Green concert billed as a "Salute to the Tech Industry" tonight. There are other things going on.
But Republican officials, delegates, lobbyists, and journalists — including yours truly — have received far fewer invitations than they have in past years, as companies have shied away from throwing parties, sponsoring the convention itself, or putting their logos on anything here in Cleveland.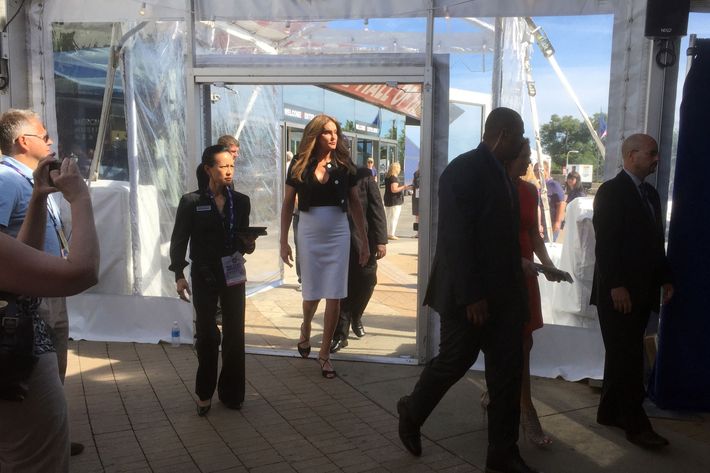 Corporations have refused to cough up cash for the main event, too. Major 2012 donors JPMorgan Chase, Ford, Motorola, Wells Fargo, and UPS declined to give any money to the Republicans for the convention this year. Apple and HP Inc. also declined to provide funding, or to help out in any other way. And some other companies have pulled back their support. Coca-Cola, for instance, donated $75,000 for the convention, one dollar for every nine it gave in 2012. Microsoft donated $1.5 million in cash and services for the last go-around, and is providing "a variety of Microsoft technology products and services instead of making a cash donation" this year.
A letter leaked to Politico shows that a number of other blue-chip companies — FedEx, Visa — have reneged on their contributions, leaving the convention committee to beg Sheldon Adelson for $6 million to cover the event's budget shortfall. "Over the past couple months, negative publicity around our potential nominee resulted in a considerable number of pledges backing out from their commitments," a letter to Adelson from RNC organizers says.
Negative publicity, or true revulsion at his wide variety of abhorrent beliefs. Many corporate executives find Trump's politics horrific, even going so far as to express that thought in public. "Your campaign doesn't just seem wrong. It feels un-American," wrote Josh Tetrick of Hampton Creek in a full-page advertisement that appeared in the New York Times and the Cleveland Plain Dealer. "Trump would destroy much of what is great about America," said Reed Hastings of Netflix. A truly gigantic slate of corporate executives has let the Clinton campaign use their names.
Moreover, supporting the RNC has proven to be a public-relations headache for the companies that have gone ahead with sponsorship. A number of activists put together a campaign to pressure businesses from sponsoring the convention — especially targeting Google by delivering 500,000 signatures to its headquarters and flying a plane over the Bay Area pulling a banner that read "Google: Don't be evil. #DumpTrump." Companies that support the RNC "are using their brands to put a stamp of approval on Trump's hate," one of the pressure groups said.
As a result, the whole shebang has been thinner, tinnier, less lavish, more sparsely attended, and less fun than at past conventions, both Republican and Democratic. Take that Monday night party at the Rock and Roll Hall of Fame. It appeared to be something of a flop: Big swathes were empty, and senators John Cornyn and Roger Wicker, who were scheduled to speak, "showed up and skipped out a short time later without doing any stage time." Or take a Tuesday night concert sponsored by the Recording Industry Association of America and AT&T. Third Eye Blind played … little-known songs from their catalogue while trolling the audience with exhortations like "Raise your hand if you believe in science!"
Taken as a whole, companies seem to be telling the RNC that there are indeed consequences for offending and alienating huge portions of the population — Mexicans, immigrants, Muslims, women, and people with disabilities among them.
Jenner, for her part, included that in her critique of the party she loves. "I would tell Donald that these people have been marginalized for so many years," Jenner said, referring to transgender individuals. "They're a small voting community, but they're out there."