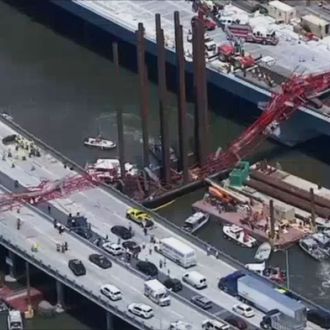 A crane toppled over onto the Tappan Zee Bridge shortly after noon on Tuesday, injuring four people, but none seriously. The neck of the red crane and huge chunks of debris stretched across all lanes of traffic on the bridge, completely cutting off cars and forcing officials to close the bridge indefinitely, reports WCBS 2.
Governor Andrew Cuomo said it's unclear why the crane collapsed. This particular crane — a "vibratory hammer" boom — apparently suffered a malfunction while driving pilings for the replacement Tappan Zee Bridge, a brand-new span that's currently being built alongside the old bridge in the Hudson River, with plans to open in 2018. Cuomo added that it was "a new crane performing a routine task," and officials are investigating whether it was a machinery problem or operator error that caused the malfunction.
The crane crumpled from a construction platform and fell across a barge before smacking into the Tappan Zee. One construction worker was among those who suffered minor injuries. (Earlier reports had said two workers were hurt.) No cars were hit by the falling crane, though two cars got into a minor fender bender. "We were very, very fortunate that the situation wasn't worse," Cuomo said.
Traffic snarled on both sides of the bridge for most of the afternoon; police had to remove the barricades and were helping people U-turn to get them safely off the Tappan Zee. Police reportedly cleared most of the vehicles from the bridge shortly before 4 p.m.
State police were also posted at both entrances to the bridge in Rockland and Westchester counties, directing drivers away from the span. Traffic was diverted throughout the afternoon. "The traffic backup is probably the biggest problem we're dealing with," Cuomo said, "and thank God for that."
Crews have begun to cut up and remove the wreckage, though inspectors will need to make sure the Tappan Zee — which carries 138,000 vehicles every day and reaches across the Hudson River in one of its widest parts — is structurally sound. "Until that inspection is done we are not comfortable, I am not comfortable, with opening the bridge," Cuomo said.
Rockland County executive Ed Day said the bridge did sustain a "punch-through" hole on the outermost southern lane and damage to the outer guard rail.
Following the inspection, officials reopened the northbound lanes of the Tappan Zee shortly after 5 p.m. Access to southbound lanes will gradually be restored, starting at 7 p.m. The third and outermost lane will remain shut down because of "significant damage and some structural damage."
This post has been updated throughout.