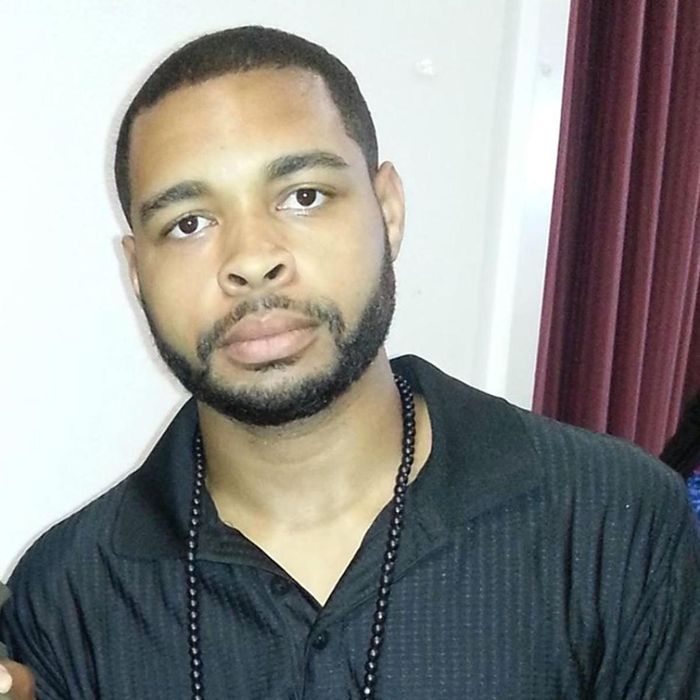 Disturbing details are emerging about the lone gunman who perpetrated a deadly ambush on Dallas police officers last week. In a CNN interview on Sunday, Dallas police chief David Brown said that 25-year-old Micah Xavier Johnson sung to, taunted, and laughed at police negotiators during a two-hour standoff, and cryptically wrote the letters "RB" and other markings in his own blood on a wall of the parking garage where he holed up after the ambush, likely after being wounded from the battle with police. In addition, based on the "arsenal" police found at Johnson's home, Brown believes that "this suspect had been practicing explosive detonations and that the materials were such that it was large enough to have devastating effects throughout our city and our North Texas area." He said that the recent police shootings of black men in Minnesota and Louisiana seemed to have "just sparked his delusion" to "fast-track" plans for what may have been a larger attack once "he saw the protest in Dallas as an opportunity to begin wreaking havoc on our officers."
Investigators don't yet understand what the messages scrawled in blood mean. In addition, after searching the shooter's home in nearby Mesquite, Texas, police found that Johnson kept an extensive journal containing "quite a bit of rambling" that is "hard to decipher," according to Brown. Johnson, an Army Reserve veteran who served in Afghanistan until being sent home following an accusation that he sexually harassed a female soldier, also wrote about combat and sniper tactics in the journal, according to the New York Times. In particular, Johnson studied and practiced what are called "shoot-and-move" tactics, a battle technique used by military special forces. Judge Clay Jenkins, Dallas County's chief executive and director of homeland security and emergency management, told the Times that the tactics deal with "ways to fire on a target and then move quickly and get into position at another location to inflict more damage on targets without them being able to ascertain where the shots are coming from."
As ABC News reports, the shooter also trained at the Academy of Combative Warrior Arts, a private self-defense school in the Dallas area which teaches tactics like "shooting on the move," and Johnson practiced military-style drills in his backyard, according to a neighbor. Police also found bomb-making materials, ballistic vests, rifles, and ammunition in Johnson's home, and friends say he had long been interested in heavy-duty weaponry and the military, as far back as high school, according to the Dallas Morning News.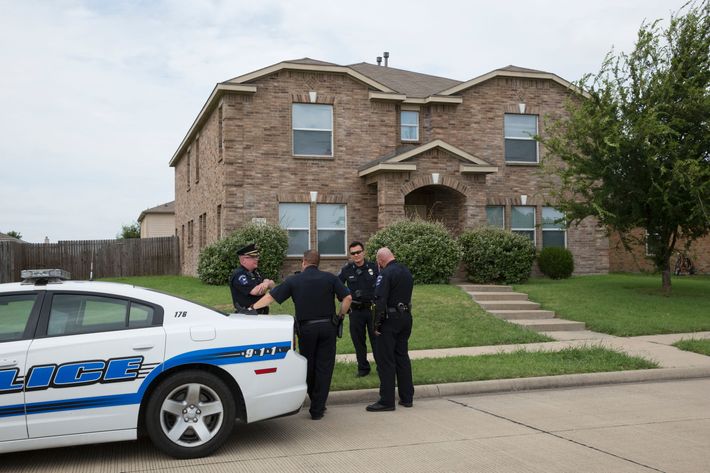 Johnson clearly put his tactical knowledge to use during Thursday night's attack, confusing the officers he was firing upon, who at first believed they were facing multiple gunmen. Jenkins says that Johnson seemed well-prepared for the ambush, during which he used a high-powered, semiautomatic SKS rifle and high-capacity handgun. He seemed to be "an excellent marksman [who] was calmly shooting, as opposed to someone who's just holding a gun up and aiming it and pulling the trigger in the direction of where they think people are."
Using his military training, Johnson was able to kill five police officers in the attack and wound another seven, as well as two civilians. Johnson was ultimately killed inside the parking garage when police detonated a C-4 explosive near him using a remote-controlled robot. Police Chief Brown explained on Sunday that they used the remote explosive because they believed the shooter was "determined to hurt more officers" and would have if they hadn't found a way to end the standoff. It was the deadliest single attack on U.S. law enforcement personnel since 9/11.
As previously reported, Johnson told police negotiators following the attack that he was angry over the Black Lives Matter movement and the recent shooting deaths of black men at the hands of police, and was upset at and wanted to specifically kill white people, especially white police officers. Johnson also said he was acting alone, and wasn't a part of any group.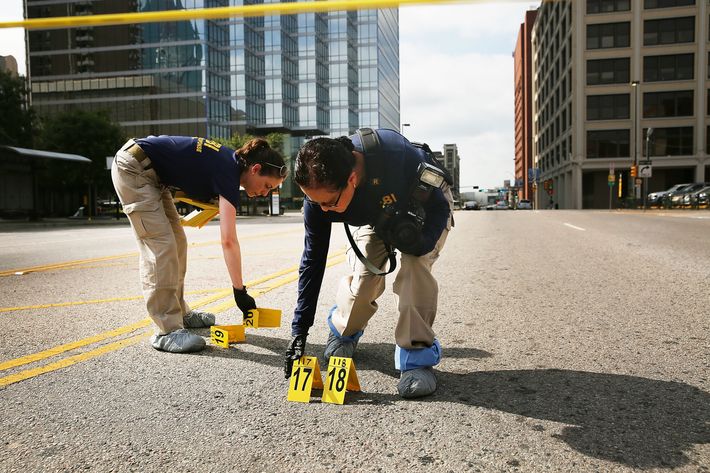 Police Chief Brown told CNN that investigators were still going through Johnson's laptop and cell phone to determine if anyone else was complicit in the attack, though U.S. Department of Homeland Security secretary Jeh Johnson told Fox News Sunday that all evidence thus far has pointed to a single perpetrator. He confirmed that investigators had found no links between Johnson and any international terrorist groups.
So far, the only reported previous interaction between Johnson and police was one month after he had been discharged from the military, when he was reported as a "suspicious person" while sitting with three other men in an SUV near a strip mall in Dallas. Police officers responded and Johnson told them he had just gotten out of a martial-arts class "and was waiting for his dad to arrive" and pick up his brother, according to the police report. The interaction lasted about ten minutes.
Johnson had also recently taken an interest in black nationalism, expressing support for the ideology on social media and attending some social meetings of the Dallas-area People's New Black Panther Party, which, as the Washington Post points out, is considered a "virulently racist and anti-Semitic organization" by the Southern Poverty Law Center, an organization that monitors hate groups. An affiliated group holds semi-regular demonstrations in the Dallas areas, where members dress in military apparel and carry long guns, but so far it does not seem that Johnson ever participated in those demonstrations. Some members of the People's New Black Panther Party marched with their firearms in the protest Johnson attacked on Thursday night, but ran for cover like everyone else when the shooting started. On May 25, Johnson changed his Facebook profile photo to one in which he was wearing a dashiki and holding his fist in the air in a black-power salute. He had apparently gone to a Malcolm X film festival a few days prior.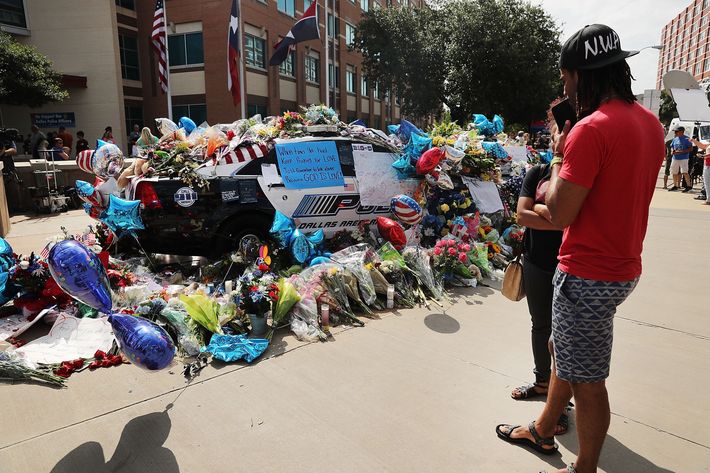 Those who knew Johnson have been expressing their shock in media reports and via their social-media accounts. So far, it doesn't seem that anyone had any sense that he was capable of, or planning, such an attack. But one family friend described Johnson as more withdrawn following his return from Afghanistan, and that he had given up religion and become more interested in guns. Others have reportedly called him a "loner." Many of those who knew Johnson have told reporters that law-enforcement officers have asked them not to speak to the media while the investigation is ongoing — so any full picture of the shooter, his mentality, and motives will likely remain unclear until more information is available.
Regarding Johnson's 2015 discharge from the Army, a lawyer who represented him said that it was related to a female soldier accusing Johnson of sexual harassment and seeking an order of protection against him. The lawyer believes that the way Johnson was treated during the ordeal showed that he was "very much disliked by his command," as typically sexual harassment accusations lead to a recommendation for counseling, which was the solution the female soldier had sought. Instead, Johnson was sent home and eventually discharged (although not dishonorably). It does not appear that Johnson saw any combat while in Afghanistan.
After being discharged, Johnson was employed at a social-service agency called Touch of Kindness, which serves adults and children with intellectual disabilities. and also may have worked at a Dallas-area office for General Dynamics, though that employment record remains unconfirmed, according to the Morning News.