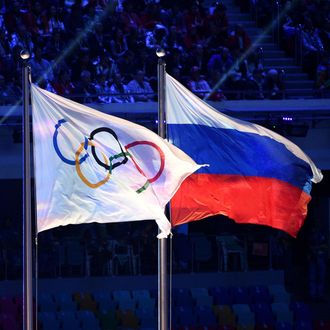 Maybe not.
Photo: Andrej Isakovic/AFP/Getty Images
A very, very incriminating report released Monday confirms what many have suspected since the head of Russia's anti-doping lab went public this year: The country's athletes engaged in widespread doping across sports, with the full backing of the government. The World Anti-Doping Agency commissioned the investigation led by Canadian lawyer Richard McLaren, who concluded that Russia's sports ministry, its anti-doping agency, and its security service ran the doping scheme "beyond a reasonable doubt." 
Ahead of the report, ten anti-doping agencies called for Russia to be barred from participating in any sport in the 2016 Rio Olympics, which start August 5. Russian track-and-field athletes have already been banned from Rio by the sports' governing body, but the International Olympic Committee will have to decide on a full-on prohibition for Russian athletes. McLaren did not make any recommendations in the report, but Thomas Bach, the president of the International Olympic Committee, vowed to "take the sanctions available." "The findings of the report show a shocking and unprecedented attack on the integrity of sports and on the Olympic Games," Bach said. According to The Guardian, IOC officials will discuss possible punishments and the fate of Russian athletes in Rio Tuesday.