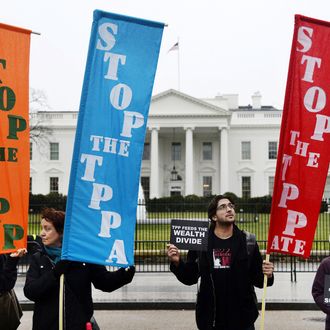 Photo: Olivier Douliery/Getty Images
It's been a rough few months for the Trans-Pacific Partnership. Even the most anxiety-prone backer of the agreement couldn't have imagined that the Republican Party's 2016 nominee would frame his fall campaign as a crusade against "free trade" — while the former secretary of State, who once championed the TPP, would be forced to defend her merely conditional disavowal of the deal.
Now, a leading contender in the Democratic "veepstakes" is decrying the "rigged, lousy" agreement in viral videos. And delegates aligned with both Democratic primary candidates are demanding that the party call for the death of the TPP in its platform.
A little over week ago, the leadership of the Democratic platform committee rejected that stance. But the full platform committee will meet this weekend in Orlando, where it will approve a draft to send to the Democratic National convention in Philadelphia for final approval.
Ahead of that meeting, Democratic delegates from New Jersey, Connecticut, and Ohio have drafted letters demanding that the platform "make clear that we oppose the TPP because of its failure to meet the high standards we believe should be enshrined in our trade agreements." Among the prominent signatories are New Jersey Congressman Frank Pallone and Dayton, Ohio, Mayor Nan Whaley, both Clinton supporters.

Bernie Sanders has promised to wage a floor fight in Philadelphia to obtain an anti-TPP platform, should the committee fail to adopt one in Orlando this weekend.