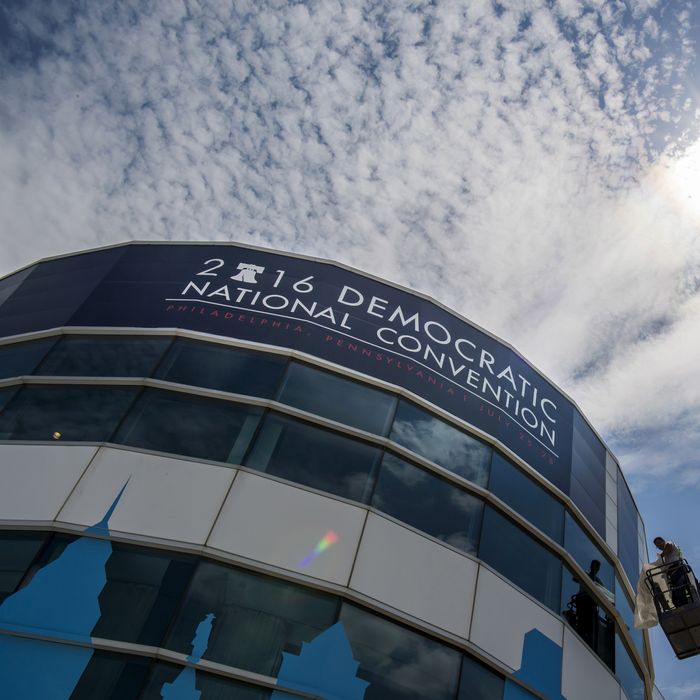 Workers attach a sign to the front of the Wells Fargo Center ahead of the Democratic National Convention.
Photo: David Paul Morris/© 2016 Bloomberg Finance LP
After last week's Republican National Convention — with its disorganization and Mad Max vision of America — it seemed like the Democratic National Convention would be a comparatively boring affair. But over the weekend, WikiLeaks (or maybe Russia) came to the rescue, releasing a trove of 20,000 stolen emails in which Democratic National Committee officials made disparaging remarks about the Bernie Sanders campaign. The leak threatened to inflame tensions between Sanders supporters and the Hillary Clinton campaign, but Democratic leaders hope that the resignation of DNC chair Debbie Wasserman Schultz on Sunday will help put the focus back on unifying the party behind the first woman ever to be the presidential nominee of a major U.S. political party. Here's what to expect in Philadelphia this week.
Where is the convention being held?
The Wells Fargo Center, home of the NHL's Philadelphia Flyers and the NBA's Philadelphia 76ers. Philadelphia beat out Brooklyn, New York; Columbus, Ohio; and Phoenix, Arizona, as the DNC host city. Here's a video of Debbie Wasserman Schultz confirming the selection in February by pulling a cheesesteak out of a fridge. A foreboding sign of the awkwardness to come, or just a gross, cold sandwich? You decide.
How can I watch it?
Every major network will broadcast the prime-time speeches, and CNN, MSNBC, and Fox News will have exhaustive coverage. If you prefer your convention feed with no filter, you can tune in to CSPAN on cable, the channel's website, or Facebook Live. Twitter will also stream the event with help from CBS, and the Democrats have released a free app that boasts "360 degree livestreams from vantage points unavailable anywhere else."
Who will be speaking each night?
While many Republican lawmakers realized they had to wash their hair during all four nights of Donald Trump's convention, the DNC has a current or former White House occupant every night of the week. (A fact Democrats made sure to note at the top of their press release on the convention schedule.) Here are the highlights:
Monday: First Lady Michelle Obama, Senator Bernie Sanders, and DREAMer Astrid Silva. The theme is "United Together," which means "putting the future of American families front and center and how we're stronger together when we build an economy that works for everyone, not just those at the

 

top."
Tuesday: Bill Clinton and the Mothers of the Movement (mothers of Eric Garner, Trayvon Martin, Michael Brown, and others whose relatives' deaths inspired the Black Lives Matter movement). The theme is "A Lifetime of Fighting for Children and

 

Families."
Wednesday: President Barack Obama and Vice-President Joe Biden. (And Clinton's running mate, Senator Tim Kaine, though he's yet to be added to the official schedule.) The theme is "Working

 

Together."
Thursday: Chelsea Clinton and Hillary Clinton. The theme is "Stronger

 

Together."
But that's not all. The party has released a long list of Democratic lawmakers who will address the convention at unspecified times, including New Jersey senator Cory Booker; New York governor Andrew Cuomo; New York City mayor Bill de Blasio;  Los Angeles mayor Eric Garcetti; Boston mayor Marty Walsh; former Congresswoman Gabby Giffords and astronaut Captain Mark Kelly; New York senator Chuck Schumer; and Massachusetts Senator Elizabeth Warren. Plus, it was revealed on Sunday that former New York City mayor Michael Bloomberg, who flirted with the idea of running for president himself, will make the case for Clinton "from the perspective of a business leader and an independent."
And the celebrities slated to speak are a bit more famous than Chachi and the avocado lady. The list includes Katy Perry, Demi Lovato, Lena Dunham, Chloë Grace Moretz, Tony Goldwyn, Debra Messing, Alicia Keys, America Ferrera, Kareem Abdul-Jabbar, Jason Collins, Eva Longoria, Star Jones.
Who's skipping the convention?
Former Vice-President Al Gore, one of the few top Democratic politicians who has yet to endorse Clinton, has "obligations in Tennessee." A spokesperson for Jimmy Carter said the former president will not be in attendance either. His office did not say whether he would record a video message to be broadcast at the convention, as he did in 2012.
What will the stage look like?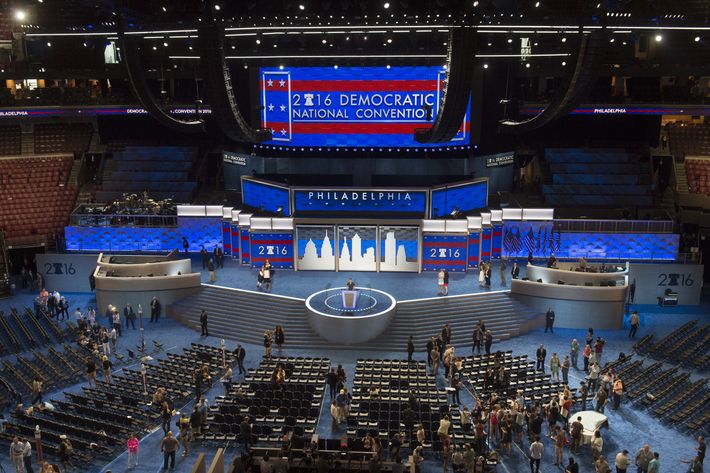 Here's a bonus video of two DNC staffers getting engaged on Sunday during final preparations:
How is Philadelphia preparing?
Police Commissioner Richard Ross said that some of his officers went to Cleveland last week to observe security procedures at the Republican National Convention, and the force has a "comprehensive plan" to combat various threats. The city expects 35,000 to 50,000 demonstrators per day at six sanctioned protest sites near the Wells Fargo Center, with many permits going to pro-Sanders groups.
While Sanders has endorsed Clinton and polls show 85 percent of his primary voters plan to back Clinton in the general election, Bernie supporters were already out in force on Sunday. A peaceful crowd of more than 1,000 people marched through the city in the afternoon, chanting "Hell, no, DNC, we won't vote for Hillary," and "lock her up" — a slogan that was prominent at last week's Republican convention.
What's Clinton's strategy?
Clinton is expected to focus on positivity and inclusiveness at her convention — especially in light of Trump's dark, scary, and overwhelmingly white RNC. She hinted at this strategy during a 60 Minutes interview on Sunday, in which she said she found last week's calls to "lock her up" sad:
I don't know what their convention was about, other than criticizing me. I seem to be the only unifying theme that they had. There was no positive agenda. It was a very dark, divisive campaign. And the people who were speaking were painting a picture of our country that I did not recognize. You know, negative, scapegoating, fear, bigotry, smears. I just was so — I was saddened by it.
In another contrast, rather than making vague allusions to people the candidate has helped over the years, and plans to make America totally awesome, the DNC will feature testimonials from actual people whose lives Clinton has influenced. Per The Wall Street Journal:
Each night will also feature Americans describing how Mrs. Clinton's work either helped them, or how her policies would make their lives better.

Speakers will include first responders from the 2001 terrorist attacks in New York, a man who grew up in foster care and then interned in Mrs. Clinton's Senate office, and a girl whose parents are in the U.S. illegally.
Still, it will be a challenge to reintroduce one of the best-known figures in American politics, and get people fired up about voting for her. "The one thing that needs to happen coming out of the Democratic convention is for the Obama coalition being very enthused about her candidacy — not just beating Trump," David Plouffe, who managed Obama's 2008 campaign, told the New York Times. "She has to give a speech that makes people as excited about her as they are about beating Donald Trump."