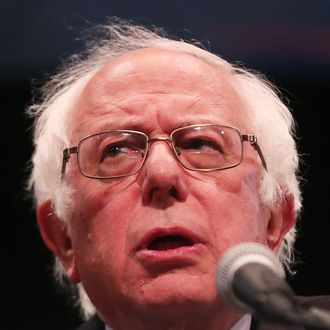 Photo: Spencer Platt/Getty Images
The Democratic National Convention certainly isn't looking any more unified than it was this morning. At this point, the Bernie Sanders delegates inside of Philadelphia's Wells Fargo Center have made it clear that they'll boo and otherwise vocalize their discontent at every mention of Hillary Clinton's name — even when Sanders himself is urging them to get behind her.
Sanders's efforts to corral his own delegates have proved unsuccessful. Shortly after he was booed for endorsing Clinton, he texted his delegation leaders with a plea "to not engage in any kind of protest on the floor."
His request was immediately ignored, with supporters shouting "Bernie!" during the convention's opening prayer:
In what can only be seen as a desperate attempt to appease the Sanders faction, the DNC leadership released a letter apologizing for all of the anti-Sanders stuff contained in the 20,000 internal e-mails that conveniently leaked over the weekend:
Will the DNC's formal "we're sorry, okay!!!" be enough to stop all of this booing? Almost certainly not, but you can't blame them for trying.