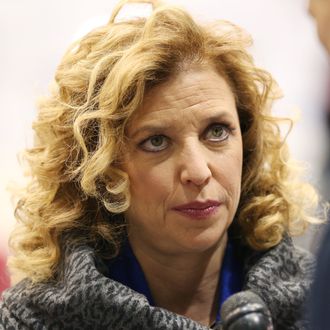 DWS is out.
Photo: Andrew Burton/2015 Getty Images
Debbie Wasserman Schultz, the embattled head of the Democratic National Committee, will resign from her position and have, at most, a limited role at the Democratic National Convention this week in Philadelphia, Politico is reporting. Her resignation comes amid pressure from top Democrats after she and other DNC officials were found to have made disparaging comments about the candidacy of Senator Bernie Sanders and his campaign earlier this year in messages contained in a massive DNC email leak. Sanders himself said on Sunday that Wasserman Schultz should step down in light of the emails, though he admitted he was "not shocked" by what they contained. Sanders and his campaign have long accused Wasserman Schultz and other DNC officials of working against them during the Democratic primaries. By Sunday, others in the party were publicly questioning Wasserman Schultz's ability to lead as well.
Wasserman Schultz said in a statement on Sunday:
I know that electing Hillary Clinton as our next president is critical for America's future. I look forward to serving as a surrogate for her campaign in Florida and across the country to ensure her victory … Going forward, the best way for me to accomplish those goals is to step down as Party Chair at the end of this convention.
Wasserman Schultz had been DNC chair since 2011. She will be replaced, on an interim basis, by longtime Democratic official Donna Brazile, at least through the end of current election.
Already on Saturday, the DNC Rules Committee had apparently stripped Wasserman Schultz of any major speaking role at the convention, and it had originally been reported that they were replacing her as convention chair with Ohio congresswoman Marcia Fudge, who would preside over the event in her place, according to a DNC source who spoke with CNN. However on Sunday, Wasserman Schultz indicated in her resignation statement that she would still open and close the convention and "address our delegates about the stakes involved in this election not only for Democrats, but for all Americans." CNN now reports that Congresswoman Fudge will handle the daily proceedings, suggesting Wasserman Schultz will perhaps only open and close the entire convention as a whole, but have no additional role. Whatever happens, it's worth noting that at this point, any official appearance of Wasserman Schultz at the convention could lead to an embarrassing spectacle if Sanders delegates elect to voice their displeasure with her from the convention floor.
Both President Obama and Secretary Clinton offered statements of gratitude to Wasserman Schultz on Sunday. Obama said that she "has had my back" for the last eight years and that "her leadership of the DNC has meant that we had someone who brought Democrats together not just for my re-election campaign, but for accomplishing the shared goals we have had for our country." Said Clinton, "I am grateful to Debbie for getting the Democratic Party to this year's historic convention in Philadelphia, and I know that this week's events will be a success thanks to her hard work and leadership."
The 20,000 leaked DNC emails were published online by WikiLeaks on Friday, and though the organization did not reveal who they obtained them from, the DNC announced last month that its computer system had been penetrated by Russian hackers, suggesting those hackers, and possibly the Russian government itself, are the source of the leak.
Regardless, the leak, just days before the beginning of the Democratic National Convention in Philadelphia, has become, at best, an embarrassing and unwelcome distraction at a time when Democratic officials were hoping to field a unified party behind nominee Hillary Clinton and her new running mate, Tim Kaine. At worst, even after Wasserman Schultz's resignation, the emails could lead to unrest among Sanders delegates at the convention itself, even though Sanders himself is now publicly supporting Clinton.
Regarding the content of the emails, which came from the accounts of seven DNC officials, several indicated that Wasserman Schultz and others, despite the organization's responsibility to remain neutral in the Democratic primary race, at least privately favored the candidacy of Clinton over Sanders, or believed Sanders would not win the nomination. Some show the officials brainstorming ways to damage or undercut the Sanders campaign, though it's not clear if any of these conversations led the DNC or its personnel to put such thoughts into action. The most controversial email so far is one in which a few officials wonder if they should work to call attention to the atheism of an unnamed person, presumed to be Sanders, as a way of making "several points difference" with Southern Baptist voters in Kentucky and West Virginia. The author of that message, DNC CFO Brad Marshall, has since apologized for his "insensitive, emotional emails."
Clinton campaign manager Robby Mook suggested it's no coincidence that the emails were leaked just days before the convention. On CNN's State of the Union on Sunday, Mook pointed to "expert" assertions that the Russian government hacked and leaked the emails in an effort to aid the candidacy of Donald Trump. (For a rundown of that logic, head here.)
As for Trump himself, he has already been trying to attract disaffected Sanders supporters to his banner, and over the weekend he tweeted regularly about the email leak in an attempt to foster discontent within the Democratic Party — though he seems to think the best way to do that is to attack Sanders:
Sanders praised Clinton's VP pick, Kaine, as "100 times better than Donald Trump will ever be" on Sunday, but he didn't hold back when renewing his complaints about the DNC in light of the leaked emails. "I told you [a] long time ago that the DNC was not running a fair operation, that they were supporting Secretary Clinton," he told ABC News. "So what I suggested to be true six months ago turned out to be true." Appearing on CNN, Sanders added that "it is an outrage and sad that you would have people in important positions in the DNC trying to undermine my campaign. It goes without saying, the function of the DNC is to represent all of the candidates — to be fair and even-minded."
This post has been updated to reflect Wasserman Schultz's resignation.