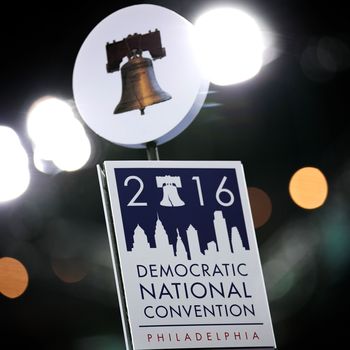 Photo: Drew Angerer/Getty Images
Things are off to a bit of a rough start at the Democratic National Convention, which, as of Monday morning, appeared to be a festival of booing and criticism directed at Hillary Clinton and soon-to-be former DNC chair Debbie Wasserman Schultz.
On Sunday, around 1,000 Bernie Sanders supporters marched through the streets of Philadelphia calling for Clinton's ouster. Many of them used the same anti-Clinton slogans yelled by attendees of last week's Republican National Convention, including "Lock her up" and "Hillary for prison":
There was also some more Sanders-style material, such as "Move Left" and "Help End Establishment Politics, Vote No on Hillary." And there should be a lot more where that came from: According to the New York Times, Philadelphia expects to host 35,000 to 50,000 protesters each day of the convention.

But it was Wasserman Schultz who really felt the Bernie people's wrath on Monday. Wasserman Schultz, who on Sunday announced that she would resign from her post over her part in the organization's email scandal, found herself unable to get through an address to a Florida delegates' breakfast without trouble. As Wasserman Schutlz tried to speak, demonstrators booed and attempted to shout her down. Some held up signs that simply said, "E-mails."
The public won't be hearing much more from Wasserman Schultz this week. While she was quickly stripped of her major convention speaking role, she was reportedly still planning to bang the opening and closing gavels and perhaps give some kind of non-prime-time speech. But she has now told the Sun-Sentinel, "I have decided that in the interest of making sure that we can start the Democratic convention on a high note that I am not going to gavel in the convention."
Before Wasserman Schultz made that decision, Donna Brazile, who will serve as interim chair of the DNC, told Good Morning America that her predecessor "deserves an opportunity to gavel us in, turn over to the permanent chair, and she deserves an opportunity, I think, to also close us out … Debbie has spent a lot of time and effort in pulling together this convention." It seems she won't have the opportunity to enjoy the fruits of her labor.
This post has been updated throughout.