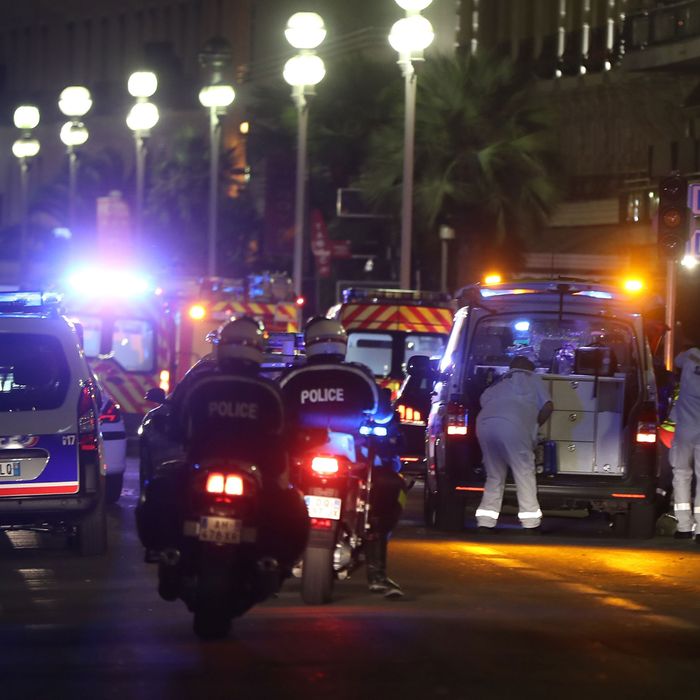 Police officers in Nice.
Photo: Valery Hache/AFP/Getty Images
Scores of people were killed, including some children, after a truck slammed into crowds gathered in Nice, France, to celebrate Bastille Day. The president of the region has called it "the worst tragedy in the history of Nice."
At a late-night press conference, French interior minister Bernard Cazeneuve put the death toll from the apparent attack at 84. Officials said Friday more than 200 others were wounded, and French president François Hollande described about 50 of the injured as "between life and death." Many families were out celebrating Bastille Day, so many children were victims of the attack. At least 10 kids died, and more than 50 were hurt, some critically.
At around 10:30 p.m. local time, a driver in a large white truck jumped the pavement and accelerated through the packed crowds near the Promenade des Anglais, a seaside walk near the center of the city, where hundreds gathered to watch fireworks in celebratation of France's national holiday. The driver of the vehicle reportedly fired into the crowd, then drove a little more than a mile along the promenade, swerving left and right and mowing down people as they tried to get out of the way. The truck "crushed everyone in its path," one witness said. Christian Estrosi, the region's president, said the truck was reportedly loaded with explosives and other weapons. Authorities later said the stockpile was a mix of real and fake weapons.
Nice-Matin, a local newspaper, and French TV station BFM have preliminarily identified the driver as a 31-year-old Nice resident of Tunisian origin named
Mohamed Lahouaiej-Bouhlel, a delivery man and father who had a criminal past but no known terror ties. Officials have not yet commented publicly on the man's identity.
Bouhlel had reportedly been parked by the promenade for some time, and at one point police apparently approached and questioned him. He reportedly told cops he was delivering ice cream.
Cazeneuve refused to confirm these reports at his 4 a.m. press conference, saying the identification of the perpetrator was in progress. He did, however, appear to characterize the incident as a terrorist attack, saying, "We are in a war with terrorists who want to strike us at any price and in a very violent way."
A video appears to show the semi-trailer truck plowing straight through the throngs of people. (Warning: This footage is disturbing.)
Witnesses say the driver then emerged from the truck and opened fire at those trying to flee. The gunman was then shot and killed by police. "There was carnage on the road," a witness told the AP. "Bodies everywhere."
Photos showed the people bloodied and lying on the pavement, and bodies splayed out on the walkway, draped in sheets — or in some cases, tablecloths from the restaurants lining the boulevard, which bystanders used to cover them up before emergency services arrived.
Witnesses described the chaos. "People were screaming and running," a witness, Tony Molina, told CNN. "There are still people I am looking at right now that are near their deceased family members. I work in homicide and I've never seen anything like this. It's unbelievable." Videos show panicked, terrified people racing from the scene:
Some revelers confused the bursts of gunfire with the fireworks display. "Everyone was calling run, run, run there's an attack run, run, run," a bystander told the Telegraph. "We heard some shots. We thought they were fireworks because it's the 14th of July."
French authorities are asking people in Nice to stay in place and are treating this as a likely terror attack, and French anti-terrorism police are taking the lead on the investigation. Authorities say right now it appears as if one person manned the truck, but they are searching for possible accomplices who might have fled. Earlier reports of hostages were confirmed false.
The U.S. Consulate General in Marseille issued a statement saying it was working with local authorities to determine whether any Americans were killed or injured in the attack and urging U.S. citizens in Nice to contact their loved ones to let them know they are safe. Secretary of State John Kerry added in a statement that the embassy in Paris was also working to account for the welfare of U.S. citizens in Nice. The U.K. ambassador to France tweeted that the British Embassy there had activated its crisis center.
Facebook also enabled its Safety Check feature for people in the city.
Estrosi, the regional president, said Nice's jazz festival, scheduled to begin Saturday, and a Rihanna concert set for Friday have both been cancelled;  flags will be lowered throughout the city on Friday.
In a press conference, French president François Hollande announced that he would extend the state of emergency declared after November's terrorist attacks in Paris, which was due to end on July 26, for another three months, and that the police force would be augmented, including with military volunteers. He also said France would step up its military involvement in Iraq and Syria, referring to the home territory of ISIS.
Hollande added that he would visit Nice on Friday to show support. He held an emergency meeting with Prime Minister Manuel Valls at the Interior Ministry in Paris on Thursday night. Cazeneuve traveled to Nice immediately.
No group has claimed responsibility yet, but pro-ISIS groups are reportedly lauding the attack on social media and other jihadist outlets. ISIS and Al Qaeda leaders have, in the past, suggested using vehicles as weapons in terror attacks.
ISIS took responsibility for the November terror rampage in Paris, France, that killed 130, and for the Brussels airport and metro bombing that left more than 30 dead in March.
The French Muslim Council condemned the "odious terrorist act" in the strongest terms and called on Muslims in France to pray "to the memory of the victims of this barbarian attack" this Friday.
The U.N. Security Council unanimously adopted a French statement condemning the "barbaric and cowardly" attack and extending condolences to the victims' families. "Any acts of terrorism are criminal and unjustifiable," the council said.
President Barack Obama, who was briefed on the incident earlier, released this statement:
Presumptive GOP nominee Donald Trump announced he would postpone the announcement of his vice-presidential pick in light of the attacks. Then, he vowed to vowed to crack down on immigration from "terrorist areas," in an interview on Fox News.
His presumptive opponent, Hillary Clinton, called in to The O'Reilly Factor as well, saying, "This is a war against these terrorist groups, these radical jihadist groups."
"It's terrible that France has faced too much tragedy and violence, and we need to stand strongly with them," she added.
This post has been updated throughout.