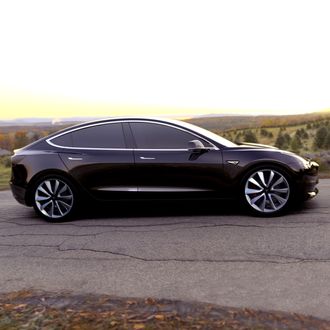 Yesterday evening, Tesla CEO Elon Musk finally revealed his much-hyped "master plan" for the company. The plan, announced via blog post on the Tesla website, is a follow-up on the original master plan Musk penned back in 2006. (Some of what Musk outlined in his first plan is still yet to happen, like building an affordable car. The Tesla Model 3, ringing in at $35,000, is still the brand's cheapest vehicle.) Here's what Musk has planned for the future.
Tesla SUVs and pickup trucks coming soon to a highway near you.
In addition to the three existing Tesla models, Musk says the company plans to start putting several other types of vehicles on the road and is upping its production game. "Tesla engineering has transitioned to focus heavily on designing the machine that makes the machine — turning the factory itself into a product." (Okay, Elon.) The company will also be unveiling "heavy-duty trucks and high passenger-density urban transport" systems in the coming years.
Autonomous cars that are ten times safer than human drivers.
Currently, Tesla's autopilot system is still in beta mode. Musk says the company is working rapidly to remove that label and will do so only when the technology makes riding in a self-driving car ten times safer than "the average American vehicle." Musk anticipates self-driving tech becoming regulated and accepted as the norm after it has been used for over six billion miles. Currently, self-driving cars are averaging three million miles per day.
Engineer the perfect "solar-roof-with-battery" product.
As previously announced, Musk plans to acquire SolarCity (a plan that was met with mixed reviews and dipping Tesla stock prices). Musk says that the merger is imperative if Tesla is to build a "solar-roof-with-battery product that just works."
Ride sharing for everybody.
Musk envisions a world where you can call up your Tesla at the push of a button and it will come get you. "Once it picks you up, you will be able to sleep, read or do anything else enroute to your destination." (Where do I sign up?) But when you're not napping or doing Bikram yoga in your Tesla, you'll also be able to charge other people to use your car as part of a "shared fleet." "This will dramatically lower the true cost of ownership to the point where almost anyone could own a Tesla." (Which is good, because Musk notes that a vehicle less expensive than the Model 3 is unlikely.)