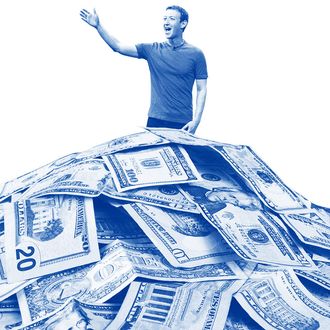 Photo: SelectAll/Getty Images
Yesterday was not a great day for tech giants' quarterly reports. Apple reported that hardware sales were soft, but services were up, and Twitter reported that it is still a very dicey proposition. Don't worry for the industry, though — here comes Mark Zuckerberg, dragging a bag of cash behind him.
Facebook released its second-quarter earnings report and, uh, well, the takeaway is that Facebook is a very good business to be in. Its user numbers have hit the billion mark, with daily active users up 17 percent to 1.13 billion, and mobile daily users at 1.03 billion. Monthly, the company has 1.7 billion active users. More than one billion people are also using the separate Messenger app on a monthly basis. My sophisticated tech analysis: That is so many users, geez louise.
Zuckerberg, the company's CEO, also noted on the earnings call that Instagram's algorithmic feed has increased user engagement, so haters can shove it. (He did not actually say "haters can shove it," but you could sense that he wanted to.)
Facebook made, to put this delicately, a fuckload of money, with a year-over-year increase that is alarming. In the second quarter of 2016, Facebook brought in more than $6.4 billion in revenue, up more than 59 percent from the same quarter last year, in which it earned $4 billion. It was estimated that the company would bring in only $6 billion this quarter. My tech analysis: I have used the word "billion" multiple times in this post but have not yet used the word "million" until just now.
Facebook has beaten expectations in 16 out of 17 quarters since it went public in 2012, and it doesn't really show any signs of stopping. As we've written about many, many times, Facebook basically controls the internet. And it will continue to do so for many years, because it is a software company that can switch focus to new initiatives quickly, unlike Apple, which has to plan out its hardware moves years in advance. Currently, that focus is live video, which Zuckerberg briefly paid lip service to on the earnings call.
My tech analysis: Facebook will never die and will, probably, soon start harvesting humans for fuel.