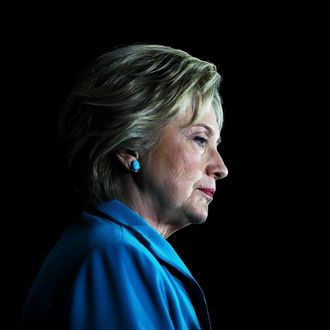 Clinton and the Justice Department seem eager to get the investigation over with.
Photo: Justin Sullivan/Getty Images
The FBI interviewed Hillary Clinton for three-and-half hours on Saturday morning as part of their investigation into whether or not any laws were broken by Clinton or her aides when they set up a private email server for her use while serving as secretary of state. The New York Times reports that the Clinton campaign says it was a voluntary interview, but did not offer any information on the substance of what was discussed, only that Clinton was "pleased to have had the opportunity to assist the Department of Justice in bringing this review to a conclusion." The interview was conducted at FBI headquarters in Washington, D.C.
ABC News adds that a source familiar with the investigation told them that the Justice Department's goal "is to complete the investigation and make recommendations on whether charges should be filed before the two major party conventions take place toward the latter half of July."
Clinton's email server, and the investigation into it by federal authorities, recently became even more controversial after it was learned that Bill Clinton had a short conversation with Attorney General Loretta Lynch at the Phoenix airport earlier this week while the former president was in town fund-raising for his wife's campaign. Though all involved have called that conversation an informal, chance meeting in which the email server case was not discussed, on Friday Lynch nonetheless announced that she would be accepting whatever recommendations prosecutors and the FBI recommend in the email server case, though she insisted she had made that decision months before the airport meeting with President Clinton. She also said that she regretted the airport meeting, since it had "cast a shadow" over the email server investigation. Regardless, presidential nominee Donald Trump and others in the Republican party and conservative media have sought to use the incident, and continuing investigation, to attack Hillary Clinton's judgement.
As the Washington Post points out, the investigation isn't over:
Agents and prosecutors will now have to compare what the presumptive Democratic presidential nominee said Saturday to other evidence they have gathered, including from interviews with Clinton's aides. But officials familiar with the probe have said meeting with Clinton would be reserved for the end of the investigation.
But as Hot Air's Ed Morrissey notes, timing could be everything:
Meeting with the target of a probe is usually the final step before deciding on a criminal referral, and the fact that they waited so long for this step at least suggests that investigators saw a real need to stick to best practices. … If the FBI doesn't think a criminal referral involving Hillary will be forthcoming, then the timing really doesn't matter; Democrats could hold their convention as planned without any changes. If the FBI thinks that there is a good chance of a criminal referral, however, then the timing becomes extremely important, to Democrats and to the nation as a whole. The convention is the last opportunity Democrats have to replace Hillary as the nominee in an organized and orderly manner.
Then again, it's also worth emphasizing that the FBI interview was not unexpected, and the meeting having now taken place does not mean Clinton will face prosecution, nor has there been any indication from anyone close to the investigation that she or anyone else involved will. For Clinton to face criminal charges, there would need to be evidence that she didn't just send classified information over an unsecured network, but that she did so deliberately. Clinton has repeatedly indicated that she is confident the probe will clear her of any wrongdoing.
This post has been updated to reflect additional information and analysis.