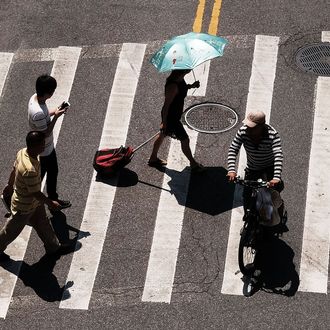 Unpleasant.
Photo: Spencer Platt/Getty Images
It's hot. How hot? New York City will see temperatures close to 90 degrees today, with a heat index — that's the real-feel temperature — at 94 degrees, according to New York Metro Weather. Newark Airport has logged a heat index of 101 degrees, and New Jersey is under a heat advisory until 8 p.m.
The high heat index is a combination of temperature (high) and relative humidity (also high), which makes the atmosphere muggy and sticky and just gross. For some reason, the National Weather Service seems excited by this prospect:
All of that moisture in the air also means the areas around New York — especially north and west of the city — are under the threat of severe thunderstorms for the rest of Thursday.
Sadly, these showers won't bring too much relief. It's going to be even hotter Friday. How hot? Well, very likely the hottest day of the year so far.