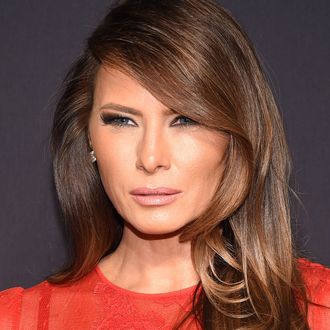 Mrs. Trump will be tonight's keynote speaker.
Photo: Andrew H. Walker/Getty Images
Just in the nick of time to avoid being preempted by actual events, a skeleton schedule for the Republican National Convention appeared overnight, so we will have at least a vague idea of what will transpire in the evening sessions. A timed schedule has not, however, been released, so it's not entirely clear who will speak when.
The theme of the first night (each will be adorned with a "Keep America" slogan) is "Keep America Safe." But anyone expecting a systematic overview of the country's security needs will be disappointed. The first listed speaker is Willie Robertson of the reality show Duck Dynasty, whose connection to defense policy is not immediately obvious. But the bulk of the evening will apparently be devoted to the retailing of security-related grievances against the Obama administration generally and Hillary Clinton specifically. There will be not one, or two, but three scheduled speakers associated with the Benghazi incident: two Marines who were involved in the 2012 firefight at the Libyan diplomatic compound, and the mother of one of the victims. Enthusiasts for an older administration pseudo-scandal (though it actually began in the Bush administration) — the ATF's "Fast and Furious" gun-running program that put weapons in the hands of Mexican drug cartels — will be pleased to see that there are two speakers on the subject.
War veterans are represented by a former Navy SEAL who fought in Afghanistan and by the mother of another SEAL who was killed in action.
But the Trump campaign's signature conflation of national security and immigration policy is represented as well, by three speakers (interestingly labeled as "immigration reform advocates") with family members who were killed by undocumented immigrants (or "illegal aliens," as they are called in the GOP platform).
The pols appearing tonight are mostly those known for their association with the military, homeland security, or general ferocity toward America's alleged enemies, both foreign and domestic. Rudy Giuliani is natural, of course. Senator Joni Ernst, the future GOP star, is a high-ranking member of the National Guard who was deployed to Iraq. Her Senate colleague and other rising star (perhaps on a ticket with Ernst?) Tom Cotton of Arkansas is a veteran of both Afghanistan and Iraq and a relentless proponent of higher defense spending. One other senator, Jeff Sessions of Alabama, is probably speaking tonight as a mark of honor: He was the first and for a long time the only senatorial endorser of Trump's candidacy, but he, too, is reliably angry and hawkish on all security issues. Rick Perry, the only one of Trump's rivals with a military record, will also speak, as will the bristling-with-medals runner-up in Trump's Veepstakes, former Gen. Michael Flynn.
But the real headliner of the night will be Melania Trump, who will presumably speak about her husband's sterling leadership qualities and his credentials as a family man — rather than, say, bristle at Hillary's role in Benghazi! or call for the blood of "illegal aliens." This morning's scuttlebutt is that the mogul himself may make a "surprise" appearance in the hall to watch his wife, or perhaps even to introduce her.
The big question a lot of journalists have here in Cleveland as we await the opening gavel (at 1 p.m. today, for a "business session" that will include approval of the convention Rules and Party Platform, probably without much incident) is whether the show tonight and for the rest of the week is going to be as tightly wrapped as most conventions are, or instead a free-form slow-motion riot where anything could happen.