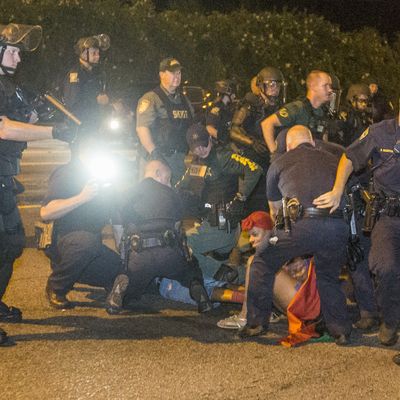 Police arrest protesters in Baton Rouge.
Photo: Mark Wallheiser/2016 Getty Images
Good morning and welcome to Fresh Intelligence, our roundup of the stories, ideas, and memes you'll be talking about today. In this edition, the ACLU sues Baton Rouge, Trump's convention takes a turn for the strange, and Sean Hannity doesn't see what the big deal is. Here's the rundown for Thursday, July 14.
WEATHER
Increasingly serious storms are set to rage across the Plains States today, while pretty much the entire East Coast will descend into a crucible of high heats and stifling humidity. In New York City, temperatures will reach 90 degrees despite rain and thunderstorms. [USA Today]
FRONT PAGE
The ACLU Sues the City of Baton Rouge
The ACLU of Louisiana, along with four other local groups, filed suit against the Baton Rouge Police Department yesterday, accusing it of "violating the First Amendment rights of demonstrators who were protesting peacefully against the killing of Alton Sterling." The suit accuses officers of using excessive force, verbal and physical abuse, and wrongful arrests in a bid to discourage protestors. Lawyers in the case have also filed a restraining order against the department "to prevent them from interfering with people's constitutionally protected right to gather peacefully." We'll see how this goes. [ACLU]
EARLY AND OFTEN
Trump's Respect for Assad Not Entirely Reciprocated
In a bizarre televised interview on NBC News, embattled Syrian president Bashar al-Assad used the ongoing election in the United States to make a case for appointing political leaders for life. Prodded about Donald Trump's political inexperience, he asked how much experience Barack Obama, George W. Bush, or Bill Clinton had: "to have position in Congress for few years, or minister of foreign affairs, for example, that doesn't help you have the experience." All said, it was much fainter praise for Trump than the GOP nominee — who recently graded Assad, saying "in terms of leadership, he's getting an A" — had for the Syrian president. You know, if Assad is so obsessed with political experience, he should check out Hillary. She's done some things. [Politico]
CIA Director Will Quit If Next President — *Cough* Trump — Orders Him to Waterboard
CIA Director John Brennan said yesterday that if the next president ordered the CIA to use waterboarding, he would be unable to give the command and would quit his job rather than see the practice return under his watch. Brennan did not mention Donald Trump by name, but only one candidate has said that they "love" waterboarding, think its "great," and would prefer a technique "much tougher than waterboarding." And it was not Clinton. [Reuters]
Trump Unveils Theme for Convention: Dystopian Bonkers
The New York Times has gotten its hands on the lineup for the upcoming Republican National Convention and boy is it something. First off, the nights are divided into themes but instead of good ideas like "prom" and "under the sea," the convention will skew darker with a Benghazi theme day. And the speakers themselves are all over the map: a pro golfer, an astronaut, the president of the U.F.C., relevant politician Rudy Giuliani, and somebody named Tim Tebow. Sadly, it looks like the much-hyped double act of Don King and Sarah Palin won't be able to make it. Surprisingly, the list of speakers includes Newt Gingrich, Lieutenant General Michael Flynn, and "the nominee for vice-president," implying that it won't be either of them. Oh my god, the veep is totally going to be Palin, guys.
Media Bias: Sean Hannity Flew Newt Gingrich to Trump Meeting on His Private Jet
In an incident that feels like an apt metaphor for the state of politics and television media in 2016, it has emerged that Fox News host Sean Hannity flew Newt Gingrich to meet with Donald Trump aboard his private jet. Hannity tweeted that he acted as a private citizen and did a favor for Gingrich, who is a "very dear friend." Putting aside issues of conflicts of interest, journalistic remove, and whatever "fair and balanced" even means anymore, what is Sean Hannity doing with a private jet? Isn't the news profession supposed to be dying? We know grown men who commute to their journalism jobs on Razor scooters. [CNN]
THE STREET, THE VALLEY
Obama's Tax-Loophole Plans Win Him Few Friends — Few Rich Friends Anyway
A plan from the White House to crack down on tax inversions — basically companies basing their headquarters overseas to pay a lower tax rate — has predictably failed to please all of the people who benefit from them. The Treasury will hold a public hearing about the president's proposal today. [Reuters]
Tesla Will No Longer Use Return Policy Borrowed From Bed Bath & Beyond
Tesla's guarantee to buy back your Tesla three years after you bought it, for at least half of what you paid, is coming to an end. Stopping its buyback program will free up a lot of cash for the company, which has been going through something of a rough patch recently. We're talking more than $192 million a lot. [Silicon Valley Business Journal]
Budget Deficit Largest in Two Years, Surplus Way Down
America's budget deficit in June reached the highest level in nearly two years, rising more than 20 percent over the last year to total $523 billion. Meanwhile, the government only managed a budget deficit of $6 billion. As a point of comparison, a year ago it was at $50 billion. We're not super-good at math, but that doesn't seem sustainable. [WSJ]
Terrible Game Best Thing Nintendo's Ever Done
This Pokémon Go phenomenon, much like a recently stabbed Pokémon Go player, shows no sign of slowing down. Nintendo's stock keeps on rising; it was up another 9.5 percent in early trading today, and now more than 65 million people in the U.S. are playing the mobile game. Remember, a week ago, this whole thing didn't even exist. [Reuters]
MEDIA BUBBLE
Hollywood, Where Dreams Are Made in China
Despite protestations from its increasingly volatile controlling shareholder Sumner Redstone, Viacom is going ahead with plans to sell off a full 49 percent of Paramount Pictures to Dalian Wanda Group, a Chinese conglomerate and the world's largest property developer. Executives at Viacom say that they could use the cash — between $4 and $5 billion if everything goes according to plan — and that an ally in the booming Chinese market couldn't hurt. [WSJ]
Sports Illustrated and a Change of Fortune
Time Inc. is changing things up in a bid to help out struggling Sports Illustrated, moving Alan Murray from his role as editor at Fortune over to a new job as chief content officer at SI, a job previously held by Norman Pearlstine who will stay on as vice-chairman. [Fortune]
Peer-to-Peer Pressure: Like Everyone Else, BitTorrent Will Try Its Hand at Streaming Video
BitTorrent, the reason we have an external hard drive full of every Simpsons episode ever, complete with DVD extras — is getting into the livestreaming business, because of course it is. The company will launch its new "live-streaming TV news network" at the National Republican Convention next week. [Ad Age]
PHOTO OP
It Has to Stop
Carmelo Anthony, Chris Paul, Dwyane Wade, and LeBron James opened the ESPYs last night with a powerful call to end racist policing and violence on all sides.
MORNING MEME
World's Collide
Whatever your feelings about its game play, you gotta love Pokémon Go for its meme potential.
OTHER LOCAL NEWS
Knoxville Woman Spends Her Wednesday Nights Just Like We Do
In what Knoxville, Tennessee, firefighters are calling "a first in our books," firemen responded to a middle-aged woman's call yesterday to find her fanning smoke out of her apartment. We guess her plan to barbecue a brisket over an open flame in her bathtub did not go as planned when the tub — which was made of fiberglass — began to melt. Another reason to never forget that when it come to bathtubs for barbecue enthusiasts, always choose cast iron. [NBC]
Angry Man Disarmed, Then the Trouble Starts
If this story was only that a Jefferson County, Missouri, man removed his prosthetic arm and used it to beat a couple in a bout of road rage this week, it would still be "something." But as it turns out, the same man, Joshua Stockinger beat a police officer with the same arm in May.  Thank God it wasn't a prosthetic leg; somebody might have been killed. [KMOV]
HAPPENING TODAY
They're Just Like Us: Hillary Clinton to Eat Lunch
Hillary Clinton will join Democratic lawmakers in the Senate for lunch tomorrow where she will show the world that everyone is getting along great, unlike those Republicans with all their drama. [Politico]
Kerry Heads to Moscow Where Putin Is Waiting
Secretary of State John Kerry is in Moscow today where he will meet with Russian president Vladimir Putin. The two are expected to talk about Syria and Ukraine, which shouldn't be awkward at all. [Jerusalem Post]
Disney to Broadcast Obama's Town Hall on Race
Obama will host a town hall on race today. The event, called "The President and the People: A National Conversation," will be broadcast by ABC and ESPN, produced by ABC News and moderated by both World News Tonight anchor David Muir, and ESPN's sports commentator Jemele Hill. [The Hill]