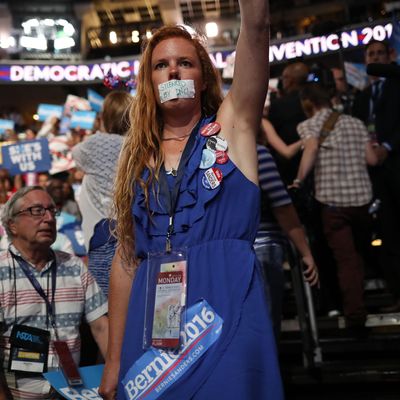 Yet still so loud, somehow.
Photo: Victor J. Blue/2016 Bloomberg Finance LP
Good morning and welcome to Fresh Intelligence, our roundup of the stories, ideas, and memes you'll be talking about today. In this edition, Sanders supporters show themselves to be the vocal minority, Bernie gets an apology, and Clinton slips in the polls. Here's the rundown for Tuesday, July 26.
WEATHER
It'll be another day of heat and storms along the East Coast and down toward the Gulf of Mexico. There will also be storms across the central states with the worst expected in the Plains States, specifically the Dakotas and Nebraska. The West Coast for the most part will be very nice — so let's not talk about it — while New York City will stay way too hot, with a slight chance of showers. [USA Today]
FRONT PAGE
DNC Day One: Delegate Cheers of "Blue" Widely Misinterpreted
It was touch-and-go there for a minute. Let's be honest, it is still touch-and-go, but the Democratic National Convention did not go totally off the rails on day one. Throughout the day, protestors filled the streets around the convention, with some borrowing a popular chant from the Republican Convention: "Lock her up!" Bernie Sanders managed to at once electrify and alienate his supporters, who voiced their displeasure loudly when their leader endorsed Clinton for president. Speeches from Sanders and Elizabeth Warren were for the most part well-received, but there were scattered boos — though Bernie himself texted his supporters asking them to keep it down on the convention floor. The obvious fan-favorite of the night — no surprise here — was Michelle Obama, who attacked Donald Trump without even mentioning his name.
EARLY AND OFTEN
Everything Solved: DNC Says, "Sorry"
Like all great political conventions, yesterday's Democratic National Convention kicked off with an apology. The Democratic National Committee released a statement apologizing to Bernie Sanders following a series of leaked emails that showed party operatives were openly disparaging Sanders's campaign behind the scenes. The statement read in part: "On behalf of everyone at the DNC, we want to offer a deep and sincere apology to Senator Sanders, his supporters, and the entire Democratic Party for the inexcusable remarks made over email." It also confusingly referred to the party's "steadfast commitment to neutrality during the nominating process," which everyone now knows doesn't really exist.
Illinois Republican Overreacts
Representative Ron Sandack, Illinois's House Republican floor leader and one of the state's more influential lawmakers, has resigned from the legislature, saying he is fed up with people making fake Facebook and Twitter accounts in his name. This would all seem like quite the overreaction, unless of course he was resigning over something else and blaming a fake social-media account for it. We're just speculating here. [Reuters]
A Nice Reminder That Shadiness in Politics Is Nothing New
Good news for everyone who's been missing House of Cards. The real thing is going on in Florida, where a shady Newark businessman — wow, Florida and New Jersey, this is going to be good — has pled guilty to funneling foreign donations totaling $80,000 to Barack Obama's reelection campaign in 2012. The funds did bear fruit, namely an invitation for Albanian politician Edi Rama to attend an Obama fundraiser in San Francisco. Rama then used a picture of him with the president to claim that Obama supported his bid for prime minister, a position he subsequently won. Oh, and just to keep this topical, the same shady businessman was named as a host committee member for a Clinton fundraiser last year. [Politico]
America Polled, Clinton Supporters Scared
Everyone expected something of a bump for Trump following the convention, but this is all a bit scary. A series of major polls released yesterday showed Clinton's long-time lead shrink to almost nothing. Nate Silver even briefly had Trump projected to win the White House with a 56.7 percent chance of becoming the president — Silver now has him trailing by a none-too-encouraging deficit of less than ten points. Other depressing takeaways for the Democratic nominee? More than half of Democrats would still prefer a Sanders presidency, only 38 percent would be proud to have her as their president, and a full 68 percent say she isn't "honest and trustworthy." This better be one hell of a convention. [WashPo]
THE STREET, THE VALLEY
Fed Readies Move Against Goldman Sachs
According to the New York Times, the Federal Reserve is preparing to move against Goldman Sachs over a leak that happened more than two years ago, in which one of the agency's employees gave confidential government information to a junior banker at the firm. The Fed is also mulling action against another man, an executive who worked with the offending banker. With an expected penalty of less than $50 million, the move is seen as mostly symbolic, a sign that the government is taking Wall Street's illegal behavior more seriously. [NYT]
Our Dreams of Drone-Delivered Humidifiers May Come True
Amazon, after much speculation, has won permission to experiment with drones for making deliveries in the U.K.— thanks for nothing, Obama. The company, in partnership with the British government, hopes to start using actual flying robots for smaller deliveries as early as 2017. Those Futurama guys were right on the money. [Reuters]
All This Sneaker Money Is Getting Out of Hand
It has emerged that Nike CEO Mark Parker will receive $46.7 million for the 2016 fiscal year, nearly three times what he pulled in last year. His salary is still a paltry $1.55 million — poor thing — but he got a big pay bump from stock rewards meant to keep him at the company through 2020. [Bloomberg]
Like Obscenity, Judge Knows Money When He Sees It
A Florida state judge has ruled that Bitcoin is not real money because among other things it "cannot be hidden under a mattress like cash and gold bars." His ruling set free a man who had been caught illegally selling $1,500 to undercover detectives — that must have been one tiny briefcase. The ruling will set an important precedent and could sway many cases involving Bitcoins working their way through the courts. [Bloomberg]
MEDIA BUBBLE
Fox Executive's Ouster Has Nothing to Do With Fox Executive's Ouster
Michael Clemente, who recently acted as Fox News' executive vice-president, has been let go from the network less than a week after the ouster of his boss and Fox News founder Roger Ailes. Still, everyone is quick to stress that Clemente's removal has nothing to do with Ailes's. [AdWeek]
Our Drunk Kitchen Never Got Us Anything But Burns and Broken Glasses
Hannah Hart, the star of the YouTube cooking show My Drunk Kitchen has been offered a deal from the Food Network. She will produce six episodes of a new show in which she eats her way across the country, trying to stick to a limited budget. Hart is just the latest of popular young YouTube stars who have been approached by television networks in a trend that we will sadly never be a part of.  [Hollywood Reporter]
The Future of Long-Form: Twitter Now a News Organization
The era of Twitter as news source officially began with a blog post from Twitter chief marketing officer Leslie Berland where she unveiled a new ad campaign presenting Twitter as a platform to get late-breaking news. Twitter is especially focused on political news and is hoping to join the ballooning pack of new platforms covering the election.  [Twitter]
PHOTO OP
Ghostbusters Marketing Campaign Spares No Expense
Lighting strikes the Empire State building yesterday on what was a very dramatic day to be in the city.
MORNING MEME
Chuck Norris, It Has Been Too Long
Welcome back old friend. Long live Chuck Norris memes.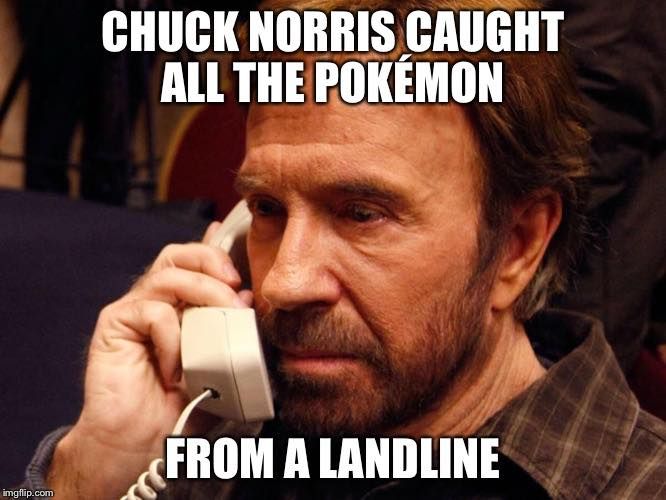 OTHER LOCAL NEWS
New HBO Procedural in the Works?
Michigan, your tax dollars at work. The case of the theft of a "large amount" of nail polish from a CVS in Lake Orion has been solved, just a little more than half a year after the crime took place. Derek Michael-Herbert Hill from Utica, Michigan, is now facing up to five years in prison for stealing nearly 200 bottles of nail polish. Another menace off the streets. [Oakland Press]
Auto-Correct Has Ruined a Generation
Oh, Florida, please invest in some PR. Now a picture has surfaced of a road outside of a high school in Deltona. Unfortunately, where such roads traditionally read "SCHOOL SCHOOL," this one reads "SCOHOL SCOHOL." An embarrassing mistake that wouldn't be a problem if robots would just take everybody's jobs already. [UPI]
HAPPENING TODAY
Apple May, in Fact, Fall Far
Apple is set to release its second-quarter earnings today, and analysts are concerned that sluggish iPhone sales could lead to another disappointing report. Don't weep for Apple just yet, the company still has about $233 billion in cash, that should be enough to see it through a rough patch. [CNet]
Florida About to Get an Excuse for Everything
Medical marijuana is coming to Florida! Legal weed will be available to patients starting today, but don't expect Colorado-level legalization or a California-style black-market free for all. Only low-THC pot will be available — it will help with pain but won't get you high — and only to actual sick people. So, no need to go changing your summer travel plans just yet. [Inquisitr]
Mothers of Slain Children to Speak at Convention Today
In addition to Bill Clinton, the second day of the Democratic National Convention will feature the "Mothers of the Movement." The group consists of the mothers of African Americans whose deaths inspired the Black Lives Matter movement, including Trayvon Martin, Eric Garner, Michael Brown, and Sandra Bland. [CNN]
An earlier version of this post incorrectly said Derek Michael-Herbert Hill was from New York rather than Michigan. We regret the error.