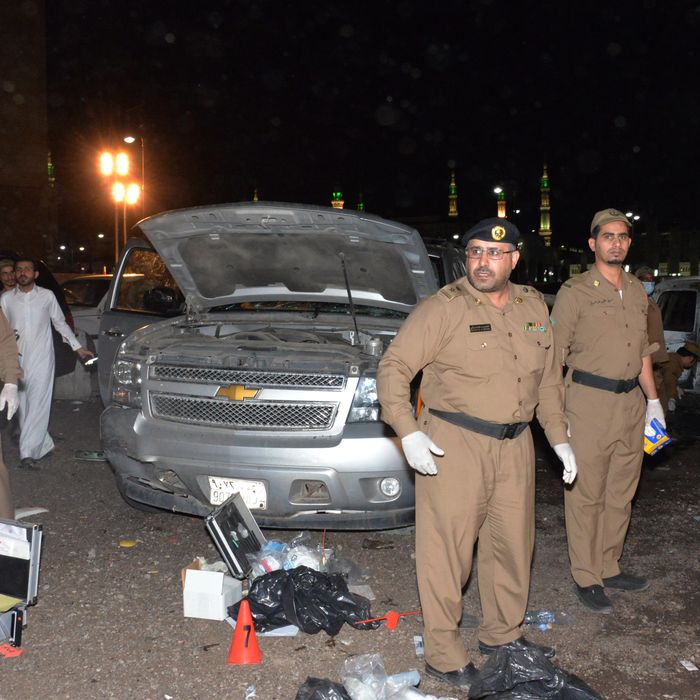 The aftermath of a suicide bombing in Medina.
Photo: STR/This content is subject to copyright.
Good morning and welcome to Fresh Intelligence, our roundup of the stories, ideas, and memes you'll be talking about today. In this edition, terrorists attack one of Islam's holiest sites, Donald Trump toys with anti-Semitism, and Juno goes into orbit around Jupiter. Here's the rundown for Tuesday, July 5.
WEATHER
The Midwest faces thunderstorms and possible tornadoes today, which should only get more severe as the week goes on. It will be a wet one today in New York City as well, with temperatures in the high 80s. [Weather.com]
FRONT PAGE
Suicide Bombers Strike Saudi Arabia
Suicide bombers blew themselves up in three cities in Saudi Arabia yesterday in an attack which was apparently coordinated to coincide with the breaking of the Ramadan fast on one of the last days of the holy month. One bomber blew himself up outside the Prophet's Mosque in Medina, one of the holiest sites in Islam, killing at least four security guards. Other explosions were reported near a Shi'ite mosque in Qatif in the east of the country, and another suicide bomber wounded two people when he detonated a device near the U.S. consulate. Later in the day, another suicide bomber attacked a police station in the Indonesian town of Solo. The latest round of violence comes at the end of what has been a very bloody couple of weeks, with massive casualties in terrorist attacks in Orlando, Istanbul, Dhaka, and Baghdad. [Reuters]
EARLY AND OFTEN
Stars and Snipes: Candidates Trade Blame Over Trump's Anti-Semitic Tweet
The Clinton campaign responded yesterday to a tweet from Donald Trump that showed Clinton against a backdrop of  $100 bills, and the words "Most Corrupt Candidate Ever!" in a Star of David. The campaign called the tweet "blatantly anti-Semitic." Trump removed the offending post, replacing it with a similar one using a circle instead of a star and saying, "Dishonest media is trying their absolute best to depict a star in a tweet as the Star of David rather than a Sheriff's Star, or plain star!" The sheriff-star defense makes sense, except for the fact that the original image has been traced back to an anti-Semitic, neo-Nazi message board. Oops?
What's More American Than a Ton of Cops?
Nothing says freedom like a large police presence. Thanks to escalating terror attacks around the globe and Americans' seeming inability to gather in large numbers without shooting each other, police were out in unprecedented force for Independence Day celebrations yesterday. New York City police alone increased their presence by 2,000 officers. In Chicago, more than 5,000 officers were on the streets over the weekend, though 33 people were still shot in Chicago over the last three days. [Reuters]
WikiLeaks Was This Holiday Weekend's Best Binge-Watching
If you have some hours to kill, you could do worse than a deep dive into the Clinton emails released by WikiLeaks yesterday. The site went through the emails released earlier in the year by the State Department looking for any mentions of the Iraq War. The 1,258 emails show mostly that people at the State Department are just like us, namely in that they spend their days sending their colleagues links to things they read online. [The Hill]
Nothing to See Here: Abedin Says Clinton Destroyed Her Schedules As Secretary of State
It emerged yesterday that Hillary Clinton's devoted aide — is best friend too far? — Huma Abedin revealed in a deposition that her boss repeatedly destroyed copies of her daily schedule when secretary of State. Obviously, destroying federal records is what lawyers call a "no no," and this is the first time anyone connected to Clinton has alluded to the destruction of official documents; previously Clinton had only admitted to destroying personal emails. [The Hill]
THE STREET, THE VALLEY
Banking Fees Continue to Dive Worldwide
Data released by Thompson Reuters yesterday showed that the total fees charged for investment-banking services dropped nearly 25 percent during the first half of the year. 2015 was actually a record year for mergers and acquisitions, but with the U.S. government moving to crack down on megamergers and end the kind of business practices that take advantage of corporate-tax loopholes, banking services are less and less in demand. [Reuters]
Moose No Longer Canada's Favorite Mode of Transportation
Despite its reputation as a nation of nature-loving jogging types, it seems that Canadians really really love cars. In fact, if recent sales data is any indication, Canadians look set to buy so many cars from General Motors, Ford, and Chrysler in 2016 that they will break the record they set in 2015 by a considerable margin. [Reuters]
Rio Olympics Official Sponsor a Little on the Nose
Global tragedies really do make the best marketing opportunities. The Rio Olympics — which looks set to be the most post-apocalyptic yet! — has announced the games' first official bug-spray supplier, OFF! Thousands of bottles of the spray will be distributed to volunteers, athletes, and spectators. If only there were a spray for muggings. [Bloomberg]
Jupiter Mission Totally Awesome
In what is being called "the hardest thing NASA's ever done," NASA's Juno spacecraft went into orbit around Jupiter last night after being launched way back in 2011. Juno will now circle Jupiter, hopefully not getting smashed to bits by its debris-strewn rings for the planet's entire 53-day orbit. Awesome. [Space Flight Now]
MEDIA BUBBLE
Watch Out Borowitz, BuzzFeed Gunning for Fake News
Now that BuzzFeed's Canadian staff are being relocated to the U.S., BuzzFeed Canada editor Craig Silverman has been given a new beat as a hoax-debunker and exposer of fake news. Specifically, he will be tasked with developing new ways for journalists to debunk fake stories in real time, so the true facts spread as quickly as the lies. [First Draft News]
Iranian Film Director Abbas Kiarostami Has Died in France
Award-winning Iranian director Abbas Kiarostami died yesterday while undergoing treatment for cancer in Paris. Considered a filmmaker's filmmaker, Kiarostami made more than 40 movies exploring and challenging Iranian society and social mores. Groundbreaking French director Jean-Luc Godard famously said: "Film begins with D.W. Griffith and ends with Abbas Kiarostami." [BBC]
PHOTO OP
Is This What Patriotism Feels Like?
Behold Joey Chestnut, winner of the Mustard Yellow International Belt at Nathan's Famous annual hot-dog-eating contest. The 32-year-old guzzled 70 hot dogs and buns in ten minutes, setting a world record that inspires mixed feelings.
MORNING MEME
Joe Biden for President
Happy belated Fourth of July everybody! (Yes, we know this is a parody account.)
OTHER LOCAL NEWS
Just in Time for the Fourth, Most American Thing Ever Has Happened
A veteran sharpshooter just saved a bald eagle's life by shooting through the rope it was tangled in. We're just going to let that marinate for a minute. Lest you think he was that good of a sharpshooter, it did take him 190 (!) shots. And, full disclosure: Even though the story was published on July 4, the shooting actually took place last week. Still, the bald eagle is recovering nicely and, yes, they did, of course, name him Freedom. [ABC]
Second Most American Thing? Fighting for Your Right to Fly Flame-Throwing Drones
An enterprising father-and-son duo are off to court in Connecticut where they will challenge the Federal Aviation Administration's request for information on two drones they made and posted videos of to YouTube. In the videos, the drones are seen firing both a gun and a flamethrower. This overstepping government really is out of control. Flamethrowing sky robots are right there in the Second Amendment. [AP]
HAPPENING TODAY
North Carolina to Get Very Tense
Both Donald Trump and Hillary Clinton will be in North Carolina today. Trump will be holding a rally at the Duke Energy Center for the Performing Arts in Raleigh, while Clinton will make an appearance with President Obama at the Charlotte Convention Center. [ABC]
Amnesty Releases Damning Report on Syria
Amnesty International will release a report today on armed groups in Syria that shows many of the opposition groups engage in the same horrific behaviors as the Assad regime including abductions, torture, and routine executions. Some of the groups mentioned have the backing of the United States and even used the same torture methods as the regime. [NYT]
U.K. Finance Minister George Osborne to Meet With Bank Heads, Beg Them to Stay
George Osborne, Britain's finance minister, will meet with heads from the country's biggest banks today as the financial sector continues to come to terms with the recent Brexit vote. We're just guessing his message will be along the lines of "don't freak out," "please don't leave," and "can you fix the economy, please?" [NYT]