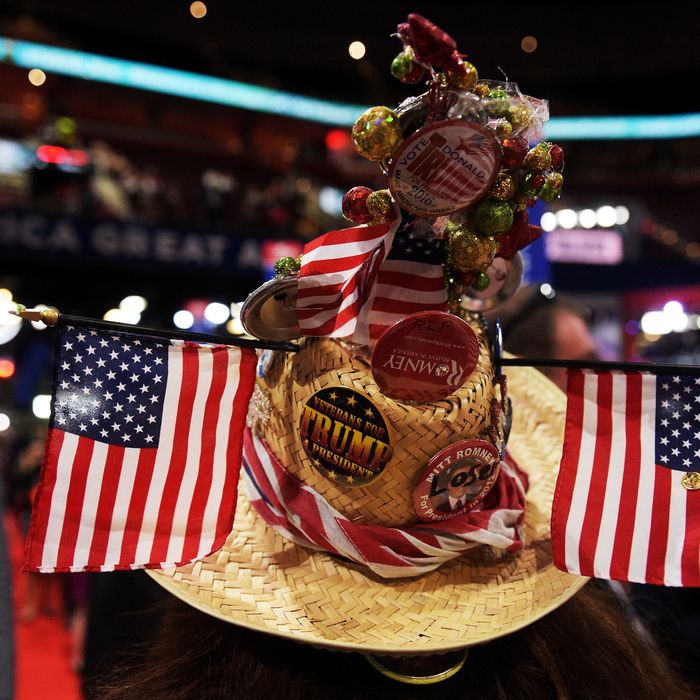 Brimming with patriotism.
Photo: Jeff Swensen/2016 Getty Images
Good morning and welcome to Fresh Intelligence, our roundup of the stories, ideas, and memes you'll be talking about today. In this edition, the Republican convention staggers on, Donald Trump is running for president, and Roger Ailes might do something. Here's the rundown for Wednesday, July 20.
WEATHER
A heat wave and humidity wave — is that a thing? — continue in the middle of the country today, while the weather should be beautiful on the West Coast, in New England, and in the Northeast. New York City will see crystal-clear skies and temperatures in the middle 80s. [USA Today]
FRONT PAGE
Republican Convention Continues Despite Obvious Insanity
For day two of the Republican National Convention, Trump's children took the stage; Chris Christie led delegates in a rousing round of our favorite high-school drinking game "Guilty or Not Guilty" (the consensus seems to be that Hillary Clinton is "guilty"); Ben Carson, an actual neurosurgeon, said that Clinton voters were not using their "God-given brains"; and Paul Ryan tried valiantly to hide his mounting discomfort. The emotional peak of the evening came when Trump officially received the Republican Party's nomination. Oddly, Trump was not there to accept it, preferring instead to teleconference in from New York. His obvious discomfort in Cleveland might just be the most authentically "New York" thing about him. [NYT]
EARLY AND OFTEN
Ain't No Party Like a John Boehner Party Because a John Boehner Party Sounds … Okay
We know all about the politics at this year's Republican convention, but what about the parties? According to the New York Times, the usually raucous convention satellite events have been unusually tame this year — even the rager thrown every year by notorious party animal John Boehner. Boehner, who smokes cigarettes — like a real bad ass — and who according to the Times has a "a well-documented taste for merlot," failed to get his event to pop off despite having all the hallmarks of a proper shit show: a VIP area, fog machines, and an oldies band. Crowds did eventually fill the dance floor, but only after John "Banger" Boehner had gone home. [NYT]
Florida Governor Acknowledges Reality, Makes News
Going against everything the Republican Party stands for, Florida governor Rick Scott briefly acknowledged reality when he admitted yesterday that the Supreme Court has already ruled that same-sex marriages are legal. When asked if he approved of the section in the Republican Party platform that was critical of same-sex marriages Scott said, totally reasonably, that he hadn't "seen that" because he was too busy being "focused on jobs." Party platforms are like terms and conditions: They only get really scary after you actually read them. [Politico]
Obama Meets With Law-Enforcement Aides As Another Police Shooting Is Reported in Kansas City
President Obama met with his top law-enforcement officials in the White House yesterday to discuss the crisis of policing in America. Attorney General Loretta Lynch, FBI Director James Comey and White House Counsel Neil Eggleston were each on hand to discuss better methods of policing in light of widespread minority outrage and the recent shooting deaths of multiple officers and citizens. As the meeting came to a close, the shooting of another officer, this time in Kansas City, came to light. Republicans have been critical of the president for what they see as his insufficiently vocal support of law enforcement. [Politico]
THE STREET, THE VALLEY
Microsoft Triumphant As Cloud Computing Puts It Over Wall Street Estimates
Thanks to its successful cloud-computing business, Microsoft managed to beat analyst expectations when it released its quarterly earnings yesterday. Shares in the company rose more than 4 percent on the news. [Reuters]
Wait, Is Pokémon Go Not a Thing Anymore? Then Who Are All These People on Our Lawn?
Just when we were starting to figure out what Pokémon Go is (actually, we still have no idea — love the memes though!), it looks like Nintendo's moment in the sun may be passing. After more than doubling its value in just over a week, shares in the company fell off by a full 10 percent yesterday. Still, all things considered, a great time to be a Nintendo executive. [Reuters]
It Is Now Impossible for Rudy Giuliani to Get More Out of Touch
Just in case you still thought Rudy Giuliani had his finger on the pulse even a little bit, the one-time mayor of New York gave an impassioned speech yesterday extolling the virtues of Blackberry, and claiming the defunct cell-phone company's software can make the world safe from terrorists. [Bloomberg]
Twitter Verification Now Even More Meaningless Than It Was
Well it looks like this is another life goal we'll never achieve — or rather, we will easily achieve, but so can everyone else, so it doesn't really count. Twitter has announced that anyone can now get their account verified, meaning that the coveted little blue check is now mostly meaningless. More accurately, it now means what it was always supposed to mean: that you are who you say you are. [The Verge]
MEDIA BUBBLE
Roger Ailes Will Either Leave or Remain at Fox News
Fallout continues to grow over a recent sexual-harassment suit filed against Ailes. A day after New York reported that Fox News CEO Roger Ailes's ousting is imminent, the Drudge Report has released the first page of his separation agreement. Still, the powers that be at Fox deny the news — kind of — claiming that Roger is still at work and all decisions regarding his employment will wait until a proper review is finished.  [Gawker]
Now It's Personal: Hogan Court Victory May Force Nick Denton Into Bankruptcy
Gawker founder Nick Denton's latest worst nightmare appears to have come true yesterday as a judge ruled that a bankruptcy filed by Gawker does not protect Denton personally. So, Denton can now expect Hogan to come for his personal wealth, and will most likely file for bankruptcy himself.
Legal Battle Between Fox News and Charter Communications Continues
Fox News has filed suit against Charter Communications accusing the cable company of breach of contract and fraud, claiming the company is illegally trying to apply the old Time Warner Cable "channel-carriage" rates to carry Fox News and Fox Business News. Charter acquired Time Warner in May and this is the second suit brought against it by Fox since the takeover. [Politico]
PHOTO OP
The Protest Patriot
Republican delegates covered a Code Pink activist with a flag when she tried to protest on the floor of the convention.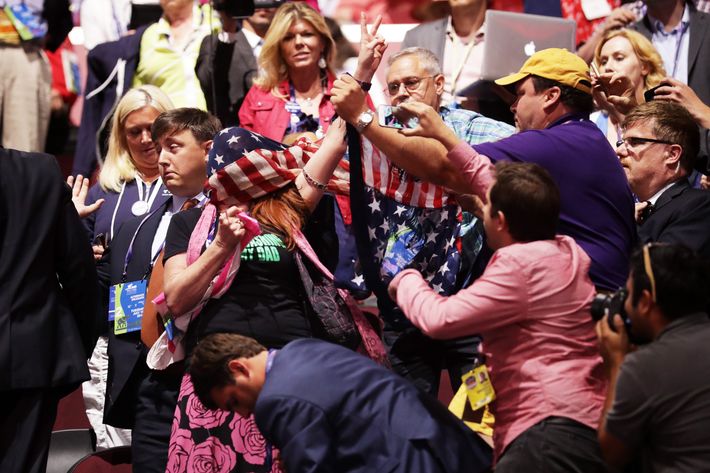 MORNING MEME
Republican Strategist Takes Twilight Sparkle's Name in Vain
Just watch this. Really, words fail to do it justice.
OTHER LOCAL NEWS
Chicagoans Bathe in Sewage, As Is Their Wont
Recent visitors to Baltimore have been garnering a lot of attention after a YouTube video surfaced showing them swimming in the city's notoriously disgusting Inner Harbor. Many onlookers can be seen acting visibly grossed out in the video. One bystander explained: "They're from Chicago. They don't know no better." [Baltimore Sun]
Snuggle Mugging: Adorable Lemur Terrorizes Florida Woman
Seriously Florida, what is going on? A Miami woman heard scratches at her front door, and opened it to find an adorable lemur on her doorstep. This being Florida, the lemur immediately attacked the woman, terrorizing her and her sister and chasing them around the house so they couldn't even call 911. The lemur eventually did enough damage to land the woman in the hospital. [ABC]
HAPPENING TODAY
World Awaits "Important Decisions" in Turkey
Turkey's prime minister has said that the nation will announce "important decisions" today following the recent failed coup. According to those who follow Turkish politics, these "decisions" will almost certainly be some sort of crackdown and consolidation of power for Turkish president Recep Tayyip Erdoğan, and may even see him reinstate the death penalty. [Reuters]
Wait, We Just Assumed Japan Already Had Pokémon Go for Like a Decade
Pokémon Go launches in Japan today. How this game based on a Japanese cartoon, from a Japanese company, with totally Japanese sensibilities was not available there before is a mystery. The launch will also be the first time that the app partners with a corporate partner: McDonald's across Japan will now also be Pokémon gyms. The future is now and it's totally odd. [Tech Crunch]
Boris to Visit D.C. in Last-Ditch Effort to Make U.S. Seem Less Embarrassing
Britain's flaxen-haired answer to Donald Trump, Boris Johnson, is coming to Washington today for the third day of meetings with U.S. Secretary of State John Kerry. The visit would be awkward — Boris famously said that because Obama was half-Kenyan, he was resentful of the British Empire — if Johnson were capable of feeling awkwardness. [NYT]