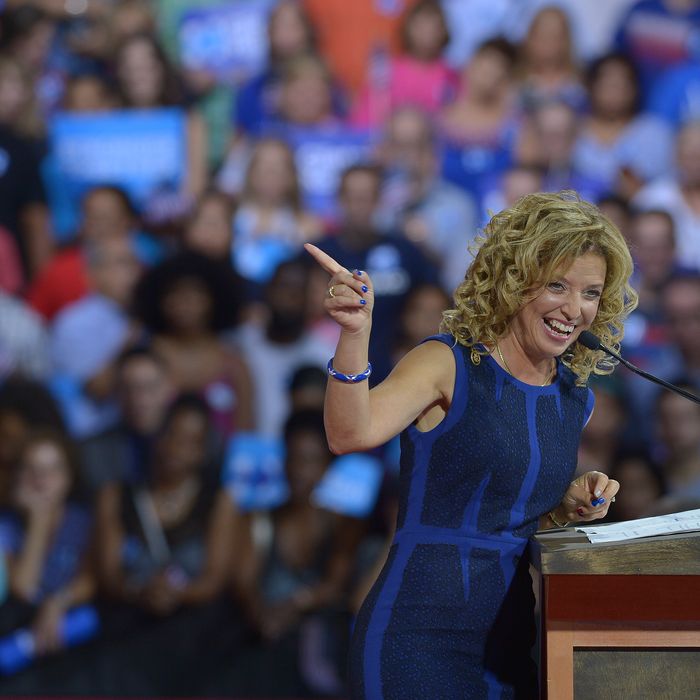 Good morning and welcome to Fresh Intelligence, our roundup of the stories, ideas, and memes you'll be talking about today. In this edition, the DNC chair steps down, protestors take to the streets in Philadelphia, and it's all part of Putin's plan — maybe. Here's the rundown for Monday, July 25.
WEATHER
The heat dome is real. Much of the country will continue to broil today. As wildfires rage across Southern California, severe storms are headed for the East Coast; even Philadelphia — this year's home of the Democratic Convention — won't be spared. New York City is also expected to see some thunder with temperatures in the mid-90s.  [Weather.com]
FRONT PAGE
DNC Chair Resigns: Democratic Party Makes Republican Party Look Almost Competent
The Republican National Convention was marred by dissension and chaos last week, and the Democrats aren't doing much better in the run-up to their convention, which kicks off today in Philadelphia. On Sunday, Democratic National Convention Chair Debbie Wasserman Schultz tendered her resignation and promised to step down at the end of the convention. Her move comes after thousands of emails released by WikiLeaks showed that DNC officials discussed ways to undermine Bernie Sanders's campaign so that Establishment-favorite Hillary Clinton would clinch the nomination. In light of the leak, not only were a whole bunch of our more annoying Facebook friends vindicated, but Bernie supporters descended on Philadelphia in droves with more than 1,000 marching on the site of the convention yesterday chanting: "Hell, no, DNC, we won't vote for Hillary." That's not what media experts call a "good look" at the start of a week meant to unite Democrats behind Clinton.
EARLY AND OFTEN
Just What This Election Needs: More Oligarchy
The Democratic Party has gone full 24, with party officials openly accusing Russian security forces of hacking their computers to help Donald Trump. According to the New York Times, they're not just being paranoid; cybersecurity experts say that the DNC's data breach can be tracked back to two Russian intelligence agencies. Trump and Putin's mutual admiration is already something of an open secret. If Putin did in fact want to undermine the Democratic Party's legitimacy going into tomorrow's convention, then he did a pretty good job. It's looking more and more like this year's theme will be disarray.  [NYT]
Bloomberg Will Vote for Clinton
Here is maybe the only bit of good news for the Clinton campaign to come out of the weekend: Former mayor of New York City, well-known rich person and non-Democrat, Michael Bloomberg, has announced that he will vote for Clinton in November. Not only that, he will give a speech in prime-time at the convention making the case for Clinton as a "business leader and independent." While Bloomberg's endorsement should be helpful in swinging some reluctant Republicans to vote for Clinton, it's doubtful that the billionaire's support will do much to assuage the angry pro-Sanders demonstrators at the convention's front gates.
A Whale Is in Trouble in Tennessee
Al Gore has confirmed that he will not be attending the Democratic Convention this week despite having served as the nominee's husband's right-hand-man for two terms. Gore has so far refused to endorse Clinton for president, saying that he wants the nominee to make a more impassioned push to make global warming the central issue of their presidency. When asked why he wouldn't be attending Gore gave one of the slickest burns since that old "I have to wash my hair" line, saying he has "obligations in Tennessee." [Politico]
THE STREET, THE VALLEY
Yahoo Has Found a Buyer: Verizon
It was announced yesterday that Verizon would buy Yahoo's core business for $4.8 billion. Actually, it was announced that the purchase would be announced today, but we can read between the lines. At its height, Yahoo was valued at $125 billion, so we expect there are some mixed feelings in Sunnyvale today. [WSJ]
We Hope You Like Reading About Quarterly Earnings Reports
This week will be huge for economic news. One hundred ninety-four S&P 500 companies have plans to announce their quarterly earnings in the next few days, including much-anticipated reports from Apple, Amazon, Facebook, and Alphabet — Google's parent company. There is also a major Federal Reserve meeting scheduled for this week. So, you know, watch this space. [Reuters]
On Second Thought, Maybe Don't "Drill, Baby Drill"
Oil prices are almost at a two-month low because U.S. producers won't stop drilling for more of it. The number of drill rigs in this country has been steadily increasing for the last month and now stands at 371 — as a point of comparison, in August last year there were only 14. Remember when we used to have to invade whole countries for oil? [Bloomberg]
Pokémon Go Changes Entire World Except, for Some Reason, Nintendo's Earnings
Despite its totally bonkers popularity — the game broke the record for most sales in the first week in the App Store over the weekend — it doesn't look like Pokémon Go's success will have all that much of an effect on Nintendo's earnings. For starters, the company already planned for its success in its earnings projections, and also it only owns 32 percent of Pokémon Co. On news of the game's limited impact, Nintendo fell 18 percent. [Reuters]
MEDIA BUBBLE
Ken Vogel Made "Mistake" in Sharing Story With the DNC
Politico is taking heat after emails leaked from the DNC show that one of its star political reporters, Ken Vogel, shared one of his stories with Democratic officials before publication — a practice commonly considered a journalistic "no no." Politico has said Vogel made a mistake in sharing the story — it claims he was only trying to double-check some technical language — but are standing by the story saying that the DNC did not ask for any substantial changes. [HuffPo]
CNN Severs Ties With Donna Brazile
CNN has cancelled its contributor agreement with Donna Brazile now that she is taking over the Democratic National Committee following Debbie Wasserman Schultz's sudden resignation. Brazile will continue to appear on CNN throughout the week, but won't be paid for her appearances. [Politico]
Guardian Media Group Records £173 Million Loss
The Guardian Media Group, which owns — you guessed it — Britain's newspaper The Guardian is expected to report losses of a whopping £173 million — nearly $227 million. Losses come as the company undertakes a large-scale restructuring, cutting 250 jobs. Seventy journalists have already accepted severance deals. [FT]
PHOTO OP
Too Much Protest for One Sign
Not exactly the image the Democrats wanted to project going into the convention.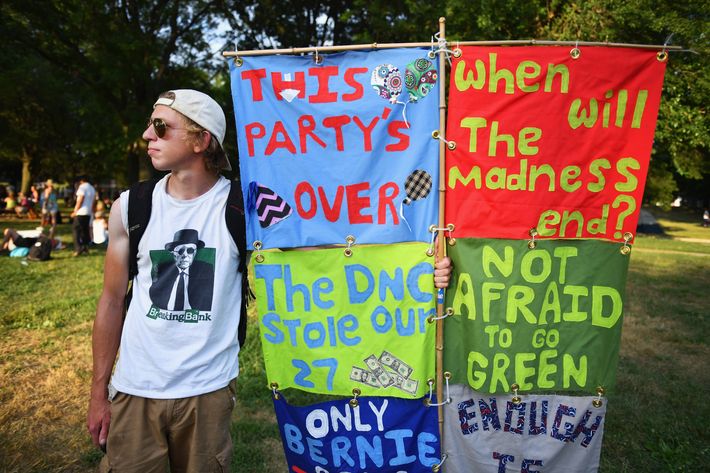 MORNING MEME
Here Comes Another Week
If the last week of July is anything like the rest of the month, the next few days might be a bit rough. Put on your headphones and watch this on repeat if you start to feel overwhelmed. No need to thank us.
OTHER LOCAL NEWS
Road-Trip Wife Enjoys Total Control of the Radio
A woman enjoying a road trip in Alaska will not be charged with any crimes after it emerged that she used the trip as a kind of "rolling wake" for her dead husband, who was in the back of the car. The woman apparently routinely stopped at canneries, where she would stock up on ice to keep her deceased spouse from getting, you know, gross. [The Guardian]
Hippie Ruins Dinner
A seafood restaurant in Sunrise, Florida, has agreed not to serve its prized 15-pound lobster and will instead release it into the custody of animal-rights groups who will bring it to an aquarium in Maine. The lobster is believed to be around 110 years old. We just love the owner of the restaurant, Joe Melluso, who commented: "When there was a group that wanted to save him, I was disappointed in myself for not having that feeling myself." Very self-aware, Joe. [UPI]
HAPPENING TODAY
Trump Brings His New Double Act on the Road
Donald Trump will be in Roanoke with his VP pick, Mike Pence, for a town-hall-style event this afternoon. Could this have anything to do with Clinton picking popular Virginia politician Tim Kaine as her running mate? [AP]
Democrats Try to Keep It Together in Philadelphia
Today is the first day of the Democratic Convention in Philadelphia. Expect the usual political pyrotechnics, including speeches from President Obama, and First Lady Michelle Obama, along with plenty of opportunities for Clinton to act trustworthy, and everyone to pointedly ignore the thousands of protestors just outside the doors. [CNBC]
Colombian Drug Lord El Loco to Be Sentenced in Manhattan
Daniel Barrera, better known as El Loco, will be sentenced in a Manhattan courtroom today. Barrera was a notorious, and notoriously violent, drug trafficker in Colombia before being extradited to the United States. He is facing life in prison. [NYT]