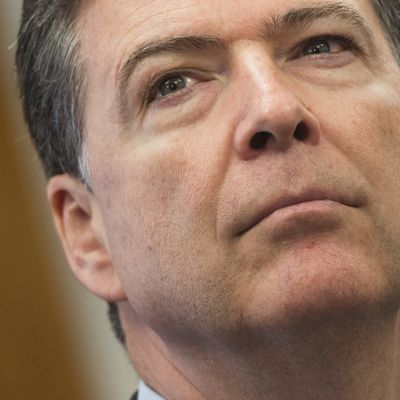 What's your angle?
Photo: SAUL LOEB/AFP/Getty Images
Good morning and welcome to Fresh Intelligence, our roundup of the stories, ideas, and memes you'll be talking about today. In this edition, the F.B.I. pleases no one, Donald Trump takes his potential running mates for a walk, and another robot tries to kill someone. Here's the rundown for Wednesday, July 6.
WEATHER
Sorry to say it, but it doesn't look like today will be a very nice day. The West Coast will be okay, if a bit warm, but storms are raging across the central U.S., and all the spots on the East Coast not seeing thunderstorms will be hot and humid. New York City will be the latter: very hot and very humid. Enjoy! [USA Today]
FRONT PAGE
What a Complicated Day for the Hillary Clinton Campaign
What should have been a major victory for Hillary Clinton turned into something … else. FBI Director James B. Comey took to the lectern to announce that his agency would not recommend charges against her — you should really watch the whole statement, it's extraordinary — and that in fact "no reasonable prosecutor would." However, his message was a bit clouded by what came before — namely that Clinton and her staff were "extremely careless in their handling of very sensitive, highly classified information," that "the security culture of the State Department … was generally lacking," and that "it is possible that hostile actors gained access to Secretary Clinton's personal email account."
That left Republicans in the difficult position of both cheering Comey's criticisms and attacking him for his ultimate findings. Paul Ryan, speaking on Fox News last night, said that Republicans would ask Comey to testify on Capitol Hill and called on the Director of National Intelligence to refuse Clinton access to classified information, which we can all agree would be something of a handicap if she became president.
EARLY AND OFTEN
Court Ruling a Setback for Obamacare
A federal-appeals court has ruled that the White House overstepped its authority by not allowing people to buy a type of insurance that does not meet Obamacare standards. In its decision, the United States Court of Appeals for the District of Columbia went after the Department of Health and Human Services directly, saying it was guilty of administrative overreach. Obamacare had tried to disallow consumers from buying fixed indemnity insurance, insurance that pays out a fixed amount of money regardless of actual medical costs. That kind of insurance is often much cheaper but does not always provide adequate coverage, and the Obama administration had argued that it takes advantage of poorer people. [NYT]
Trump to Select VP, Pageant-Style
Donald Trump has entered a new and fascinating stage in his campaign: choosing his vice-president. Trump will be parading out the potential running mates on his short list to see how they perform on the road and to see if the duo has the right kind of chemistry to make America great again. Yesterday it was Senator Bob Corker's turn in the spotlight, appearing with Trump at a rally in North Carolina. Today is Newt Gingrich's turn to take the stage, this time in Cincinnati. Does Gingrich have what it takes to be the Abbot to Trump's Costello? Tune in this afternoon to find out! [Reuters]
Paul Ryan Reminds World He Will Vote for a Sloppy Race-Baiter
Paul Ryan weighed in on the ongoing sheriff-star scandal — What? How do you know it's not a sheriff's star? — yesterday, saying that images like the one Trump recently tweeted have no place in American politics, and calling on Trump to "clean up" his social-media act. The Trump campaign has been in hot water since the weekend, when it tweeted out an image that showed Clinton in front of a pile of money with "Most Corrupt Candidate Ever!" appearing in what certainly looks like a Star of David. Just to reiterate, Paul Ryan called out Donald Trump for careless campaigning and disseminating anti-Semitic propaganda, and will vote for him in November. [Reuters]
Poll Shows Clinton's Lead Opening Up
Yes, we know it is very early to take polling seriously, but still — according to the latest Reuters/Ipsos poll released yesterday, Hillary Clinton's lead is becoming very considerable indeed. As it stands, the poll had 46 percent of voters going for Clinton compared to only 33 percent who would vote for Trump. The Hill notes that that is ten points lower than where Romney was polling at the same time in 2012. A full half of the people who said they will vote for Clinton said they support her because they don't want Trump to become president. [The Hill]
THE STREET, THE VALLEY
Judge Approves Historic Gag Order Against Tech Giants
After a Brooklyn judge rejected a whole series of gag orders against tech companies like Google and Facebook in May, authorities wanted to stop web companies from telling users about grand-jury subpoenas. Another Brooklyn judge decided yesterday to go ahead and approve at least some of them. Hilariously, a clerical error meant the information that authorities wanted to keep secret was promptly released to the public. But, baby steps. [Politico]
We Are So Excited to Invest in Hostess, the Brand That's Invested So Much in Us
Hostess, the company that brings you those superlative cream-filled chocolate cupcakes — and Twinkies and Zingers — announced yesterday that it is being purchased by the unfortunately named Gores Group, which is planning on taking the company public. Investing in Hostess will be like owning a little piece of America's soul. [Reuters]
Former Facebook Exec Joins Twitter's Board
What do you call an animal that runs onto a sinking ship? Twitter has named Quip CEO and ex-Facebook chief technology officer Bret Taylor to its board of directors. Twitter's stock has decreased by nearly 25 percent in value this year, as the company pursues deals to produce live-video coverage of things like football games. [Bloomberg]
Another Tesla Autopilot Crash Reported
New details from the first fatal crash involving a car in self-driving mode: Now it seems that Tesla did in fact report the crash — which happened in May — to government regulators just nine days after it occurred. It also reported another crash involving a self-driving Tesla, which took place last week. The car ended up on its roof, but neither the driver nor the passenger were injured. That's why they call it beta, people. [Reuters]
MEDIA BUBBLE
Observer's Open Letter to Jared Kushner Makes Waves
Dana Schwartz, an entertainment reporter for the New York Observer, published an open letter to Donald Trump's son-in-law and de-facto campaign manager Jared Kushner in the paper. "An Open Letter to Jared Kushner, From One of Your Jewish Employees," asks how Kushner, who is Jewish and the publisher of the Observer, can tacitly endorse the hate speech commonly espoused by Trump's supporters. Kushner responded in writing, saying, "my father-in-law is an incredibly loving and tolerant person." We expect Schwartz might have an awkward day at work tomorrow. [The Observer]
If You Can't Beat 'Em Join 'Em: Comcast Welcomes Netflix Onboard
Comcast and Netflix have reached a deal that will allow both companies' customers to watch Netflix's streaming content on Comcast's X1 platform. That means watching Netflix will be just like watching cable TV. The deal is one more step toward Comcast's dream of a kind of unified entertainment platform, all running through its cable boxes. The service should be available to subscribers by the end of the year. [recode]
Doing Bath Salts With Damien Hirst: Vice Moves Into the Contemporary-Art World
Ever-expanding Vice Media now has its eye on the lucrative world of contemporary art; it has acquired a controlling stake in GARAGE Magazine, the influential art-and-culture magazine owned by Dasha Zhukova. Zhukova will stay on as editor-in-chief, but Vice has plans to expand the brand, bringing on a new video platform and inaugurating a series of international editions. [FT]
PHOTO OP
Eid Mubarak!
Many of the world's 1.6 billion Muslims are celebrating the end of Ramadan today. We hope everyone had a great holy month.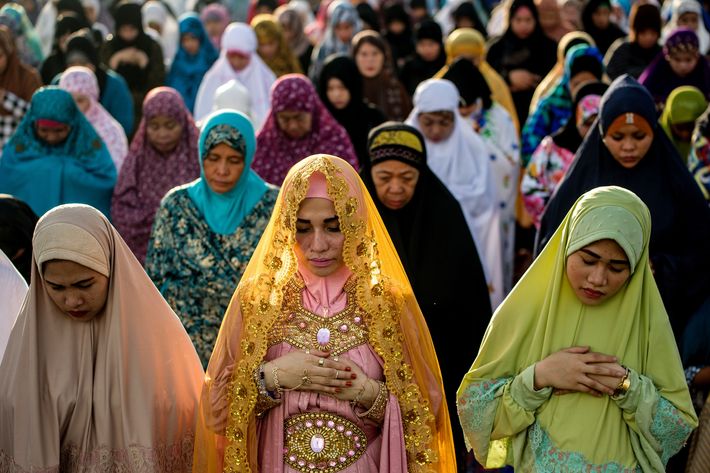 MORNING MEME
This Map of St. Louis Is Also a Map of Our Heart
You guys should really stop throwing away so much fire.
OTHER LOCAL NEWS
The Unhappiest Camper
Police responded to two shots fired in Oceana County, Michigan, to find that a man at a local campground had accidentally shot himself in the hand. And that second shot? Well he was so angry over shooting himself in the hand that he also shot the bed in his camper. By the way, the campground where this happened is called Jellystone, and it is taking everything we have not to make a Boo-Boo joke. [M Live]
Cub Scouts' Hooters Partnership Ill-Advised
Parents were a bit taken aback when they discovered that the day camp they sent their Denver-area Cub Scout children to was sponsored by Hooters and staffed by Hooters waitresses wearing Hooters branded clothing. Nice of the waitresses to want to give back, but from a brand perspective, this is not what we call "good optics." Are we sure this isn't some misunderstanding over an innocent owl-watching venture? [UPI]
HAPPENING TODAY
Markets Await Minutes From Federal Reserve Meeting
Investors are eager to read the minutes from a meeting of Federal Reserve officials back in June, which should reveal the Fed's opinion on issues like inflation and what then seemed like the far-fetched possibility of Brexit. [WSJ]
As Senate Reconvenes, So Does the Fight Over Guns
The Senate reconvenes today because whenever you get one vacation day, they get three. As lawmakers meet, there is one thing on everybody's mind (or at least the Democrats want there to be): gun control. Minority Leader Nancy Pelosi is slated to hold a press conference this morning with gun-control activists. And Republicans may introduce their own bills to keep guns away from people suspected of terrorist ties, bills which Democrats say they will oppose for being too lenient. [NYT]
Commission Releases Long-Awaited VA Report
Two years after shoddy health care at the Department of Veterans Affairs was much in the news, the Commission on Care will release a report today on the current state of the VA. Don't expect good news; the report finds, among other things, that the VA needs "urgent reform." [NYT]