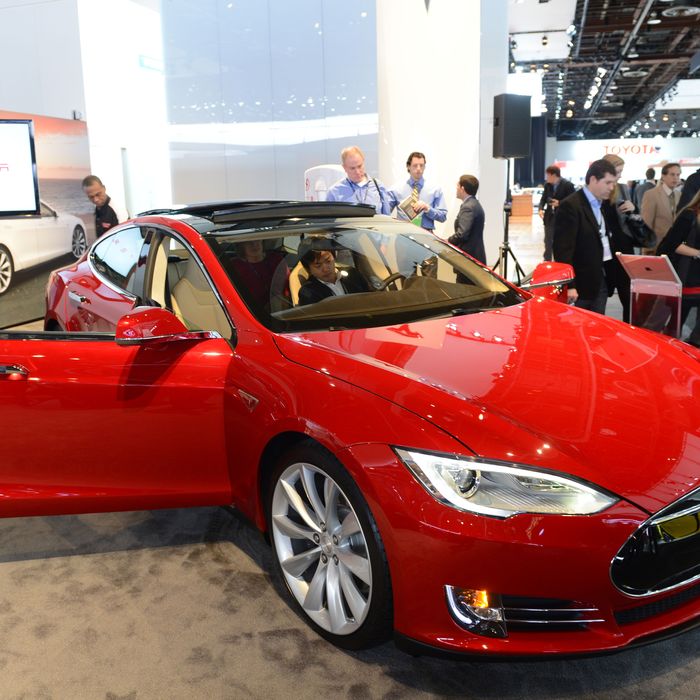 Maybe don't let this drive.
Photo: Stan HondaSTAN HONDA/AFP/Getty Images2013 AFP
Good morning and welcome to Fresh Intelligence, our roundup of the stories, ideas, and memes you'll be talking about today. In this edition, never send a car to do a driver's job, Donald Trump goes off the rails, and Puerto Rico finally gets some relief. Here's the rundown for Friday, July 1.
WEATHER
It should be a rainy Friday for much of the country with storms all along the Eastern Seaboard and inland toward the Ohio Valley, with even more storms in the Rockies. New York City will not be spared, with thunderstorms all day and into the night. [USA Today]
FRONT PAGE
The Inevitable Occurs: Driver Killed in First-Ever Fatal Self-Driving Car Accident
It emerged last night that an accident in which the driver of a Tesla Model S was killed in Florida last May occurred when the car was in self-driving mode. Federal regulators are investigating the accident, which may be the first involving a self-driving car. The driver had previously posted a video, which went viral on YouTube of a near-accident when the car was "driving itself."
EARLY AND OFTEN
Trump 2.0: A Long Day of Ranting and Placating Racists
If this is the Donald turning over a new leaf, it turns out both sides of the leaf are about the same. He quickly changed course from calling NATO obsolete to saying he would use it to defeat ISIS. Then he pointed at a commercial airliner flying over one of his rallies and speculated that it was a Mexican jet coming to attack us. Then, he responded to a woman who said we should get "rid of all these hebee-jabis they wear at TSA" — obviously her words, not ours — and replace them with veterans, saying that it wasn't a bad idea. Will someone please introduce her to a Muslim veteran so we can watch her head explode?
Military Lifts Ban on Transgender Service Members
At long last the Pentagon announced yesterday that the military was lifting its ban on transgender people openly serving in the military. Within 90 days, commanders will receive new guidelines on transgender soldiers and, within a year, openly transgender people will be able to enlist as long as they have been identifying as the same gender for 18 months. There may be as many as 11,000 transgender Americans serving in the military in active duty and the reserves. With this decision, the United States joins 18 other countries that allow transgender people to serve openly in the military. [Reuters]
Obama Signs Off on Puerto Rico's Rescue Package
Obama wasted little time in signing the long-awaited Puerto Rico relief package yesterday. And Puerto Rico wasted even less time — just a few minutes, in fact — before suspending payments on its massive $70 billion debt. Had the president waited even one more day, the island territory would have had to pay a $1.9 billion debt payment, throwing its economy into further disarray. The new bill will set up a controversial federal-oversight committee, which will "help" Puerto Rico restructure its obligations and effectively take control of the island's finances, an outcome that Puerto Ricans have accepted with understandably mixed feelings. [Reuters]
Donald Trump Returns to His Roots: Firing People
In case the full day of incoherent speeches didn't tip you off that Donald Trump wasn't ready to become the more-presidential candidate that his party keeps begging him to be, he topped everything off by firing his new digital strategist Vincent Harris, the one he hired just a few days ago and who was supposed to represent a new, more professional era for the Trump campaign. Apparently Harris was fired for leaking his own hiring. The brief era of the mysteriously well-punctuated Trump tweet is over. [Politico]
THE STREET, THE VALLEY
Jury Orders Oracle to Pay HP $3 Billion
A jury in California has found that tech giant Oracle must pay Hewlett-Packard $3 billion in damages after the company stopped making software for Intel's Itanium processor, though it apparently promised HP that it would continue to do so. Oracle is appealing. [Reuters]
Sweet Nothings: Mondelēz's Hershey Acquisition Not to Be
Hershey, America's most nostalgic chocolate company, has rebuffed a major offer from the Illinois-based global chocolate company Mondelēz to acquire the company for $23 billion. Hershey claims Mondelēz undervalued its share price. This all comes down to Mondelēz wanting to take over the distribution and production of Cadbury brand chocolates in the United States, which we're surprised is even that lucrative a market because everyone knows only British people actually like Cadbury. [Reuters]
Well, It Could Have Been Worse
After an embarrassing social-media campaign asking people to name their favorite "N word" — yes, this really did happen, and, yes, it turned out exactly how you'd expect — Google finally has decided on a name for its new Android mobile-software system: Nougat. The name is Nougat. [CNet]

So Tidal Was Just About Money
Two pioneers in bizarre, self-serious advertisement may become one, as it is being reported that Jay-Z's Tidal music-streaming service is in talks with Apple over a potential sale. Tidal was launched as a service owned by artists, and designed for artists at a time when it was perceived that streaming services were unfair to musicians. Tidal has found recent success with exclusives from artists like Beyoncé and Kanye West. [WSJ]
MEDIA BUBBLE
Adnan Syed Retrial a Victory for Podcasts
Adnan Syed, the subject of the investigative podcast and cultural phenomenon Serial, has been granted a new trial according to the Baltimore Sun. Syed has been serving a life sentence since 2000 for the murder of his ex-girlfriend Hae Min Lee. When Sarah Koenig's podcast took on the case, it brought public attention to the many discrepancies in the original investigation and, especially, in Syed's trial. Syed was awarded a new trial based on the failings of his lawyer Cristina Gutierrez, a name that will be familiar and potentially anger-inducing to fans of the podcast.
Unexpected Mass Layoffs Hit IBT Media
In an unexpected move yesterday, IBT laid off more than half of its staff, letting go 32 people and shutting down its international business, media, technology, and media and culture news desks, as well as its copy desk and even its graphics team. Laid-off employees who can't find new jobs in two weeks will be paid out one week's salary for every year they worked at the company. For most that will amount to less than four week's pay. Grim. [Politico]

Gay Talese Learns That You Really Can't Trust Creepy Sex Criminals
Gay Talese will not promote his new book about a motel owner who spied on his guests having sex over decades. An excerpt of the book in The New Yorker earlier in the year caused quite a stir, and apparently Steven Spielberg, who already secured the film rights, thought the whole thing would make a great movie — don't ask us, we're not the genius. But now, after revelations that the creepy sex criminal at the center of the book might have been less than honest, Talese is disavowing it and won't promote it saying its "credibility is down the toilet."
PHOTO OP
These Two!
We really hope they keep going on adventures together after this year is over.
MORNING MEME
This Is When We'd Put Our Grandfather in a Home
"And the nurse is stealing from me!"
OTHER LOCAL NEWS
Cheese Bandit Strikes Again, Illegal Fondue Parties the Only Explanation
Another massive cheese heist has taken place in, you guessed it, Wisconsin. This time burglars, perhaps super-intelligent mice or Frenchmen, made off with a semitrailer full of 20,000 pounds of cheese in Oak Creek. That much cheese could get up to $46,000 on the street. Police are on the case, but this sentence from a local news report does not inspire much hope: "Oak Creek police are actively looking for the white semi trailer with no specific markings on it." God speed, everyone. [Fox]
Maine Police Really Get Our Sense of Humor
Police in Westbrook, Maine, had to turn to Facebook to assure residents that they were not joking when they warned of a large beaver-eating snake on the loose. There is in fact a large snake on the loose, and it did really eat a beaver. Also it is ten feet long and can swim. Who's laughing now, Westbrook? [UPI]
HAPPENING TODAY
Prepaid iPhones Now a Thing
The rollout of iPhones on T-Mobile's prepaid MetroPCS plan begins today. As of now, the prepaid iPhones are only available in Florida, but they are expected to be made available in other states soon. [9to5 Mac]
A Great Day for Lovers of Laws, Rules, and Regulations
New laws come into effect today in many states. In Virginia, that means that more out-of-state concealed-handgun permit holders can carry their guns, but those with permanent protective orders cannot; in Indiana, established customers at local pharmacies can now buy pseudoephedrine over the counter; and in Florida, absentee ballots are now called vote-by-mail ballots. Some real revolutionary stuff, guys.