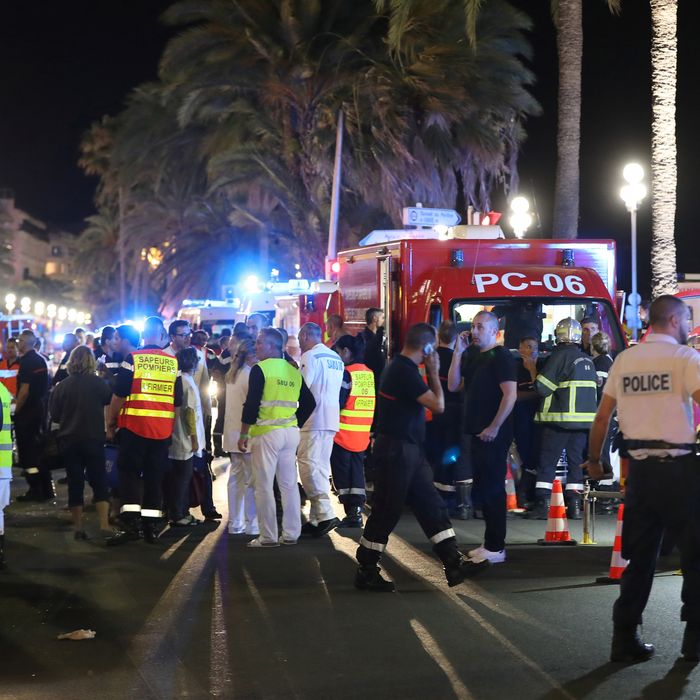 Tragedy strikes France again.
Photo: Valery Hache/AFP/Getty Images
Good morning and welcome to Fresh Intelligence, our roundup of the stories, ideas, and memes you'll be talking about today. In this edition, a terrorist kills scores in Nice, Kerry meets Putin in Russia, and Never Trump is over. Here's the rundown for Friday, July 15.
WEATHER
It'll be another hot and rainy day for much of the East Coast, while severe winds, storms, and hail continue to affect swaths of the Plains States from Kansas to Oklahoma. Unfortunately, New York City today will be much like New York City yesterday, except hotter and muggier. Happy Friday! [USA Today]
FRONT PAGE
The Death Toll Continues to Rise in Nice
The death toll in yesterday's bloody attack in Nice has now climbed to 80, including some children, and with many still in critical condition. At 10:30 p.m. last night, as hundreds of people had gathered to watch the Bastille Day fireworks along Nice's waterfront promenade, a truck jumped the pavement and drove for two kilometers, swerving to run over as many people as possible. The driver then got out of the truck and shot people as they tried to flee before being shot and killed by police. There are reports that the truck was full of explosives and other weapons. The attack is being characterized as an act of terrorism, and while not yet confirmed, the driver appears to have been a Nice resident of Tunisian origin.
EARLY AND OFTEN
Kerry Goes Home Early From Kremlin Slumber Party
Secretary of State John Kerry met with Russian president Vladimir Putin yesterday in Moscow. The two mostly discussed Syria, and the possibility of working together to destroy their common enemies there like the Nusra Front, ISIS, and al Qaeda. Kerry did bring up his disappointment with the Assad regime — Russia's ally — constantly breaking cease-fires, but he mainly kept the talk to how the two can help each other, saying that "absent concrete, near-term steps, diplomatic efforts could not continue indefinitely." The duo ended up losing track of the time with Kerry not leaving until 1 a.m. [Reuters]
Trump Postpones VP Announcement in Nice Aftermath
Donald Trump had planned on announcing his pick for vice-president today, but he postponed the announcement in light of yesterday's bloody attack in Nice. Instead, he will pay tribute to Nice's fallen like he does after every terror attack: spending the day tweeting about himself and making everything worse. Even though he won't make the official announcement, everyone is pretty sure they know who it is going to be. Spoiler alert: It's going to be Indiana governor Mike Pence, sad news for everyone who dreamed of living on the moon.
Everything Has Officially Gone Too Far
Come on everyone, we're trying to have a country here. Hillary Clinton, who still can't figure out how to email correctly, announced yesterday that she will host her Ohio campaign event over the weekend at a Pokémon Go gym. Some youthful intern has selected Madison Park in Lakewood, Ohio, which is apparently a fertile Pokémon hunting ground. The flyer for the event, which promises that they will "put up a lure model" and that there will be "free pokemon," also says that kids are welcome, but that's pretty much everyone these days, no? [The Verge]
Never Trump Never Had a Chance
Never Trump, the movement that never really was, is no longer. The GOP convention rules committee yesterday voted down the group's much-hyped "conscience clause," which would have allowed delegates to vote for basically whoever they want. The clause was a vital component of the Never Trump camp's plan to oust Trump from the running. On top of that, the committee passed — by a pretty resounding 87 to 12 — an amendment requiring the delegates to vote according to the results of their home primary or caucus results, meaning that Nerf Franco will definitely be the nominee. [Politico]
THE STREET, THE VALLEY
Privacy Advocates Rejoice As Microsoft Wins Email-Seizure Appeal
In a 3-0 ruling, Microsoft won a closely watched appeal over whether the government can compel them to hand over emails stored in servers overseas. The win for the company — a major setback for the Department of Justice — is cause for celebration for privacy advocates who worry their rights are being stripped away in the digital age. [Reuters]
Big News: Martin Shkreli Gets a Date
Ready your gag reflex. Martin Shkreli, among America's most hated pharmaceutical executives — it's a long list — is coming back into the news cycle. The Wu-Tang loving, price-gouging maker of extremely long YouTube videos has been given a trial date, June 26, for the start of his security-fraud case. [Bloomberg]
News to Them: Facebook's LGBT Employees Now Officially Exist
Facebook released its diversity statistics yesterday, and they skew strongly white — only 2 percent of employee respondents are black — and male. But we knew that; the new revelation is that they also skew extremely straight. For the first time in its history, Facebook has included LGBT employees in its employment statistics, which is a great step. Though, seeing as only 7 percent of employees who filled out their surveys identified as LGBT, hiring more LGBT people would also be a great step. [CNet]
Freak Out! Mastercard Changes Its Logo a Little
Mastercard boasts one of the most ubiquitous corporate logos in the world, but now those little orange balls are getting a high-tech makeover. The new streamlined logo has not changed too much, but does look a bit more up-to-date, and will certainly appear better on mobile devices' little screens. [The Verge]
MEDIA BUBBLE
Vevo Changes Everything Again
Music-video platform Vevo has undergone another revamp in its mission to become the destination for music videos and "music video culture." The new app boasts more original content, a sharper focus on artists, and personalized recommendations. You may only know Vevo as that little logo in the corner of that Rihanna video on YouTube, but the company actually pulls in a staggering 18 billion views a month with more than 200,000 official music videos. [CNet]
We Guess We Weren't the Only Ones Watching Game of Thrones
The Emmy nominations were announced yesterday, and they proved a fitting testament to just how strange people are. The two most awarded shows were The People v. O.J. Simpson: American Crime Story with 22 nominations, and Game of Thrones with 23. Julia Louis-Dreyfus — who deserves every award in the world and then some awards — was of course nominated for her role on Veep. Wow, a good night to be HBO. [CNN]
Inevitable Re-Cut of Ghostbusters for Chinese Market Going to Be Really Tricky
It looks like the much anticipated Ghostbusters remake will miss out on all of that sweet China money. The film will not be shown in China thanks to propaganda laws, which forbid movies that "promote cults or superstition." Superpower pro tip: Maybe think about what kind of power you project if your government is officially afraid of ghosts. [AV Club]
PHOTO OP
Vive La France
With all of the terrible images coming out of Nice, let's take a moment for this beautiful picture of what brought everyone together in the first place. What a stunning city.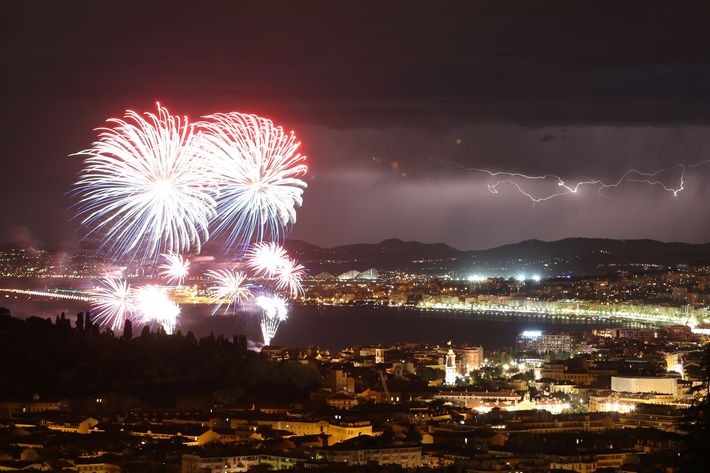 MORNING MEME
Hillary Clinton Crushing It
Damn Hillary, your finger is so on the pulse, it's almost too much. [Gawker]
OTHER LOCAL NEWS
Rust Cohle Time Theory, Not True of Rivers
Three women who tried tubing for the first time earlier in the week in Muskegon County, Michigan, had a terrible experience all thanks to a jerk who told them that the river was a circle and would bring them back around to their parked car. Instead, it turned out that the river was more like a river, and the women passed a restless night clinging to a tree on the river bank and calling for help. Everyone is fine now. Except for that smart-ass guy, that guy is going to hell. [M Live]
Once Fertile Woman Has Aged
Look how long this woman has lived! And so many children! And what a coincidence! Let us explain. It has emerged that Ohio resident Marie Frey turned 86 back in June. But that's not all, she also greeted her 86th grandchild on the same day. Which means 86 appears twice! Which means this is news! [Today]
HAPPENING TODAY
National Taunt-Lactose-Intolerant-Nerds Day
Today is National Ice Cream Day, which means many of the places that usually sell ice cream will now be giving it away for free, but not all of the places. Check ahead. We realize that all of these new free-stuff holidays are just marketing ploys, but whenever there's a chance for our readers to get free food, we're going to tell them about it. [Money]
Trump to Announce When He Will Announce His Announcement Today
As we've noted, Donald Trump postponed the announcement of his vice-presidential pick following the terrible attack in Nice. Still, Trump has promised that he will announce when he will announce his VP today, so stay tuned to stay tuned. [NYT]