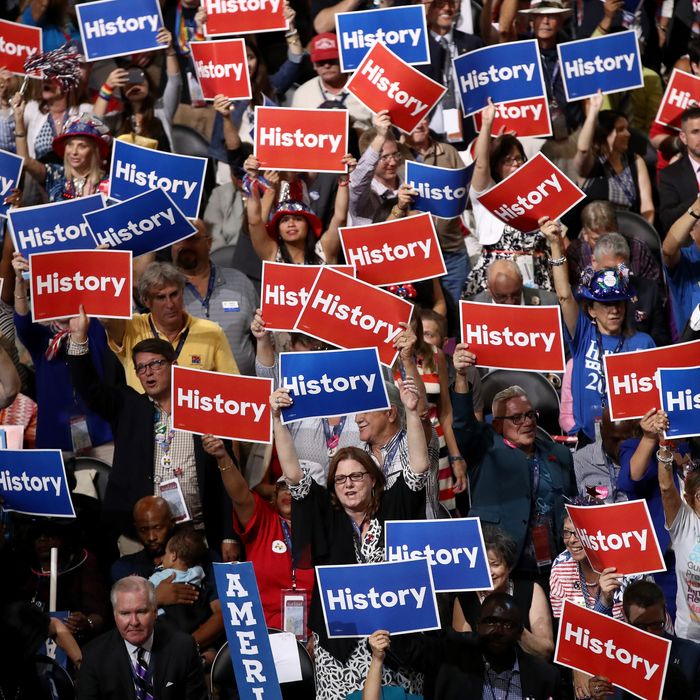 Signs of the times.
Photo: Win McNamee/2016 Getty Images
Good morning and welcome to Fresh Intelligence, our roundup of the stories, ideas, and memes you'll be talking about today. In this edition, Hillary Clinton makes history, Apple makes its numbers, and Donald Trump makes us nervous. Here's the rundown for Wednesday, July 27.
WEATHER
Today is all about storms. They will rage all across the East Coast, in Florida along the Gulf Coast, and through the lower Mississippi Valley, with even more storms in the Plains States. Somehow, New York City will avoid them all for a hot and sunny Wednesday with temperatures in the low 90s. [USA Today]
FRONT PAGE
History Made As Hillary Clinton Nominated for President
Hillary Clinton became the first woman to lead a major political party in American history yesterday when Democrats made her their official nominee for president of the United States. Despite a coordinated walk-off from die-hard Bernie supporters early in the evening, the mood at the convention was one of celebration and joy, capped off with a poignant speech by Hillary's husband. As it turns out, Bill Clinton is a pretty good speaker, and he went typically overlong in defending his wife against insinuations that she is cold, calculating, or not trustworthy. He described how they met, and said that he knows she'll never quit on us because "she never quit on me." All in all, an emotional end to what had already been an emotional day in Philadelphia.
EARLY AND OFTEN
The Mothers of the Movement Provide the Convention's Most Powerful Endorsement
In the most moving moment of the Democratic Convention so far, a group of mothers of Africans Americans who were killed — many by police —  spoke passionately in favor of Hillary Clinton. The group, known as Mothers of the Movement, took the stage to chants of "Black Lives Matter." The mothers of Sandra Bland, Jordan Davis, and Trayvon Martin each spoke to Clinton's capacity to grieve with them, understand what it was to be a mother, and speak their children's names. Lucia McBath, the mother of 17-year-old Jordan Davis, who was killed for playing music too loudly said: "I lived in fear my son would die like this. I even warned him that because he was a young, black man, he would meet people who didn't value his life. That is a conversation no parent should ever have with their child. Hillary Clinton isn't afraid to say that black lives matter." [LA Times]
The Sixth Bourne Movie Will Just be a Russian Guy Typing
"Russians hacked the Democratic National Committee" didn't even have time to be a conspiracy theory before turning out to be true. American intelligence agencies are mostly in agreement that their Russian equivalents are behind the hack. Even Obama stated that experts believe it to be an action of Russia, and went so far as to imply that Putin is trying to manipulate the election to give an edge to Donald Trump. "What the motives were in terms of the leaks, all that, I can't say directly," he said before saying pretty directly, "what I do know is that Donald Trump has repeatedly expressed admiration for Vladimir Putin." [NYT]
Pour Yourself a Drink; Trump Pulls Ahead of Clinton for the First Time in Months
The latest Reuters/Ipsos poll shows Trump with a two-point lead ahead of Clinton. Despite what some are saying, this is not the first time Trump has led in the poll — Trump briefly pulled ahead in early May — but it is the most significant lead he's had in months, and certainly doesn't paint a very encouraging picture coming after the raft of polls released on Monday that were unfavorable to Clinton. Still, it's early. Plug your ears and close your eyes and keep saying that. [Reuters]
Charges Against David Daleiden, the Peter Funt of the Pro-Life Movement, Dropped
Prosecutors in Texas have dropped the charges against David Daleiden and Susan Merritt, the two anti-abortion activists who claimed they caught Planned Parenthood officials on hidden camera discussing the sale of fetal tissue. Planned Parenthood denounced the videos as deceptively edited and dishonest, and the court — in a moment of great schadenfreude for the pro-choice community — brought charges against the two over their use of fake drivers' licenses to gain access to Planned Parenthood's offices, charges that were dropped today. [Bloomberg]
THE STREET, THE VALLEY
Bad News for Apple But Not As Bad As Everyone Expected … So Good News for Apple?
Apple released its second-quarter earnings today, and the news was not great: iPhone sales dropped for the second quarter in a row, with the company now selling 15 percent fewer handsets than a year ago; revenue also dropped by 14.6 percent. Still, analysts were expecting much worse, so shares shot up on the news and investors, for the most part, breathed a sigh of relief. Just like our mother always said: "Keep other people's expectations as low as possible." [Reuters]
Tesla Driver Was Speeding Before His Robot Car Killed Him
New details came to light yesterday about the fatal crash involving a self-driving Tesla — the first deadly crash of a self-driving car. Federal investigators have discovered that the vehicle was speeding when it plowed into a truck. Still, speed seems like something an autopilot should regulate no? Tesla is claiming that the car didn't see the white truck-trailer against the bright sky. [Bloomberg]
Flightless Bird: Twitter's Earnings Not Looking Good
Yesterday was a rough day for Twitter; the company has been struggling for a while now, but its just-released second-quarter earnings report is especially grim. The company reported its slowest growth since going public, revenue missed analyst estimates, and shares for the company fell 11 percent. Please don't tell us we're going to have to learn how to Snapchat. [Reuters]
Vizio Sold to the Chinese Company that Compared Apple to Hitler
William Wang, the CEO of American television maker Vizio, announced yesterday that the company was being sold to LeEco, the Chinese electronics company, for $2 billion. If you've heard of LeEco at all, it is probably thanks to its CEO's propensity for comparing Apple to the Nazis — one time he even shared a cartoon of Hitler wearing an Apple armband. Sounds like a nice dude. [The Verge]
MEDIA BUBBLE
Apple Goes Crackle: Carpool Karaoke Moving to Apple Music
Apple Music has purchased 16 episodes of Carpool Karaoke, the viral segment of The Late Late Show With James Corden in which Corden drives around singing with celebrities in cars — but Corden will not host the Apple version. What is it with all the celebrities in cars shows? First Comedians in Cars Getting Coffee and now this. Maybe Guy Fieri will host a show where he just drives around with C-list celebrities eating chili fries in his convertible. [CNet]
The Only Polling We Choose to Acknowledge
Ignore Nate Silver. Ignore Reuters/Ipsos. Everyone knows the only numbers that really matter are television ratings, and so far, the DNC has that most American of popularity contests all sewn up. About 28.4 million viewers have tuned into the first night of the DNC, a full 5 million more than the RNC. People love Demi Lovato. [Hollywood Reporter]
How Have We Never Heard of This Before?
Paul Feig has been discussing the plot of the next movie he's producing and it is banonkers. Supermodel Snowpocalypse will tell the true story of when — we're just going to quote the A.V. Club here: "a group of models, a photographer, and some advertising executives were doing a fur-based photoshoot in the mountains of Chile, but they had to retreat into a cabin when a snowstorm hit. They then made the lodge 'into their own Studio 54' and proceeded to do a bunch of drugs for a few days. Eventually, some of them realized that they were all going to die in a frozen, hedonistic nightmare, so they 'hatched a plan to escape back to civilization.'" Yes, we know this isn't really news, but how have we not heard this story before? [A.V. Club]
PHOTO OP
In Celebrity-Convention Appearances Banks Beats Baio
Nailed it.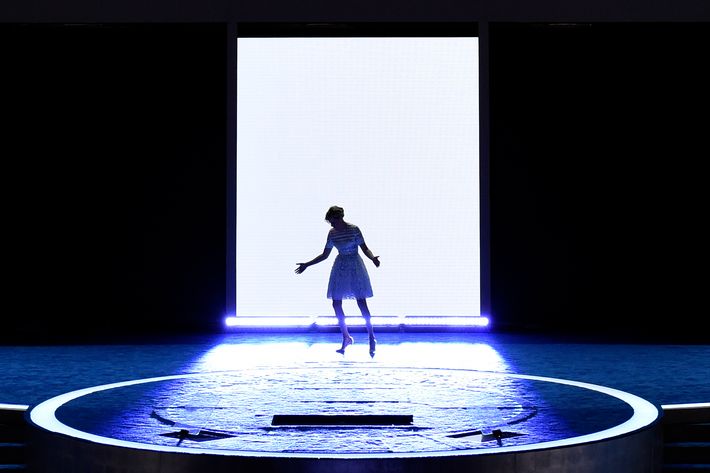 MORNING MEME
What History Looks Like
This might not even be a meme, technically, but it makes us cry, so we don't care. Watch 102-year-old Jerry Emmett — who was born before women could legally vote — pledge her state's delegates to Hillary Clinton (a woman). [The Slot]
OTHER LOCAL NEWS
That's Why They Call It a Rascal
A thief is still on the loose after robbing a Tucson, Arizona, Walmart and escaping on one of those electric-scooter things. The robber loaded up his scooter basket with stolen goods, then used it to pin an employee who tried to stop him against a wall before scooting off through the exit and into the sunset. Seriously, he "reportedly evaded capture by heading west." Heading west, that gets the cops every time. [UPI]
Love Sucks, Even for Bears
A black bear spotted in the yard of a Bollinger County, Missouri, resident was determined to have walked more than 400 miles across the state. The resident managed to snap a picture of the bear's ear tag, which showed he started his journey in way-off Christian County — anyone familiar with Missouri geography will be really impressed with that bear right about now. A quick Google of "Bollinger County honey factory" turned up nothing, dashing our hopes of solving this little mystery. [UPI]
HAPPENING TODAY
That's the Thing With Being a Federal-Reserve Official: So Many Meetings
Federal Reserve officials are meeting again today, but thanks to Brexit and recent U.S. jobs numbers, no one really expects them to raise the short-term interest rates. Instead, people will be watching closely to see if there are any signs that a rate hike could come as soon as September. We feel like we write the exact same thing about this every few weeks. [WSJ]
Man Who Will Say Anything Doesn't Know What He's in For
Donald Trump may finally meet his match today. The Republican nominee will host his first Reddit AMA — ask me anything — this evening. So you know, if you're free, hop on, and find out how to give your hair that patriotic buffalo-wing sheen or whatever. [Townhall]
Putin and Russian Olympians to Glower at Each Other
Russian president Vladimir Putin is set to meet with the handful of Russian athletes who will actually be allowed to compete in the Olympic Games in Rio after the team was decimated by allegations of widespread state-sponsored doping. Putin is expected to slip them some drugs, give them a proper send off, and probably drone on about judo for a while. [Metro]