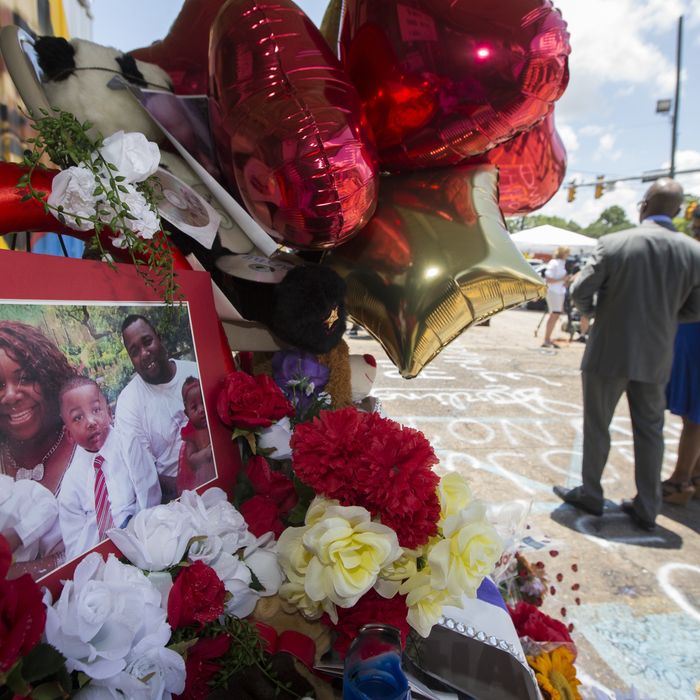 A memorial for Alton Sterling.
Photo: Mark Wallheiser/2016 Getty Images
Good morning and welcome to Fresh Intelligence, our roundup of the stories, ideas, and memes you'll be talking about today. In this edition, new details emerge in the Alton Sterling shooting, Bayh is back in the running, and Republicans get to work on their most divisive platform yet. Here's the rundown for Tuesday, July 12.
WEATHER
It will be a wet Tuesday for much of America, with storms raging in the central states, and showers expected from the Pacific Northwest through the northern Rockies. The East Coast will get its moisture mainly in the form of humidity, including muggy New York City where temperatures will rise into the low 80s. [USA Today]
FRONT PAGE
New Details Emerge in Alton Sterling Slaying
A week after Alton Sterling was killed by police officers in Baton Rouge, new details are coming into focus. An affidavit filed by a local detective to get a search warrant has come to light; it provides the first police version of the story and says that officers noticed the butt of Sterling's pistol sticking out of his pocket while they were restraining him and believed he was reaching for the weapon when they opened fire. The search warrant that the detective filed was to procure the surveillance footage from the market where Sterling was killed. Yesterday, the market's proprietor claimed that just after the shooting, police stole his store's surveillance footage without his permission, took his cell phone, and locked him in a car for four hours. The witness, Abdullah Muhlafi, has filed a suit against the police department. [Chicago Tribune, Daily Beast]
EARLY AND OFTEN
Will Indiana Get Back With Its Old Bayh?
Surprising and delighting many Democrats, former Indiana governor Evan Bayh decided to run for his old Senate seat yesterday, giving the Democrats a real chance to take Indiana and secure a majority in the Senate. Bayh, who gave up his Senate seat in 2010, had been outspoken in his desire to get out of politics after two terms as a senator and two as governor, but now it looks like the specter of Donald Trump, and the very real possibility of a win, have lured him back into the game. It won't be an easy race. Bayh's opponent Todd Young is a respected conservative, a veteran, and considered by many to be a campaigning machine.
Republicans Working on Extreme New Platform, Really Hate Porno
Republican delegates are meeting in Cleveland over the next two days to draft a party platform. If you had hoped they might take the opportunity to evolve a little bit, then you will be sorely disappointed. There were emotional pleas to make the party more welcoming to gays and lesbians but those pleas were ignored; the platform still claims marriage is between a man and a woman — even though that's just patently false these days. The platform also "salutes" the states that are fighting to require people to use the public facilities that correspond to their gender at birth. It goes on to say that police basically shouldn't have oversight or what they call "political second-guessing from federal officials," and comes down strongly against illegal immigration, calling for border walls. The biggest change is probably the part about porn, and it's not as good as it sounds. The delegates unanimously voted in an amendment on Monday calling pornography a public menace and public-health crisis — you know, like Zika, except that it looks like lawmakers are prepared to take porn seriously. [NYT]
America: Lawmakers Won't Vote on Gun Legislation Because They Want to Go on Vacation
Surprise! Lawmakers probably won't put forward legislation on gun control any time soon. At least this time they have a good reason: It's summer, guys! Congress's summer vacation kicks off on Friday — What? You don't get summer off in your job? — and there's just not enough time to get everything done before getting down to all that leisure. Not to fear, lawmakers will be back on the Hill in September, and will surely pick up the debate over gun control then, though come to think of it, that's getting awfully close to the election, so maybe next year. Anyway, that's for tomorrow-Congress to worry about, and right-now-today-Congress wants a piña colada. [Reuters]
Why Won't Anybody Investigate Hillary Clinton Already?
Investigations into Hillary Clinton just won't go the way Republicans want, but they have a solution for that: more investigations. Yesterday, two House committees called on the Justice Department to investigate whether Clinton perjured herself while discussing her use of a personal email server when she appeared before the Benghazi Committee. (Remember that classic Clinton investigation?) Oversight Committee Chair Jason Chaffetz and Judiciary Committee Chair Bob Goodlatte both requested the investigation, saying Clinton lied when she claimed that she did not send or receive classified information on her email server, and that she turned all of her work emails over to the FBI. We now know that both of those assertions were false. [Politico]
THE STREET, THE VALLEY
With Eyes on Troubled Tesla, Google Lawyers Up
Another less-than-ideal day for Tesla. More accidents and erratic driving citations involving Teslas in self-driving mode continue to come to light, and now, The Wall Street Journal is reporting that the Securities and Exchange Commission is investigating the company for its failure to report a fatal crash earlier in the year to investors. Google's self-driving-car division is moving to preempt any similar troubles by appointing its first general counsel. When the regulators come, Google will be ready. [Reuters]
No Smooth Sailing for Seagate
Seagate, the manufacturer of computer drives, will cut its workforce by as many as 6,500 people, a full 14 percent of its employees. Because Wall Street is a blood bath, Seagate stocks rose nearly 13 percent on news of the culling. [Bloomberg]
New Planet Discovered! When Is the Parade?
A new dwarf planet — aww — has been discovered in the Kuiper Belt, an icy, lifeless cloud way out on the edge of our solar system, which sounds awesome. It's 435 miles wide and, according to one extraordinarily vague scientist, "either small and shiny, or large and dull." Fingers crossed for small and shiny! [The Verge]
Pokémon Go Ruins Another Life
If you're hip to the whole Pokémon Go thing, you probably also use GoChat, the third-party Pokémon Go in-game chatting app. GoChat has been ludicrously successful — we're talking a million users in just five days successful — but as the Verge discovered, because its creator Jonathan Zarra hates ads and is afraid to charge for the app in case Nintendo's legal team decides to get involved, he has made no money on it. In fact, thanks to rapidly ballooning server fees, it is actually driving him into bankruptcy. What a hero. He's looking for investors now if you want to lend a hand. [The Verge]
MEDIA BUBBLE
Twitter Bags Streaming Rights to the Super Bowl … of Politics
Twitter has announced it is teaming up with CBS to livestream both the Republican and Democratic conventions. This year's conventions promise to be a ratings bonanza, as they should appeal to the usual political crowds as well as the more WWF-oriented viewer. [CNet]
Politico's New Editor Is Carrie Budoff Brown
Politico announced yesterday that its new editor is Carrie Budoff Brown. The announcement follows a long search after previous editor Susan Glasser announced she was moving to Jerusalem — she will still handle presidential coverage through the election. Brown has been with Politico since its inception and helped spearhead the launch of Politico Europe. [Politico]
We've Reached Peak Millennial: Warner Brothers and BuzzFeed Team Up for Movie About Viral Video
Warner Brothers announced yesterday that it would partner with BuzzFeed to make a film about Chinese viral sensation "Brother Orange" — too complicated to explain, just Google it. The film is part of a concerted outreach to the Chinese market and will be produced by Broad City's Ilana Glazer, her roommate/BuzzFeed editor Matt Stopera, and, for some reason, Ellen DeGeneres. [Hollywood Reporter]
PHOTO OP
Dallas in Mourning
Multitudes gathered in Dallas to mourn the city's slain police officers in a vigil last night.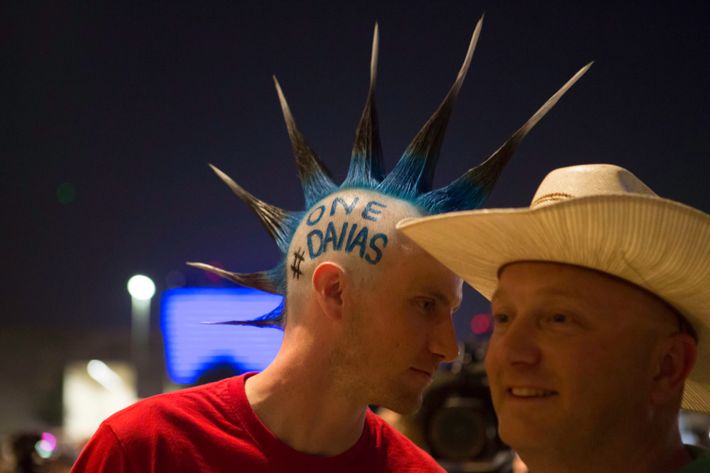 MORNING MEME
Drum and Bugle Corps Keyboardist Makes Us Wish We Cared About Things
We haven't felt this invigorated, inspired, and terrified since we tried an ear candle.
OTHER LOCAL NEWS
Jesus Takes the Wheel, Crashes Into a House
It has emerged that the 28-year-old woman who crashed her car into the side of a house in Mary Esther, Florida, last week managed not to see the house because she had her eyes closed. She had her eyes closed, of course, because she was praying. If she was looking for a sign, she got one. [nwfdailynews.com]
A Lot of Good Lessons to Be Learned Here
We now feel sympathetic for two obvious jerks who were caught peeing in a parking garage in Ybor City, Florida. The security guard who caught them responded to their rudeness with a bit too much vigor: pursuing their car in his golf cart, firing his gun at them, and ultimately breaking off their keys in their ignition as they tried to escape. Nobody was injured, but the guard is in a lot trouble. [Bay News 9]
HAPPENING TODAY
Merry Bezos Christmas Everyone
Today is Amazon Prime Day, a one-day sale on Amazon that you probably already know about because it is inescapable. Here's a little pro tip, the best deals are those on Amazon products, other discounts are often less extreme than they appear. But, if you're in the market for a new tablet, you could probably afford three today. [Forbes]
The President Visits Dallas
President Obama is in Dallas today, where he will join former President George W. Bush to speak at the memorial service for the five police officers killed last week. Dallas is still in shock after the shooting, and the city's downtown remains mostly closed as investigators continue to piece together what happened. [NYT]
Clinton Set to Snag a Massive, Reluctant Endorsement
Bernie Sanders will join Hillary Clinton at a campaign stop at Portsmouth High School in New Hampshire today. It doesn't take a political insider to guess what will transpire. Wouldn't it be wild if he took the stage and still refused to endorse her? [ABC]