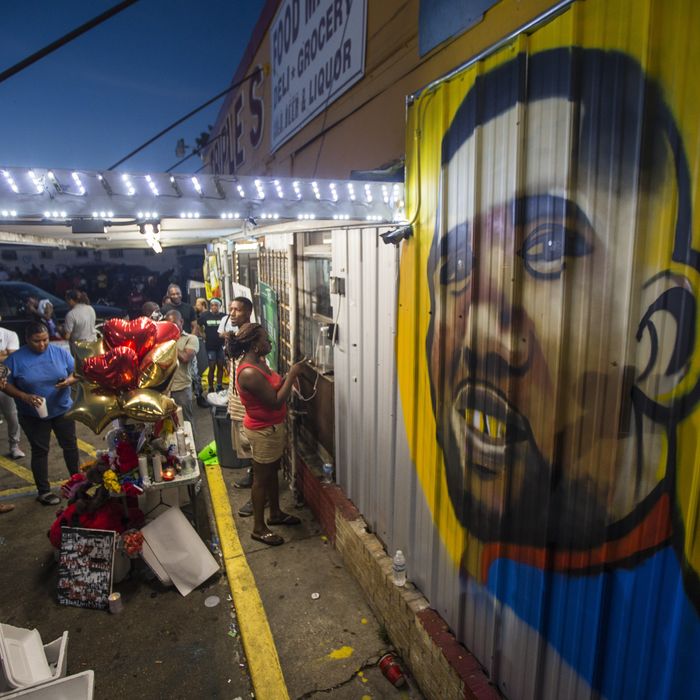 Protesters gather in front of a mural on the wall of the convenience store where Alton Sterling was shot and killed.
Photo: Mark Wallheiser/Getty Images
Good morning and welcome to Fresh Intelligence, our roundup of the stories, ideas, and memes you'll be talking about today. In this edition, a new video of the Alton Sterling shooting emerges as another man is shot dead by police, Loretta Lynch closes the case on Hillary Clinton, and Donald Trump won't shut up about that star. Here's the rundown for Thursday, July 7.
WEATHER
This heatwave isn't going anywhere. Along with New York City, swaths of the South and East Coast will be sweltering today, making us long to be in the Midwest, which is experiencing cooling thunderstorms. Or, even better, the sunny and mild West Coast. [USA Today]
FRONT PAGE
Second Video Emerges in Alton Sterling Shooting
A new video raises more questions in the police shooting of Alton Sterling. Sterling was tackled, tasered, and shot to death by police officers in Baton Rouge on Tuesday. In the new video, Sterling does not appear to be holding a gun in the moments before officers open fire. Later they remove an object which may be a gun from his pocket. The shooting sparked outrage and protests across the country and the Justice Department's Civil Rights Division has already agreed to investigate. The store's security cameras also recorded the shooting — police allegedly seized the footage without a warrant following the incident — as did the officers' body cameras, but police say they came loose during the altercation. As many as 599 people have been killed by police this year. Actually, make that 600. As we were typing this, another police shooting — that of Philando Castile at a traffic stop — came to light.
EARLY AND OFTEN
Case Closed: Attorney General Will Not Charge Clinton Over Emails
U.S. Attorney General Loretta Lynch will listen to the recommendations of the F.B.I.; she announced yesterday that the case against Hillary Clinton for improper handling of classified information connected to her use of a personal email server when secretary of State was closed. The decision led Donald Trump to accuse Clinton of collusion with Lynch, which isn't necessarily as far-fetched as Trump's usual ranting. Clinton did, in fact, offer to let Lynch stay on in her position if she was elected president. Although him saying, "That's bribery folks," might have been going a bit far. [Reuters]
In Case You Forgot Trump's Anti-Semitic Tweet, He Would Like to Remind You Repeatedly
Trump was back doing what he does best last night at a rally in Cincinnati: making Republicans cringe and making our job super-easy. Last night's speech was bonkers even for him. For starters, he brought up the controversy around a recent anti-Semitic meme — popular on neo-Nazi message boards — that his campaign tweeted. Trump responded to the outcry by saying his only mistake was taking the tweet down. Then, he went on to list all of the Jewish people he likes. He also talked about Saddam, but we only have so much room here. [Politico]
Wait a Minute, So Bernie Sanders Won't Be President?
Perhaps all that being booed by his colleagues actually rattled him, because ABC is reporting that Bernie Sanders may in fact endorse Hillary Clinton as early as next week. It feels odd using the phrase "as early as" to describe something that is coming, by pretty much any measure, extraordinarily late. But, hopefully the move is less a capitulation and more a sign that the two heavyweights have reached some sort of common ground. Or, maybe Bernie was just waiting to see if she would be facing criminal charges. That would have simplified everything, wouldn't it? [Reuters]
#NeverTrump Might Actually Become a Real Thing
It looks like the "Never Trump" camp may be closer to actually succeeding than anyone expected. Well, kind of. In order to dump Trump — which would have made a much better hashtag than #NeverTrump in the first place, just saying — at the convention, the Convention Rules Committee needs to vote to change the rules so delegates can change their votes in the first round. To do that, they need 28 members, a quarter of the committee, to vote for the change. According to some reporting by The Wall Street Journal, 20 are already willing to vote with the Never Trump camp. Still, don't get too excited, 59 members are still pro-Trump, and a full 33 couldn't be reached. [WSJ]
THE STREET, THE VALLEY
Unpaid Interns Are Ruining Everything, Now Go Get Us a Coffee or We'll Tell Your Father
A new survey from the National Association of Colleges and Employers has found that not only do unpaid internships really not help your future job prospects at all, they also — obviously — exacerbate the already yawning income-inequality gap. [WSJ]
Samsung Bucks the Trend, Beats Earnings Estimates
Samsung has surprised everyone by announcing estimate-beating earnings in what was supposed to be a slow year for smartphone sales. The South Korea company reported its biggest profit in two years and a last-quarter operating income of $6.9 billion. [Bloomberg]
Microsoft Dope Twerks Panda
If only you could monetize apologies. Microsoft apologized (again) yesterday after an invitation sent out to interns for a corporate after-party went viral. The email opened with "Hey Bae Intern!" and went downhill from there using the phrases "lots of dranks" and "hella noms" in quick succession, and closing with, "Hell yes to getting lit on a Monday night!" Thank god. If tech people were cool, they would really be unstoppable. [Bloomberg]
Now We Really Don't Understand What Snapchat Is For
Snapchat announced a whole new feature yesterday called "memories" that allows users to share and save old photos in an in-app archive. Now to be fair, we remember when Snapchat was basically just for sexting, but isn't its whole deal that you can't save anything? Is Facebook going to start selling books now? Or will Twitter roll out a way to rent DVDs through the mail? [The Verge]
MEDIA BUBBLE
We Were Wrong, Roger Ailes Can, in Fact, Be Worse
Former Fox & Friends co-host Gretchen Carlson filed suit against Fox's co-founder and CEO Roger Ailes yesterday claiming the much-feared media titan repeatedly sexually harassed her and ultimately fired her when she rebuffed his advances. Ailes inevitably denied Carlson's claims, but at least ten other women are lining up to talk to Carlson's lawyer, so we doubt we're hearing the end of this.
Next Iron Man Will Be a Black Teenage Girl Genius
Tony Stark couldn't be expected to work forever, so he will soon be passing the Iron Man armor on to Riri Williams, the girl genius introduced in "Invincible Iron Man #9." The decision is just one of many in recent years intended to make the world of comic books more diverse. That said, if we know Hollywood, then we bet Robert Downey Jr. will still somehow play Riri in the movies. [The Verge]
The End of an Era for Independent Newspaper Publishers
Gannett, one of the country's largest newspaper companies, just announced its plans to buy the major assets of North Jersey Media Group including local Jersey papers like the Garden State Daily, and the Bergen Record. The move should bring in more than $90 million in increased income into Gannett annually. (Who said newspapers don't make money?) The company now owns an impressive 109 papers. The acquisition also represents the end of the publishing career of the Borg family, something of a legend in journalism circles, which has been independently publishing the Bergen Record for four generations. [Politico]
PHOTO OP
The Last Thing They Saw
This grainy still was taken from the cellphone video of Philando Castile's shooting.
MORNING MEME
Snow Princess Does Have a Creepy Ring to It
Maybe if they put Elsa in front of a pile of money, and instead of "with 50 stickers!" the star said "most corrupt Princess ever!", he'd be onto something.
OTHER LOCAL NEWS
Forgetful Jerks
A Boston taxi driver has the awesome personality to match his awesome name — Buzzy — and so when a passenger left a backpack full of $187,000 in the back of his cab, he promptly returned it. The passenger of course rewarded him … with $100. If that isn't sad enough, 30 years ago, Buzzy returned a briefcase with $10,000 in it that he found at the airport and got no reward. We hope you learned a lesson here Buzzy: Next time keep the money. [UPI]
Sometimes Love Is a Big Dummy
Police, following up on the theft of a lingerie-clad mannequin, found their suspect at home in bed with said mannequin, which was apparently worth $5,000 "outfit not included." We're not judgmental, we just love how this story is reported like a serious crime story: "Police said that the mannequin lost her left arm as Wade fled the scene. The suspect did not retrieve the arm, NBC-affiliate WSMV-TV reports." Dark. [HuffPo]
HAPPENING TODAY
Comey Heads to Capital Hill
That was fast. Republican threats to make F.B.I. Director James Comey testify before Congress over his decision to not recommend charges against Hillary Clinton have borne fruit. Comey will make the trip down to Capitol Hill today for what for anyone else would be a brutal slog, but we're pretty sure Comey loves these type of things. [NYT]
The Cycle Continues: Next Freddie Gray Trial Begins Today
The next trial against an officer charged in relation to the death of Freddie Gray kicks off today. Lieutenant Brian Rice is the highest-ranking officer to be charged in Gray's death. The crux of the trial depends on whether it was "reasonable" for Rice to not put a seatbelt on Mr. Gray, who then died of a spinal injury. [CBS]
Great News for People Who Like Being Scared of Things They Don't Understand
The Senate may vote today on a bill that would compel companies to label genetically modified food. The issue has become unbelievably divisive with one camp saying labeling is vital for customers to know what they're putting in their bodies, and another saying that as long as GMOs are healthy, then labels will only unduly scare and confuse consumers. [NYT]