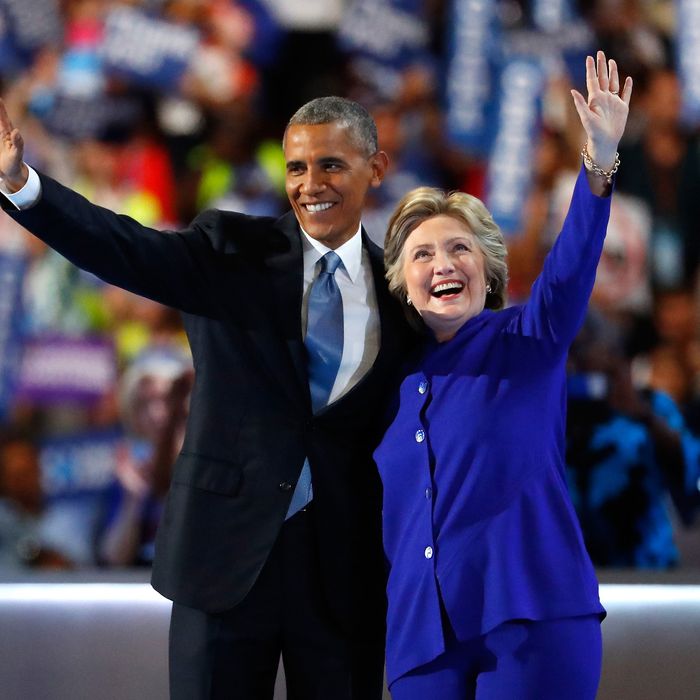 Conjoined political careers.
Photo: Aaron P. Bernstein/Getty Images
Good morning and welcome to Fresh Intelligence, our roundup of the stories, ideas, and memes you'll be talking about today. In this edition, Obama thanks the nation, Trump tries treason on for size, and Facebook makes a ton of money. Here's the rundown for Thursday, July 28.
WEATHER
Most of the country will see at least a little rain today. The only region with any hope of staying dry is the West, but even there, thunderstorms are expected in New Mexico and Arizona. At least, in New York City, the storms will wait for nightfall after a hot, but cloudy, day. [USA Today]
FRONT PAGE
Nation to Obama: You Could Rule Us Anytime
The third day of the Democratic National Convention has passed and the discord of the first two days is but a distant memory. Sure there were some odd SNL-style skits and a music video for a song we still can't get out of our heads, but the stars of the night were its prime-time speakers: Joe Biden, Michael Bloomberg, Tim Kaine, and, of course, President Obama. Each lobbed a few pretty good zingers. Bloomberg — who knows rich, let me tell you — said the richest thing about Donald Trump was "his hypocrisy." Biden turned his "inexplicably charming" ray to full-power, railing passionately in favor of working-class values and saying that Trump has "no clue." Kaine did a kind of weird Rodney Dangerfield–esque imitation of Donald Trump over and over, and spoke Spanish seemingly at random. And finally, President Obama … well, we have to admit he got us a bit choked up. He touted American values, making an emotional case for inclusion, optimism, and hope. The president also brutally attacked Donald Trump, equating him with a dictator, and saying of Americans, "We don't look to be ruled." In his emotional climax, he addressed the American people directly: "Time and again, you've picked me up. I hope, sometimes, I picked you up, too."  You know what, just read the whole thing. We need a moment.
EARLY AND OFTEN
Trump Dabbles in Light Treason
We're not even sure how to talk about this. To be honest, we can't really believe it happened. None of this is a joke. Speaking at a press conference, Donald Trump said he hoped that Russia had successfully hacked Hillary Clinton's emails, and called on them to leak what they found. Again, an American presidential candidate called on one of our nation's biggest adversaries to commit espionage on another American presidential candidate. Remember how upset everyone got about Watergate? We don't either, but at least that was just Americans spying on Americans. Donald Trump just asked Russia to spy on us. Isn't that treason? Seriously, if it's not treason, it's at least treasonous. [NYT]
How Can One Man Be So Good at Twitter and So Bad at Google?
If you thought Donald Trump would stop at calling on Russia to spy on us, you clearly don't know Donald Trump. He followed up his light treason with some mild misogyny when he told NBC reporter Katy Tur to "be quiet," and accused her of working to get Hillary Clinton elected. Tur had asked if calling on Russia to hack Hillary gave him pause — Trump, obviously, said it gave him "no pause." Later in the press conference, it became clear that Trump had no idea who Clinton had tapped for her vice-president, thinking that she had selected the former Republican governor of New Jersey, Thomas Kean. He railed against Kean before being corrected by a reporter. Again everybody, this really happened. [Politico]
Wasn't This a Plot Line in Veep?
Now you can listen to the DNC leak while you're driving, thanks to audio recordings WikiLeaks promoted on Wednesday night (which were buried in the trove of hacked DNC emails posted last week). The audio files sound pretty scandalous: most of the 29 voice mails are of people asking for callbacks; there's one with a man and a young child talking about seeing elephants at the zoo; and one of an older Clinton fan complaining about the Democratic Party "coddling" Sanders. Wait, we have so many questions. First of all, what is the deal with that zoo one? Also, why is this still happening? [Dallas News]
Russian Billionaires Love Trump Mansions Because They Don't Have to Redecorate
Donald Trump recently said: "I have nothing to do with Russia." That was before he remembered one thing. No, not his burgeoning friendship-with-espionage-benefits with Vladimir Putin, but a certain $100-million something with — and we're just guessing here — truly atrocious drapes. As it turns out, Donald Trump sold his Palm Beach waterfront estate to Russian billionaire Dmitry Rybolovlev. It looks like Rybolovlev bought the property as a way to shield his assets from his wife who he was divorcing, and never even moved in. He now plans on knocking it down. How Trumpian. [CNN]
THE STREET, THE VALLEY
Yes Facebook, We Get It, You Make Money
Facebook blew away Wall Street analyst estimates yesterday with its second-quarter earnings report that showed the company's advertising revenue skyrocketing by 63 percent, beating estimates by nearly half a billion dollars. So again, we ask you: Who are all these people clicking on Facebook advertisements? [Reuters]
Apple Sells Its Billionth iPhone, 10 Billionth Screen Replacement
Apple announced yesterday that it had sold its billionth iPhone. With the iPhone so ubiquitous, it is easy to forget that the very first handset went on sale only nine years ago. The milestone was reached just after Apple announced that iPhone sales were slowing more than expected. How long it will take the company to get to 2 billion is anybody's guess. [CNN]
Forrest Mars Jr. Successor Sought in Bizarre Golden-Ticket Scheme
It has emerged that Forrest Mars Jr., who made billions as the co-owner of Mars Inc., died on Tuesday in Seattle after a heart attack. He was 84. Fun fact we learned from his obituary: Did you know that aside from Mars bars, Milky Way bars, and M&Ms, Mars Inc. also makes Uncle Ben's rice? Mourners should leave flowers at the M&M store in Times Square. [Bloomberg]
Tor Project Says Jacob Appelbaum Guilty of Sexual Misconduct
Shari Steele, the executive director of the Tor Project — the anonymous web browser — confirmed in a blog post that accounts of sexual aggression and impropriety on the part of their one-time developer Jacob Appelbaum were true. Appelbaum had been something of a celebrity among privacy activists until rumors of his sexual misconduct emerged in May. This being the tech industry, during the company's investigation into Appelbaum, it found two other employees who had "engaged in inappropriate conduct." Both have been fired. [The Verge]
MEDIA BUBBLE
Please Stop Changing Everything, It Makes Us Realize We Are Going to Die
Bob, Gordan, and Louis — yes, that Bob, Gordon, and Louis — won't be returning to Sesame Street. The actors — Bob McGrath, Emilio Delgado, Roscoe Orman — were let go as the show was retooled to run on HBO. Each had been on the show since the '70s (actually McGrath had been on the show since 1969). If you don't know who we're talking about, take the time we're using to mourn their departure to mourn your own childhood. [KQED]
Rare Good News for Nick Denton
It looks like Gawker founder Nick Denton won't have to go into personal bankruptcy … yet. A Florida judge ruled yesterday that Hulk Hogan — writing that will never seem normal — who also has a real name that is something else, is temporarily unable to seek damages of $10 million from Denton and a further $115 million from Denton and ex-Gawker editor A.J. Daulerio. Hogan takes so much money from journalists that his wrestling name should be "The Internet." [WSJ]
Olympics Will Now Involve Even More People We've Never Heard Of
NBC is partnering with young "social influencers" to help get Americans to watch the Olympics. Social influencer apparently means all of those people your niece is always talking about and, for some reason, Ryan Seacrest. If they really want Americans to watch, they should just light the hurdles on fire. [Variety]
PHOTO OP
"It Takes About Five Minutes for a Church Bell to Ring 49 Times"
Here's a scene from the emotional moment when the mother of Christopher Leinonen, who was killed with his boyfriend in the Orlando shooting, appeared onstage at the DNC with two of his friends to call for common-sense gun laws.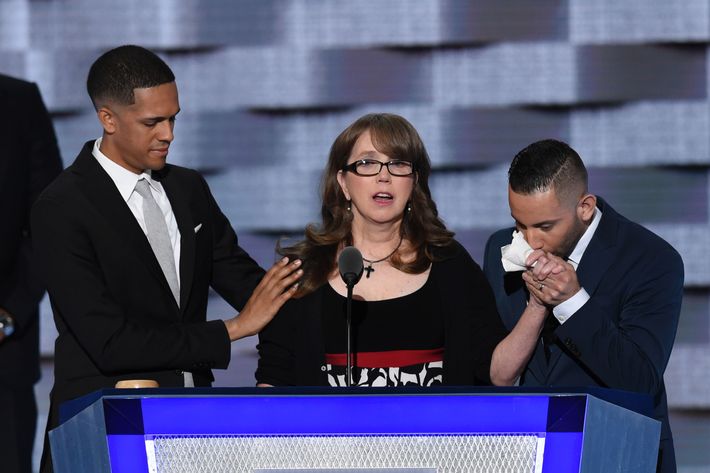 MORNING MEME
This Pretty Much Says It All
Giuliani looks a lot like the alien from Alien here.
OTHER LOCAL NEWS
Just What This Election Needed
This election is one step closer to becoming a literal circus after the Cat in the Hat appeared outside of Dr. Seuss's childhood home in Springfield, Massachusetts, to throw his species-inappropriate hat in the presidential ring. He appeared with his VP picks, Thing 1 and Thing 2, and his campaign manager, Dr. Seuss Enterprises president Susan Brandt. Oh good, another publicity stunt for president. [UPI]
There Really Are No Sure Things in Life
A Brunswick, Georgia, lottery winner has discovered that in today's America there really is no room left for the entrepreneur — thanks, Obama. Ronnie Music Jr. is in jail today after admitting that he used his $3 million lottery winnings to put together a nice little methamphetamine ring. Shame it didn't work out; he has such a good name for a drug dealer. [UPI]  
HAPPENING TODAY
Big Day for Anyone Affected by the Economy
Today is being described as the "busiest day in the earnings season" with major second-quarter earnings due from Alphabet and Apple, as well as big pharmaceuticals, major oil companies, and disclosures from the auto industry. Economic reports on weekly jobless claims, housing vacancies, and international trade are all also expected this morning. [CNBC]
Hillary Clinton Has Tough Act to Follow
Hillary Clinton will take the stage in Philadelphia, accept her party's nomination, and make a case for another Clinton presidency tomorrow in the last day of the Democratic National Convention. How she'll follow yesterday's performance by President Obama remains to be seen. [Mic]
Not Too Late to Book Your Ticket to Montana
Great Falls, Montana, will host its 82nd Annual Pet and Doll Parade this evening on Central Avenue, kicking off at 7 p.m. We were going to make fun of it, but this article totally charmed us. Eighty-two more years! [KRTV]