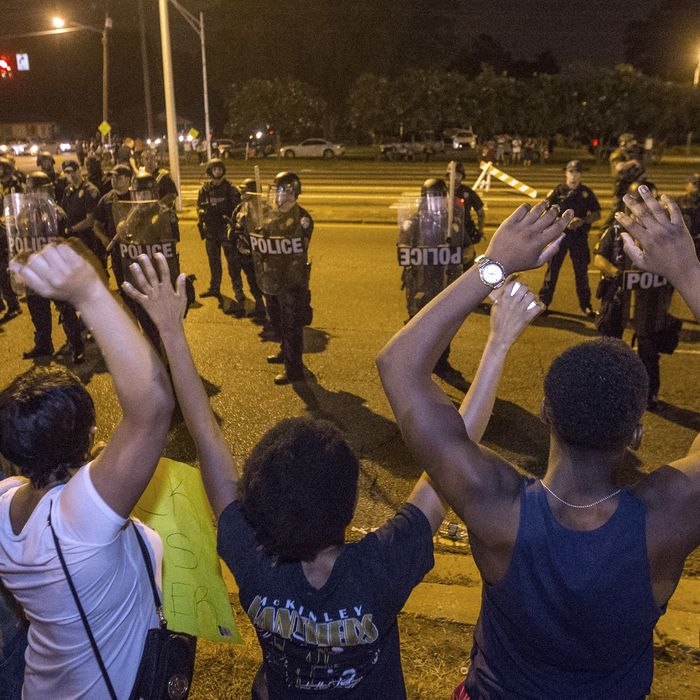 Division is rife.
Photo: Mark Wallheiser/2016 Getty Images
Good morning and welcome to Fresh Intelligence, our roundup of the stories, ideas, and memes you'll be talking about today. In this edition, a plan to kill officers in Baton Rouge is foiled, an NAACP conference is left jilted, and a Tesla CEO stands his ground. Here's the rundown for Wednesday, July 13.
WEATHER
Powerful winds and hail will continue to batter the Plains and Great Lakes states today while the country's Western seaboard should see clear, if unseasonably warm, skies. In New York City, you can expect some clouds, but temperatures will stay hot, edging into the low 80s. [USA Today]
FRONT PAGE
Alleged Plot to Kill Police in Baton Rouge Foiled
Officers in Baton Rouge say they have discovered a plot to murder police officers. Three people — two adults and one juvenile — were implicated in the plan and have been arrested. The three had allegedly planned to kill police with firearms they stole from a local pawn shop, and had already stolen eight guns, six of which were discovered when police raided their house. Baton Rouge was the site of the slaying of Alton Sterling by police officers last week that led to angry protests across the country. Police have been extra-vigilant since a lone-wolf sniper killed five officers during a protest in Dallas. Officials say plots like the one they uncovered yesterday show that there is an ongoing "credible threat" to police officers and that is why they have been wearing riot gear during protests.
EARLY AND OFTEN
Trump Courts Nonwhite Voters by Refusing to Speak to Them
Breaking with years of precedent, Donald Trump has declined an invitation to speak at the NAACP's upcoming convention in Cincinnati. Clinton will address the gathering on Monday. The Trump campaign allegedly claims that there are scheduling conflicts between the NAACP's convention and the Republican Convention in Cleveland next week. Both Romney and McCain spoke at the event while running for president — not that it did them any good. Still, Trump claims he will take a full 25 percent of the black vote, more than double the percentage won by any other Republican candidate. This is a good way to start. [NYT]
The Clinton VP Shuffle: Warren Out, Stavridis In?
The news yesterday morning that Elizabeth Warren will address the Democratic convention on its first night makes it clear that Warren will not be tapped for the vice-presidency, so who will it be? Now it looks like James Stavridis the retired Navy admiral, former supreme allied commander of NATO, and dean of the Fletcher School of Law and Diplomacy at Tufts University is being vetted for the position. Stavridis has been widely praised for his leadership skills and military acumen, except for maybe that whole Iraq war thing. Stavridis was an assistant to none other than Donald Rumsfeld during the first stage of the U.S. invasion of Iraq. But hey, nobody's perfect.
America Braces for Racist Hypocrisy
Speaking to Reuters, Hashim Nzinga the chair of the New Black Panther Party confirmed that panthers would be carrying guns while protesting in Cleveland, the site of the Republican convention next week, if they are allowed to under Ohio law. Other groups, including Trump supporters have also said that they will demonstrate with firearms, but because those people are mostly white, it hasn't freaked everyone out nearly as much. The recent shootings of Alton Sterling, Philando Castile, and the five police officers in Dallas have shifted the arguments around gun control. Castile was legally carrying a firearm when he was killed by police at a traffic stop and David O. Brown, the Dallas police chief has been critical of open-carry laws and the difficult position it puts police officers in. [Reuters]
Donor Shows It's Not Only Trump Who Can Use Veterans to Score Political Points
An anonymous donor is fighting bright orange fire with bright orange fire, taking a page out of Donald Trump's playbook and offering to donate $5 million to a veterans charity if Donald Trump will release his tax returns. Outspoken Clinton supporter David Brock will officially announce the deal tomorrow, but we're guessing the secret donor is Mitt Romney — wouldn't that be a crazy twist? If they're going to treat the country like a reality show, we're going to talk about it like a reality show. [Politico]
THE STREET, THE VALLEY
Despite Crashes, Tesla Doubles Down on Self-Driving Technology
Despite recent controversies, including the the technology's first fatal crash, Tesla is saying that it will continue to offer self-driving technology on its cars and will just try and do a better job of educating consumers on how to use it. For example, the company revealed that investigators into a recent crash in Montana found that the driver removed his hands from the wheel for a full two minutes before his car veered off the road. "Ten and two" guys, even when you're being chauffeured by a robot. [WSJ]
JPMorgan Will Give 18,000 Employees a Raise
In an op-ed in the New York Times, JPMorgan Chase & Co CEO Jamie Dimon announced that the company will raise its minimum wage from a low of $10.15 an hour to a range between $12.00 to $16.50 an hour, over three years. Currently around 18,000 JPMorgan employees receive minimum wage. As a point of comparison, Mr. Dimon made $27 million last year. [Reuters]
Brewers Give You One More Reason to Feel Guilty on Sundays
Anheuser-Busch and MillerCoors joined other major American brewers yesterday in promising to include nutritional information on beers by the year 2020. The new labels won't include detailed ingredients lists, which consumer advocates have been clamoring for, but will include information like calories and carbohydrates. So, just enough to keep you feeling terrible about your choices. Other brewers getting onboard with labeling include Heineken and the Craft Brew Alliance. [WSJ]
Airbus A380 Production Begins Its Descent
In many ways it has been a very good year for Airbus, but unfortunately the success of the company's flagship "superjumbo" jet, the A380, is not one of them. At one time, the aircraft manufacturer predicted that it would sell 1,200 A380s in two decades. Now, nine years since launching it, the company has only filled orders for 193 planes. As a result, Airbus announced it will cut production in half, delivering only a dozen A380s per year starting in 2018. [Bloomberg]
MEDIA BUBBLE
Like So Many Before It Fox News Distances Itself From Newt Gingrich
Fox News is cutting all ties with Newt Gingrich to avoid any "conflicts of interest" if Gingrich does in fact become Donald Trump's pick for vice-president — Trump will most likely announce his final choice on Friday. What a shame — rarely has a man been so perfectly proportioned to be a talking head. [CNN]
Gretchen Carlson Breaks Her Silence About Her Sexual-Harassment Lawsuit
For the first time, Gretchen Carlson has spoken publicly about her sexual-harassment lawsuit against Fox News CEO — and her one-time boss — Roger Ailes. In an interview, Carlson detailed the harassment and explained that she "just wanted to stand up for myself, first and foremost," and that she "wanted to stand up for other women who maybe faced similar circumstances." [NYT]
Meanwhile in a Different Fox Lawsuit
Elsewhere in the world of Fox's legal troubles, the company has settled a closely watched lawsuit that could have major repercussions for the use of unpaid interns in media. The suit began as a complaint that Fox used unpaid interns for work that would normally be done by paid employees, but became an indictment of the widespread use of unpaid interns in general. In documents released yesterday, Fox has agreed to pay many of the people who participated in the media company's unpaid internship program.
PHOTO OP
A Little Perspective
Ladies and gentlemen, the first photo of Jupiter sent back by NASA's space probe, Juno. We've said it before, and we'll say it again, outer space is so tight.
MORNING MEME
A Moment in History Meant for Crying Jordan
Is it just us, or are these things getting super creepy?
OTHER LOCAL NEWS
Enterprising Meth User Creates Most Annoying Pet Ever
A Fontana, California, man is in jail today after his chihuahua, Jack Sparrow, tested positive for meth. To the guy's credit, he did bring Jack Sparrow to the hospital when the pooch accidentally ate his meth; to his discredit, he owns a chihuahua and does meth. [WSVN]
M&M Spraying Drones May Be Black-Footed Ferrets Last Hope
Black-footed ferrets are dying in droves as a ferret plague sweeps across the Plains States. Now the Fish and Wildlife Service is trying some out-of-the-box thinking to save them: namely using special drones designed to spray M&Ms in three directions at once. The candies have been dosed with a vaccine, and the hope is that the little ferrets will eat them all up. Wasn't there a Skittles commercial just like this? [The Gaurdian]
HAPPENING TODAY
Britain to Get New Prime Minister, Old Problems Persist
Home Secretary Theresa May will officially become Britain's new prime minister tonight, after David Cameron steps down fulfilling a promise he made in the aftermath of the Brexit vote. Despite what some Americans on Twitter probably believe, May will not be the nation's first female prime minister. They had one before. Meryl Streep played her in a movie. Google it. [CNN]
Obama Invites Law Enforcement, Activists to the White House
President Obama will meet with law-enforcement representatives, civil-rights leaders, and activists today to discuss the issues of race and policing that have brought this country to a boiling point and to repair some of the damage caused by the recent shootings of two black men by police and of five police by a gunman in Dallas. [Reuters]
Republicans Continue to Hammer Iran Nuclear Deal
There may not be enough time to deal with Zika or gun control before summer vacation, but the House is still finding time to vote on three separate Republican-sponsored bills set to dismantle the nuclear agreement between Iran and the United States. Obama has already vowed to veto the bills, so the votes are totally useless, but why not? [NYT]