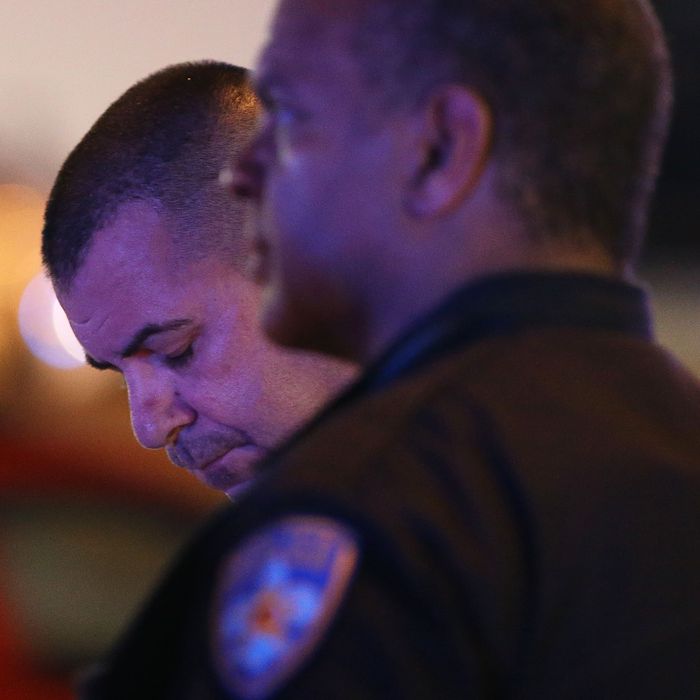 Baton Rouge is reeling.
Photo: Sean Gardner/2016 Getty Images
Good morning and welcome to Fresh Intelligence, our roundup of the stories, ideas, and memes you'll be talking about today. In this edition, a gunman kills three officers in Baton Rouge, the Republican National Convention kicks off in Cleveland, and ambulances may soon get surge pricing. Here's the rundown for Monday, July 18.
WEATHER
The severe storm system that had been affecting the central states is moving east, with major storms and flooding expected in the Ohio Valley and in Illinois through Maine by this evening. New York City can expect to miss the worst of it with mostly clear skies, a slight chance of rain, and temperatures in the mid-90s. [Weather.com]
FRONT PAGE
Three Police Officers Killed in Baton Rouge Shooting
New details continue to emerge in the murder of three police officers and the wounding of three others in Baton Rouge yesterday. The victims have been identified as Matthew Gerald, Montrell Jackson, and Brad Garafola — all three were husbands and fathers. The suspected shooter, who was killed by police, has been identified as Gavin Eugene Long, a former Marine from Missouri, Kansas, and a veteran of the Iraq War. Sunday was his 29th birthday. The family of Alton Sterling, who was killed by police officers in Baton Rouge earlier this month, has called for an end to the violence, and protestors have dispersed in parts of the city in respect for the murdered officers.
EARLY AND OFTEN
Open-Carry Suddenly Not Such a Good Idea
Following a recent rash of gun violence, capped off by the deadly shooting of six police officers in Baton Rouge yesterday, the people in charge of policing the Republican National Convention have come out against Ohio's open-carry law. Yesterday, Steve Loomis, the head of the Cleveland police union, called on the state to declare a state of emergency, the only way Ohio's open-carry law could be lawfully suspended. Loomis did not mince his words: "I don't care what the legal precedent is, I feel strongly that leadership needs to stand up and defend these police officers." [Reuters]
Trump on Pence's Politics: "I Don't Care"
Now that Donald Trump has made his pick for vice-president, Indiana governor Mike Pence has come under increased scrutiny, and not everything in his past jibes with Trump's political views. Take, for example, Pence's outspoken support for the Iraq War, which Trump claims to have opposed from the outset. What did Trump say when confronted with Pence's hawkish past on CBS? "I don't care." More than that, he said that the vote was a "long time ago," and that Pence "voted that way" because he was "misled" — a bit of understanding he notably did not extend to Hillary Clinton. [WaPo]
Obama Comes Out Strong in Support of Police
Following the murder of three police in Baton Rouge, President Obama made a series of unequivocal statements condemning violence against police officers. Some have accused Obama of not being vociferous enough in his support of the police, but that certainly wasn't an issue yesterday. Obama didn't mention guns or even race, but said only that: "We as a nation have to be loud and clear that nothing justifies violence against law enforcement." Talking about the attacker, he did not mention his grievances, only that the "attacks are the work of cowards who speak for no one. They right no wrongs. They advance no causes." [Politico]
Trump, Like CNN, Still Takes Lewandowski Seriously for Some Reason
Despite having fired Corey Lewandowski as his campaign manager in July, many close to Donald Trump are worried that Lewandowski still has the nominee's ear and could convince Trump to be himself at the convention — and nobody wants that. Lewandowski, who now infamously works as a pundit on CNN, has a long history of convincing his ex-boss to engage with his uglier, more divisive nature. It was Lewandowski — allegedly — who told Trump not to apologize for a recent anti-Clinton meme that many found anti-Semitic. Still, if Trump is listening to Lewandowski, he's not taking all of his advice. Lewandowski was famously in favor of Chris Christie for vice-president, and had very little love for Trump's eventual choice, Indiana governor Mike Pence.  
THE STREET, THE VALLEY
Volkswagen Promises to Compensate Car Dealers
Volkswagen's American executives have vowed to compensate dealers whose businesses were affected by the car company's emissions scandal. The company is in talks with dealers to determine exactly how much of the company's $15 billion settlement they will receive. The emissions scandal affected almost half a million cars in the U.S.[Reuters]
Today in America's Dystopian Reality: D.C. May Use Uber for Ambulance Service
We suppose this isn't the beginning of the end, maybe more the middle of the end? It seems that Washington, D.C., is considering using ride-hailing services including Uber to augment its ambulance service. Nonemergency 911 calls are increasingly common, and the plan is to push non-life-threatening cases off on Uber instead of the traditional ambulance. Good work, everybody. [The Verge]
Social Media Getting Better at Silencing Hate Speech
Social-media companies like Facebook and Twitter have gotten better at censuring hate speech on their platforms. In the days following the bloody attack in Nice, both were quick to ban users sharing posts sympathetic with the terrorists. After past attacks, the two companies had faced criticism for failing to limit hate speech on their services. Sadly, the companies have had a lot of opportunities to improve. [Reuters]
MEDIA BUBBLE
BuzzFeed Uses a "Reporter Bot" to Cover the Conventions; Are Newsletter-Writing Bots Next?
The day political reporters have long feared has arrived: BuzzFeed will use a bot to help cover the Republican Convention this week. The new "reporter" is actually a chatbot for Facebook Messenger that will ask people multiple-choice questions about the convention — Are you attending? Are you protesting? etc. — and will even ask hard-hitting follow-up questions regarding the "emoji that best captures their feelings about the convention." And everyone thinks journalism is doomed. [Poynter]
First Speaker at Republican Convention Will Surprise You
The Republican National Convention hasn't even started yet and Stephen Colbert has already been kicked off the stage. The talk-show host and satirical pundit rushed the stage yesterday in Cleveland wearing a ridiculous, garishly colored hair piece — in what we can only imagine is in reference to Donald Trump, who also wears a ridiculous, garishly colored hair piece — and kicked off the convention by banging a gavel and announcing the start of the "Republican Hunger Games" before he was bundled offstage. [U.S. Uncut]
PHOTO OP
Final Words
Making the rounds today: a heartbreaking photo of Montrell Jackson, one of the three police officers killed in Baton Rouge, with his newborn, and a screenshot of his description of how tough it's been to be a cop in the past few weeks.
MORNING MEME
The Greatest Trick That Donald Trump Ever Pulled …
… was convincing the world to feel bad for Chris Christie. [Gawker]
OTHER LOCAL NEWS
Aren't All Dogs Poop-Sniffing Dogs?
Washington State has begun using "poop-sniffing dogs" or dogs specifically trained to smell out water polluted by waste. The results have not been reassuring. The shit-loving pups have already found human waste in multiple samples taken from waterways in Whatcom County. Unfortunately, the dogs' usefulness is limited as they can only detect human waste, not the droppings of wild animals or livestock. How can that be? [Yakima Herald]
Maine Thinks It's Europe for a Second
Some recipients of Maine's electronic welfare cards got quite a shock when they went to call the official number on the back of the card and instead of being able to check their EBT balance, reached "America's hottest talk line." It turns out that the number was off by one vital digit. But for a moment there, Maine was the sexiest welfare state since Sweden. [The Gaurdian]
HAPPENING TODAY
Here Comes the Circus
The Republican National Convention kicks off in Cleveland today. With a reality-television-show star at the helm and a platform straight out of the Gilded Age, it should be a doozy. The four-day convention will be divided into four daily themes: Make America Safe Again, Make America Work Again, Make America First Again, and Make America One Again. We'll be having our own little themed day on Friday: Please America, Make This Stop. [The Hill]
We Finally Get the Eggplant Emoji
In New York City today, NYC Health & Hospitals will begin sex-education outreach to young people using emojis for the first time. The emojis it will be using are the ones you probably expect: a lot of peaches, eggplants, monkeys covering their mouths in embarrassment, and we assume a good amount of tears shed for the whole generation. [NYT]
Is There Even a Word for "Consequences" in Russian?
A consortium of anti-doping officials is set to release a report — most likely today — that will determine whether Russia's entire Olympic contingent should be banned from the Olympics after a massive state-sponsored doping program was exposed. Track-and-field athletes have already been banned. Brazil, prepare to get annexed.