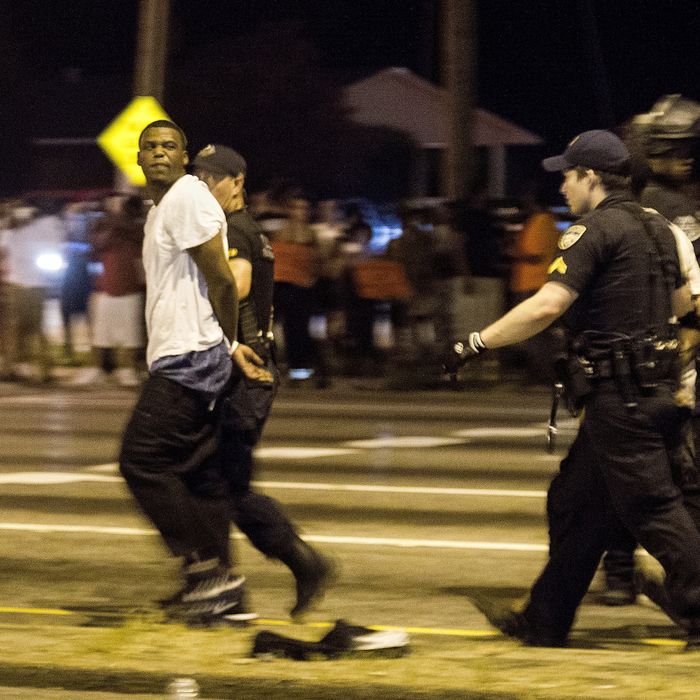 One of hundreds of protestors arrested over the weekend.
Photo: Mark Wallheiser/2016 Getty Images
Good morning and welcome to Fresh Intelligence, our roundup of the stories, ideas, and memes you'll be talking about today. In this edition, protests continue across the country, Ginsberg talks emigration, and Trump's latest VP pick is almost certainly a prank. Here's the rundown for Monday, July 11.
WEATHER
Severe storms will start to move from the Plains States into the Midwest today, bringing hail, high winds, and possible tornadoes as far east as Des Moines and Madison. In overcast New York City, temperatures should begin to climb again after a relatively cool Sunday with highs in the low 80s. [Weather.com]
FRONT PAGE
Scores of Arrests As Protests Rage Across the Country
Nationwide, demonstrations became increasingly tense as protestors expressed their anger and frustration at police brutality in the days following the shooting deaths of two black men by police, and the killing of five police officers in Dallas by a deranged gunman. In Baton Rouge — where Alton Sterling was gunned down by police on Tuesday — more than 100 protestors were arrested over the weekend, including prominent Black Lives Matter activist DeRay Mckesson. He was released on Sunday, and protests continued well past midnight. In Saint Paul, Minnesota — near where Philando Castile was killed at a traffic stop by police — 21 officers were injured on Saturday by demonstrators pelting them with debris and even allegedly a Molotov cocktail.
EARLY AND OFTEN
Rudy Giuliani If Not Color Blind, Certainly Tone Deaf
Rudy Giuliani took to the airwaves yesterday to attack the Black Lives Matter movement, and exploit divisions in American society at a time when tensions are the highest in a generation — what Giuliani calls "leadership." Appearing on Face the Nation, Rudy called Black Lives Matter "inherently racist," accused them of ignoring people killed by citizens in black neighborhoods, and even called on black parents to teach their children to "be respectful to the police" — and, of course, he found a way to bring up rap music. It's worth noting that the president of the International Association of Chiefs of Police, who also appeared on the show, disagreed with him strongly. [NYT]
New Zealand Tourism Gets a Huge Boost
Ruth Bader Ginsberg gave a lengthy interview in her chambers yesterday, a relatively rare move for a Supreme Court justice. The whole thing had a kind of "one for the fans" feeling, with RBG burnishing her liberal credentials, praising Obama's Supreme Court pick, and going on at-length about the horror of a Trump presidency. When asked about a hypothetical President Trump's potential affect on the court she said, "I don't even want to contemplate that," and quoted her late husband: "'Now it's time for us to move to New Zealand.'" It's worth reading the whole thing, as Ginsberg goes into detail about the court's recent major decisions on immigration, abortion, and affirmative action.
Greg Abbott Having a Really Terrible Week
It emerged yesterday that Texas governor Greg Abbott is suffering from severe burns on his legs and feet after after an accident involving hot water on Friday. The governor did not announce the "extensive second- and third-degree burns" earlier because he did not want to distract from the bloodshed in Dallas. The injuries may mean that Abbott will be unable to attend the Republican convention next week where he had planned to lead the Texas delegation. Abbott has been paralyzed from the waist down and confined to a wheelchair since 1984. [The Hill]
Trump's Foolproof Plan to Alienate Every Single Voter, Tap Pro-Choice Democrat for VP
Donald Trump's bizarre parade of potential vice-presidents got even stranger over the weekend when Retired Army Lt. General Michael Flynn's name jumped to the top of the list. While Flynn has been outspoken in his criticism of the president and Hillary Clinton, he was last registered as a Democrat. And, lest you think he has outgrown his lefty tendencies, Flynn made some pretty clear pro-choice noises while speaking on television yesterday: "I think it's a thing for women … They are the ones that have to make the decision because they're the ones that are going to decide to bring up the child or not." Note how Trump deftly made it pretty much impossible for anyone on the right or left to vote for him; maybe he thinks you score elections like rounds of golf? [Bloomberg]
THE STREET, THE VALLEY
We Can't Believe We're Writing This, But Today in Pokémon News…
Googling Pokémon Go really didn't help us understand why at all, but the mobile game is a certifiable phenomenon, sending Nintendo's recently beleaguered stock up up more than 20 percent and overloading servers — rendering the game unplayable — in multiple countries. Now there is evidence that criminals are using the game to basically herd suckers into isolated places to rob them, and this class act even shared a photo of him playing it while his wife gave birth. Can we get a do over on this whole civilization?
Are We Sure Elon Musk Isn't an Evil Genius?
Elon Musk, the eccentric founder of Tesla, has been under a lot of pressure following the disclosure of a fatal accident caused by one of his cars in self-driving mode. But don't worry, according to a tweet Musk sent Sunday — we're just guessing from his lair in a volcano somewhere — he is working on "Top Secret Tesla Masterplan, Part 2." More details will apparently follow later in the week. [Bloomberg]
Uber in Bigger Than Usual Trouble
Uber is in legal hot water after a judge in an ongoing class-action suit against the car-hailing app was less than pleased that the company hired a private-security firm staffed with ex-NSA and CIA operatives to investigate the plaintiffs in the case. The incident is pulling the curtain back on the secretive tech powerhouse and showing the world that it is exactly how we pictured it. [The Verge]
It Should Be a Big Week for Boeing
If everything goes as planned, Boeing is looking at some major sales this week. Boeing is hoping to close $3.5 billion in business at this week's Farnborough International Airshow in England, including a big order from TUI AG, a huge German tour operator that is seeing a surge in business because people think they're safer from terrorism if they travel in big groups for some reason. [Bloomberg]
MEDIA BUBBLE
Family of Slain War Correspondent Sues the Syrian Government
The sister and niece of deceased war reporter Marie Colvin — represented by the Center for Justice & Accountability — sued the Syrian government over the weekend, claiming that the regime of Bashar al-Assad intentionally targeted Colvin and killed her in a bid to silence her and stop her reporting on the war from getting out. Colvin was killed when a rocket hit the impromptu media center she was working out of. This is the first suit of its kind since a law came into effect allowing Americans to sue governments that are considered sponsors of terrorism. [Jezebel]
PHOTO OP
The Revolution Will Be Livestreamed
Black Lives Matter activist DeRay Mckesson livestreamed his own arrest on Saturday night in Baton Rouge. He was held overnight and released Sunday, but the charges were not dropped.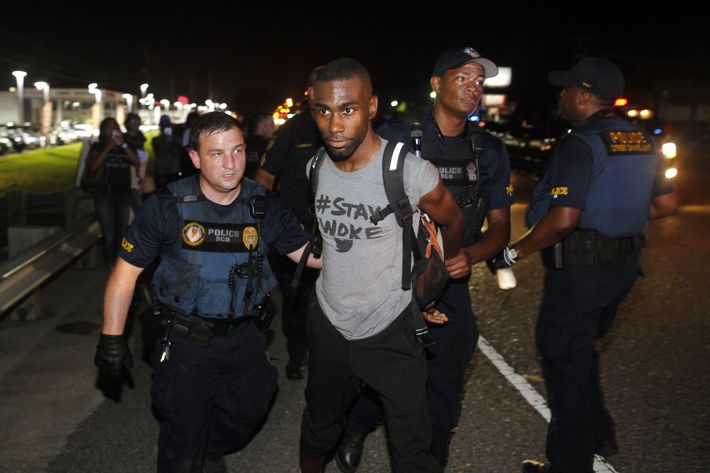 MORNING MEME
Just What We Needed
If you're like us, you'll want something to cheer you up after a pretty horrific couple of days. This should do the trick.
OTHER LOCAL NEWS
Looking for a Summer Job That's Both Gross and Creepy?
New Hampshire is calling on Dartmouth to finish the job it started cleaning up a massive animal-burial ground, full of thousands of tiny corpses pumped with dangerous levels of chemicals. The animals, buried on Rennie Farm in Hanover, are what's left over from decades of animal testing conducted in the '60s and '70s. We're betting Rennie Farm has really bad vibes.  [WCAX]
Bostonian Hospitalized by Giant Duck
A jaywalking Bostonian woman was struck by one of those horrible duck boats yesterday and taken to the hospital with non-life-threatening injuries. It seems like the duck tour was cancelled, so for that at least this woman is a hero. Earlier this year, a woman was killed by a Boston duck boat and a new bill is under consideration cracking down on the obvious menaces. [Boston Patch]
HAPPENING TODAY
Everybody Forget Everything Horrible That Is Happening and Drink a Slurpee
Today is July 11, and you know what that means. Just like every year, 7-11 is Free Slurpee Day. You too can beat the heat by spending hours waiting in line in an air-conditioned 7-11. Head on down between 7 a.m. and 11 p.m. for your free small slurpee. [The Sentinal]
Republicans to Decide Which Platform to Lose the White House With
The Republican National Convention Committee on Resolutions is meeting in Cleveland today to hammer out the party's platform. Aside from pressure from some party members to make the platform more accepting of sexual minorities, the biggest challenge facing the committee is the fact that their nominee will almost certainly be an anti-free-trade billionaire who has based his candidacy on alienating the Latino vote, is not good at pretending to be religious, and presents himself as an ally to the LGBT community. [cleveland.com]
Britain Enters the Pleading Stage
British finance minister George Osborne is in New York today, where he will meet with the city's biggest investors to basically beg them to invest in the U.K., even though the British people seem hell-bent on destroying their own economy. [Reuters]