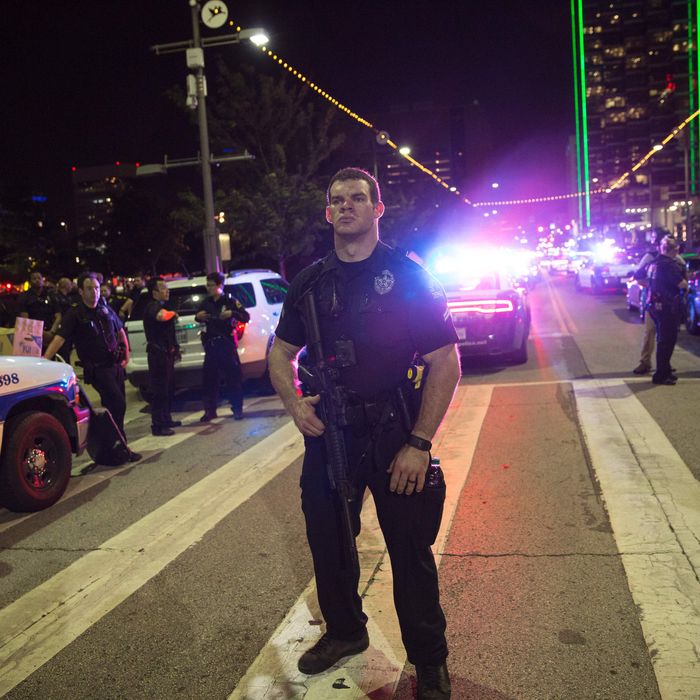 A police officer stands guard at a baracade following the sniper shooting in Dallas on July 7, 2016.
Photo: LAURA BUCKMAN/AFP/Getty Images
Good morning and welcome to Fresh Intelligence, our roundup of the stories, ideas, and memes you'll be talking about today. In this edition, snipers target police during a protest in Dallas, Chris Christie preps for the spotlight, and Gawker goes to market. Here's the rundown for Friday, July 8.
WEATHER
Today will be a lot like yesterday: severe storms in the Ohio Valley and Central United States, while the South and East Coast continue to languish in the throws of a heat wave. New York City should get the worst of both with thunderstorms and unseasonably hot weather. Happy Friday! [Weather.com]
FRONT PAGE
Snipers Target Police Officers in Dallas, 5 Dead
Two snipers shot and killed five police officers on Thursday night, injuring another six officers and a civilian. The shooting occurred as a protest against the police shootings of Alton Sterling and Philando Castile was coming to an end and a large police presence was on the street. Several suspects have been apprehended; at the time of this writing, police said they had one suspect surrounded in a parking garage who claims to have planted bombs around downtown Dallas. Anti-police-brutality protests took place across the country yesterday, and the demonstration in Dallas was reportedly one of the most peaceful until the gunfire broke out.
EARLY AND OFTEN
Chris Christie Better Learn Newt Gingrich's McDonald's Order
Despite apparently selling his soul to Donald Trump, sources are saying that the presumptive Republican nominee will pass over New Jersey governor Chris Christie for vice-president. Those same sources claim that Trump is leaning toward Newt Gingrich as his running mate. In what has been a pretty dehumanizing couple of months for Christie, losing what amounts to a personality contest to Newt Gingrich just must be rock-bottom. [NJ.com]
Clinton Email Investigation Not Over, Never Over
If you thought the investigation into Hillary Clinton's handling of confidential information during her tenure as secretary of State was over, you are both wrong and naïve. It will never be over. Not only will Republicans keep it alive as long as possible on Capitol Hill, but now the State Department can continue its internal investigation of Clinton's emails, which had been put on hold pending the F.B.I.'s findings.
Trump Not Invited to Next Play Date
Donald Trump stopped by Capitol Hill yesterday to meet with Republicans, play nice, and try to assuage their fears that he was going to destroy their way of life, political future, and the entire party. Well, things didn't go great. Let's let the New York Times tell us what happened next: The talk "descended … into an extraordinary series of acrid exchanges, punctuated by Mr. Trump's threatening one Republican senator and deriding another as a 'loser.'" Trump reportedly told Arizona senator Jeff Flake that Trump will ensure Flake loses his reelection bid this year if Flake does not support him — which seems unlikely, as Flake is not currently up for reelection. Nebraska senator Ben Sasse also referred to the election as a "Dumpster fire." We are laughing too hard to type any more. [NYT]
Politicians Respond to Police Shootings
As rage over police shootings continues to mount nationwide, many are disappointed in the two presidential candidates for their limited — in the case of Clinton — and nonexistent — in the case of Trump — responses to the shooting of two black men in two days. President Obama responded to the tragedy from Poland. Visibly emotional, Obama said police violence should be troubling for all Americans and that the shootings were symptoms of "racial disparities that exist in our criminal justice system." Perhaps the most surprising reaction came from Minnesota governor Mark Dayton, who said point blank that the shooting that took place in his state would not have happened had the victim been white, and that — news flash — "racism exists." [Politico]
THE STREET, THE VALLEY
Good News for America's Economy
Reports yesterday show America's economy is in good health, despite the recent insanity of our special friends across the pond. Private payroll increases beat expectations in June, with fewer Americans applying for unemployment. The reports show America's small businesses are hiring, and that its economy should have no problem riding out the economic repercussions of Brexit. [Reuters]
Remember When Kids Sharing Explicit Content Was the Whole Point of Snapchat?
A class-action suit filed yesterday claims that Snapchat exposes underage users to explicit sexual content. The suit hinges on the app's "discover" feature and claims that kids can easily click on content that turns out to be too adult. Lawyers are asking that explicit content come with some sort of warning. Because obviously kids would never click on anything with adult-content warnings. [BuzzFeed]
One of Microsoft's Biggest Baes Steps Down
Kevin Turner, Microsoft's chief operating officer and one of the company's longest-serving executives, is stepping down to take a job in finance. His departure has set off a major reshuffling of the Seattle-based tech giant's sales section. [CNet]
Mark Zuckerberg Addresses Police Shootings
Facebook founder Mark Zuckerberg released a statement on the killing of Philando Castile, which was broadcast on Facebook Live, saying that the images "shine a light on the fear that millions of members of our community live with every day." [CNet]
MEDIA BUBBLE
Niche Sports Are the Best Sports
Sources are reporting that ESPN will begin offering a certain kind of sports fan the option of buying live programming and watching it online. The direct-to-consumer online model won't include any of the big money sports like the NBA or NFL, but if you're tired of having to buy expensive cable-sports bundles just to catch your favorite lumberjack competitions, then this new option may be for you. [The Information]
Victory? Gawker Allowed to Sell Itself
You know things aren't going well when a bankruptcy court giving you permission to start selling yourself is considered a major win, but that is exactly what happened yesterday with Gawker. Despite recent financial difficulties — read: being bled dry by Hulk Hogan — more than 40 potential bidders have expressed interest in the martyred media company. Bids are due August 15 if you want to get involved. [Reuters]
Google Sees a Future in Broadcast
As online video becomes the dominant media, Google is consolidating its grip on the tech side of online broadcasting, with its acquisition of Anvato, a platform that allows producers to stream live online video, edit video in the cloud, and even manage advertising and pay-per-view. You may not have heard of Anvato, but you've probably seen its work; the platform is used by Fox Sports, Bravo, and NBCUniversal, among many other prominent customers. [Tech Crunch]
PHOTO OP
The Face of Our Times
The Dallas protest that ended in tragedy was just one of many demonstrations against police brutality on Thursday night. Thousands of protesters marched in the streets of New York, and at least 40 were arrested.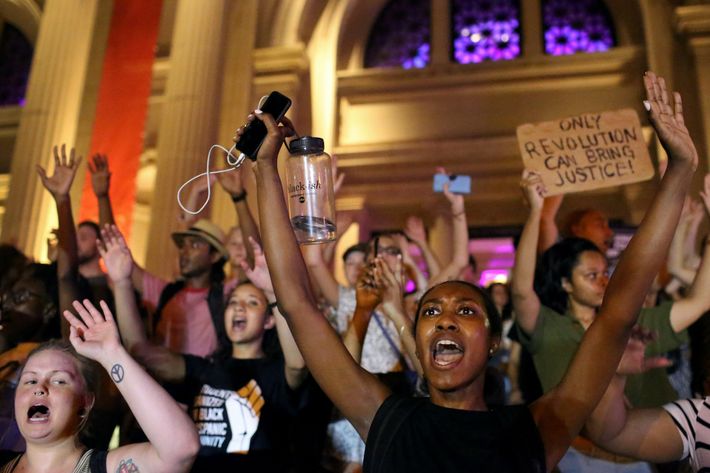 MORNING MEME
Fox News Maybe Not Such a Great Workplace for Women
If you haven't been following the ongoing Gretchen Carlson lawsuit, then this supercut should give you a pretty good idea of what it's like to be a female anchor at Fox News. And this is just the stuff that was televised.
OTHER LOCAL NEWS
North Carolina Traffic Super Crappy
It looks like traffic is back to normal on Highway 1 in North Carolina after a massive dump trunk hauling sewage tipped over creating a skid mark — double meaning! — over 150-feet-long. Yes, there is a picture. It is a little gross. [WRAL]
One Hell of an Omelet Foiled
A man from Jupiter has been apprehended with more than 100 stolen turtle eggs. He was caught after officers discovered him stealing eggs directly from a loggerhead sea turtle "as she was laying them." Oh! Jupiter, the town in Florida. We should have mentioned that. [UPI]
HAPPENING TODAY
Aetna to Plead Its Case
Aetna will meet with the Justice Department today in the hopes of getting permission to go ahead with its $37 billion acquisition of Humana. The government has been going after megamergers in the last year, and has proved especially nervous about health-insurance mergers; still, Aetna says this is different and hopes to change the government's mind. [Bloomberg]
Now Miss New Jersey, What Is Your Talent?
The parade of potential Trump VPs continues today with Chris Christie, both the best-suited — read: dead inside — and least likely to be chosen of Trump's running mates. Christie will join Trump for two campaign stops in South Florida today, and since South Florida is mostly full of people from New Jersey, we are guessing they won't like him very much. [NYT]
Obama Takes Last Chance to Meet With NATO Before Trump Disbands It
President Obama is in Poland today for a two-day NATO summit, his last before leaving the White House. To say things are complicated is a bit of an understatement. The gathered representatives will have two days to think up solutions for Brexit, Russian aggression, Syria, the refugee crisis, and terrorism, and that's just off the top of our heads.  [NYT]