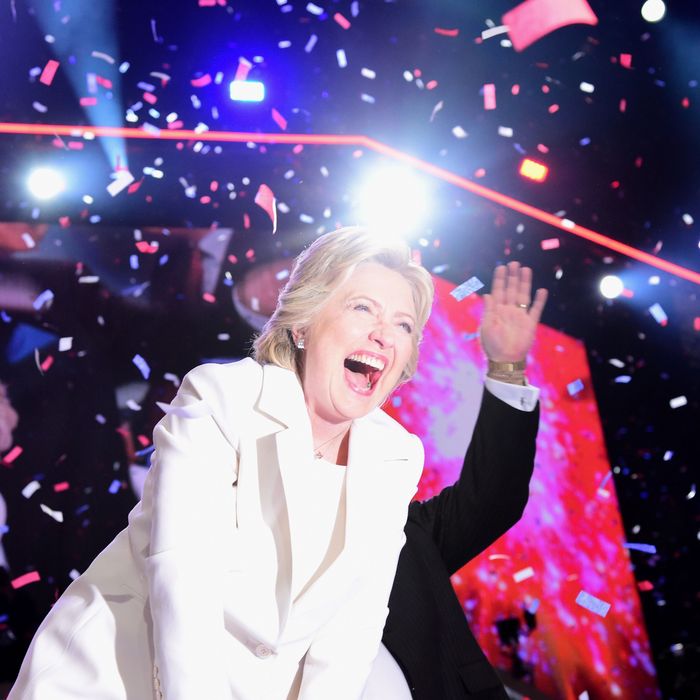 "Don't laugh maniacally, don't laugh maniacally."
Photo: ROBYN BECK/This content is subject to copyright.
Good morning and welcome to Fresh Intelligence, our roundup of the stories, ideas, and memes you'll be talking about today. In this edition, the Democratic convention comes to a close, Melania Trump should not be trusted with architecture, and Microsoft tightens its belt. Here's the rundown for Friday, July 29.
WEATHER
The weather today will be much like the weather all week: hot and dry on the West Coast, and humid and sodden on the East Coast. New England will get the brunt of the eastern storms, but the South, Plains, and Southwest should also get their share. It looks like the recent high heat will break in New York City where rains and temperatures in the mid-80s will give way to even cooler temperatures — and more rain — through the rest of the week. [USA Today]
FRONT PAGE
A Historic Democratic Convention Comes to a Close
There were many high points during the last day of the Democratic National Convention yesterday: Sarah McBride becoming the first transgender person to address a national convention, Kareem Abdul-Jabbar introducing himself as Michael Jordan because "Donald Trump couldn't tell the difference," and the father of a Muslim war hero offering to give Donald Trump his personal copy of the Constitution. But, the true pinnacle of the convention fell where it should, on the final speech by first female presidential nominee Hillary Clinton. She praised the generations of women who came before her, doubled down on her reputation as a details-oriented policy wonk, and at every turn, contrasted her abilities as a leader against those of Donald Trump — "A man you can bait with a tweet is not a man we can trust with nuclear weapons."
EARLY AND OFTEN
Here's Another Reason Melania Trump Is Just Like George Costanza
Wait a minute, Melania isn't an architect? That was the only potentially redeeming thing about a Trump presidency, a First Lady architect. Melania claimed for years that she had an undergraduate degree in architecture from the University of Ljubljana. But reporters have long known that she dropped out after her first year to model — no shame in that, some shame in lying, though. Now her personal website has been totally scrubbed and just reverts to the Trump Organization's website. In a tweet yesterday, Melania claimed the website was removed because, "it does not accurately reflect my current business and professional interests." Because fake-architecture degrees are so last year. [NYT]
Thank God Clinton Keeps Her Email on a Separate Server
The recent DNC hack that launched a thousand conspiracy theories now looks like it might just be the tip of the айсберг. Reuters has confirmed that the FBI is investigating another hack, this time against the Democratic Congressional Campaign Committee (DCCC). Sources are saying that most likely the hackers were trying to steal information on Democratic donors and might have accessed their personal information. Investigators believe that the hacking probably began as early as last month. [Reuters]
Reagan Official Calls Trump the Worst Thing You Can Call a Republican
Speaking at the Democratic National Convention yesterday evening Doug Elmets, a one-time official in the Ronald Reagan White House, called Donald Trump the single worst thing you can call a Republican: "no Ronald Reagan." What he actually said was: "I knew Ronald Reagan. I worked for Ronald Reagan. Donald Trump, you are no Ronald Reagan." Donald Trump will surely be deeply hurt as soon as someone explains to him who Ronald Reagan is. [The Hill]
Donald Pulls a Trump
You probably won't believe this, but Donald Trump has reneged on a deal. After promising to release his tax returns after an IRS audit was completed, and then promising to release them if Hillary Clinton released the transcripts of her speeches to Wall Street, Trump now says that he will not release his tax returns no matter what. Trump said yesterday that he would not be releasing his returns because "most people don't care about it." And he bizarrely explained that the scrutiny Mitt Romney's tax returns received scared him off releasing his own. "After he gave it, they found a little sentence and they made such a big deal," he apparently thought out loud, "His is a peanut compared to mine." Do you think you could fit "his is a peanut compared to mine" on a hat? [The Hill]
THE STREET, THE VALLEY
News: Google Is Doing Very Well
It turns out dominating every facet of everybody's life is pretty profitable. Alphabet — Google's parent company — released quarterly earnings yesterday that were up by a whopping 24 percent. The growth was driven by companies buying more ads and users clicking on them at a higher rate. Kids are such suckers. [WSJ]
Microsoft Will Cut Thousands of Jobs
On a day when other tech giants were boasting of historic successes, Microsoft had some less-optimistic news to share. The Seattle-based company will cut a further 2,850 jobs, bringing the total planned cuts up to nearly 4 percent of its entire workforce. Finland is bearing the brunt of the layoffs with the Finnish smartphone section losing fully 1,850 jobs. Back to a life of government-subsidized leisure — we kid. [Reuters]
Company That Does Something We Don't Understand Buys Company That Does the Same
Oracle — the tech company best known for its CEO's megayacht — announced yesterday that it is buying NetSuite — the tech company best known for being bought by Oracle — for $9.3 billion. The move is part of Oracle's aggressive push to beef up its cloud-computing services. [Bloomberg]
Apparently Selling Everything in the World for Less Than Everyone Else Is a Great Business Plan
Amazon, the company that naysayers claimed could never turned a profit, is starting to turn a lot of it. The company just announced its fifth straight quarter in the black, with this last term being its most profitable yet, beating Wall Street's expectations by a wide margin. [The Verge]
MEDIA BUBBLE
Vox Media Welcomes New Publisher, Melissa Bell
Vox Media announced yesterday that Melissa Bell is coming onboard as the company's new publisher. And what does a publisher do in a world where nothing is published anymore? Apparently she tries to "develop the company's brands and identify opportunities to build its audience on its sites and across different platforms, such as Snapchat and Facebook." Best of luck, Melissa! [Poynter]
New York Times Boosts Subscribers but Still Loses Money
The New York Times revealed yesterday that it posted a net loss of half a million dollars for its second quarter. But the news wasn't all grim. It also announced that it had added 51,000 new digital subscribers and 16,000 crossword subscribers — which we just discovered is a thing and are totally getting our mom for her birthday. The losses are mostly from severance packages paid out to staff members after the closure of the Paris bureau. [NYT]
Newt Is Back Where He Belongs
Confirmed moon-lover Newt Gingrich has accepted his old job as a testily unhinged Fox News contributor and will be back on the air the first of next month. Newt severed ties with the network when it looked like Donald Trump might tap him for his vice president. Instead Trump went with former New Jersey Governor Thomas Kean. [The Hill]
PHOTO OP
"I Will Gladly Lend You My Copy!"
Here's Khizr Khan, father of a fallen Muslim war hero, offering Donald Trump his copy of the Constitution. "You have sacrificed nothing!" Khan yelled at Trump, "And no one!"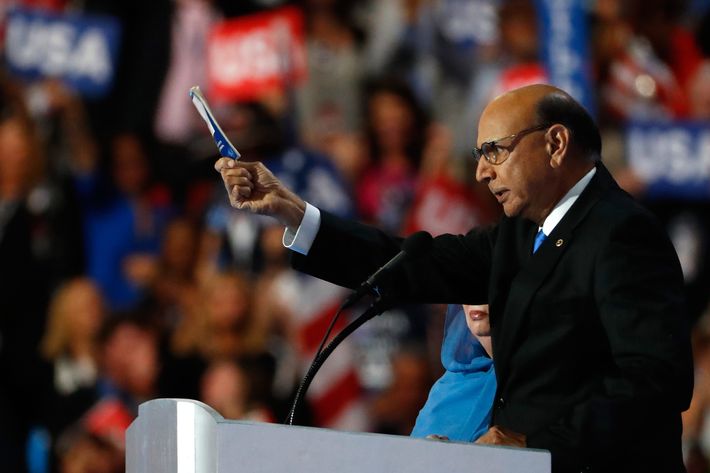 MORNING MEME
This Picture, Though
If you don't follow the Jill Biden parody account, get on that.
OTHER LOCAL NEWS
Hero Criminals Save Jerk's Dog
A group of thieves in Chicago unwittingly did a good deed when they broke into a man's truck to steal his laptop, thereby saving the defenseless dog that had been locked in the sweltering backseat while his owner went to have a few hours' worth of beers. Somebody start a kickstarter for these kids. [UPI]
The Great Orlando Police-Department Donut Embarrassment
A Florida man was arrested recently. His only crime? Being just like us. Apparently the Orlando-area gentleman had enjoyed so many glazed donuts in his car that police mistook the accumulated glaze crumbs on his floorboards for meth and arrested him. In our day, police could tell donut glaze from a mile away. [UPI]
HAPPENING TODAY
It's Not Like There Haven't Been Signs
Be careful what you wish for. End Times Prophecies has confirmed that the world will end today. Probably around the time you finish this newsletter because of something called the "polar flip." Which would be a great cocktail name for our next wack-job-themed party. [AOL]