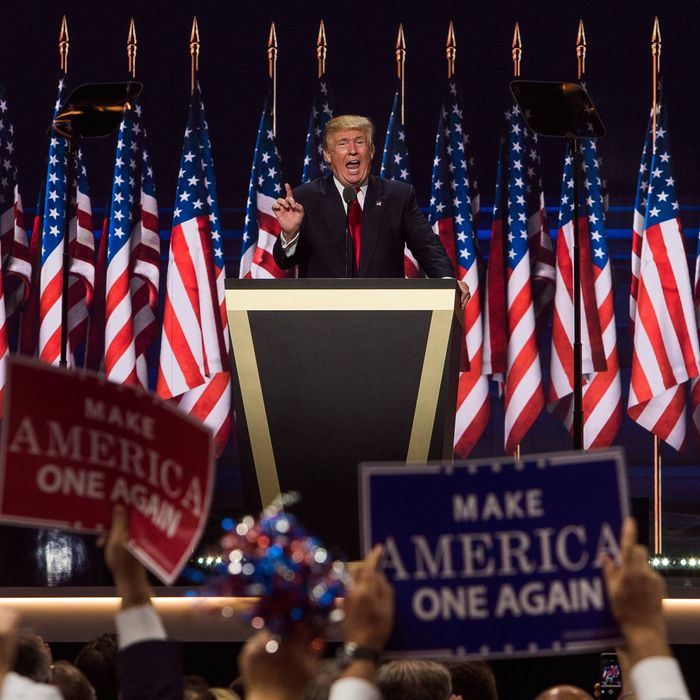 Good morning and welcome to Fresh Intelligence, our roundup of the stories, ideas, and memes you'll be talking about today. In this edition, Trump accepts the nomination, Clinton has a rough day in the courts, and North Carolina loses the all-star game. Here's the rundown for Friday, July 22.
WEATHER
An extreme heat wave continues to grip the central U.S. today. The East Coast should also be hot, with only a bit of relief in New England in the form of summer storms. The West Coast will be hot, but dry, compared to New York City's hot and steaming weather with highs in the mid-90s. [USA Today]
FRONT PAGE
RNC's Final Day: Donald Trump Terrifies Everybody
If somewhere deep down America was hoping for a bit more drama, Donald Trump did not disappoint. While accepting the presidential nomination of his recently adopted party, Trump painted a picture of a nation humiliated and laid low by foreign enemies, overrun with violent crime, plagued by terrorist attacks, and drenched in the blood of law-enforcement officers (fact check: nope). Even more bizarrely, Trump vowed to protect LGBTQ people from "hateful foreign ideology," admitted that he probably didn't deserve the Evangelical vote, and came out hard against trade deals and globalization. Good night, Cleveland; tomorrow is another day.
EARLY AND OFTEN
NBA Protests Transgender Discrimination, Pulls All-Star Game From North Carolina
The NBA pulled out of plans to host the weeklong All-Star Game event in North Carolina, citing the state's HB2 law, which is widely seen as discriminatory to the LGBT community. In a statement the NBA said: "We do not believe we can successfully host our All-Star festivities in Charlotte in the climate created by HB2." North Carolina governor Pat McCrory responded to the news by basically attacking everyone including the "sports and entertainment elite, Attorney General Roy Cooper and the liberal media." [Politico]
Not Furious Enough? We Got You
You might want to preempt the headache you're about to have with an aspirin now. When asked why Donald Trump's campaign continues to harp on rising crime, and how dangerous America is becoming — while FBI statistics actually show crime rates falling pretty much everywhere — Trump campaign chair Paul Manafort straight-facedly said that people shouldn't believe the FBI because the agency declined to recommend charges for Hillary Clinton. "People don't feel safe in their neighborhoods. I'm not sure what statistics you're talking about … The FBI is certainly suspect these days after what they just did with Hillary Clinton." Now that is some bald-faced fearmongering!
Ban on Militarizing Police Likely Short-Lived
Activists rejoiced when President Obama banned the use of military equipment by police in 2015, but in the light of recent violent attacks on police officers, the White House has said it will revisit the ban. Although no promises have been made, high-ranking officials in the police like Jim Pasco, executive director of the Fraternal Order of Police, and Bill Johnson, executive director of the National Association of Police Organizations, seem pretty sure some military gear will start trickling back to the police pretty soon. [Reuters]
Get Ready to Keep Hearing About Clinton's Emails
Republicans scored a significant victory in the never-ending investigation into Hillary Clinton's emails yesterday. U.S. District Court Judge Amy Berman Jackson said that the Justice Department's claim that it couldn't possibly satisfy Republican's Freedom of Information Act request because, in effect, it would take too long, wasn't good enough, and that the government had to at least try to satisfy the request. The Justice Department will have to provide Clinton's emails in no less than 500 pages a month, and the RNC will be able to request which types of emails they prioritize. We can picture the attack ads already. [Politico]
THE STREET, THE VALLEY
News Out of GM Is Mixed
While GM just announced its most profitable quarter in more than seven years and profits that have more than doubled, there is still some troubling news on the horizon for the Detroit automaker. First, the company is estimating that Brexit will cost it up to $400 million in the second half of this year, and secondly, the company has just announced that it will recall another 4.3 million vehicles over the Takata air-bag scandal. Still, as Detroit well knows, it could be worse. [WSJ]
Think It's Expensive Buying a Jet? You Should Try Making Them
Boeing's announcement yesterday that it has a a $2.1 billion after-tax accounting cost was startling, but hardly surprising. The cost is mostly due to the unbelievably expensive Dreamliner and ongoing problems with the over-cost KC-46 military aerial tanker. [Bloomberg]
Government Sues to Halt Historic Health-Insurance Mergers
Antitrust officials moved yesterday to stop two massive mergers that would have had historic repercussions for health insurance in this country. The Justice Department filed two separate suits: to stop Anthem's acquisition of Cigna, and the planned merger between Aetna and Humana. For some reason, the government thinks putting almost all health insurance into the hands of three massive companies would hurt competition. [WSJ]
Tinder Now Open to Groups (Not in That Way)
After years of lobbying from freaks all over the world, it looks like Tinder is finally going to open up its service to groups, just not in the way anyone wanted at all. The new "Tinder Social" feature is intended to help groups of friends find other groups of friends to do things like "watch the game with." Ugh. Let us know when watching the game becomes a euphemism for something better. [CNet]
MEDIA BUBBLE
A Sea Change at Fox News As Ailes Replaced by Wealthy Old White Guy
It's official: Founder and ex-CEO of Fox News Roger Ailes is out following widespread claims of sexual harassment. Rupert Murdoch, the head of Fox News' parent company, 21st Century Fox, will take over for him and inject the news channel with some much needed new — 85-year-old — blood. [Reuters]
Reddit Execs Down-voted in Management Shake-up
It has been a period of upheaval for Reddit as the online community tries to reinvent itself as a "real business." Now it appears that both marketing vice-president Celestine Maddy and editorial director Vickie Cheung will be looking for new jobs. Their departure will follow those of other influential voices at Reddit like video-content leader Stephen Greenwood and human-resources maven Nicole-Jasmin Clark. [Recode]
Al Jazeera Mulls U.S. Comeback
Al Jazeera is not giving up on the United States. Not long after the shuttering of Al Jazeera America, the Qatar-based news network is planning to bring its content back to the States in the guise of a digital-news streaming service. The service should be available as early as September. [Reuters]
PHOTO OP
Pat Down
Things got uncomfortable even before Trump presented his terrifying, error-filled vision of America.
MORNING MEME
RNC Pops Off
This is very cathartic.
OTHER LOCAL NEWS
If Only There Were Something in the Bible About This…
A minister in Canton, Texas, was arrested earlier this week for burglarizing a church. This story is criminally light on details but this sentence: "The minister of a Canton church was arrested Monday and charged with burglarizing another [emphasis ours] church" doesn't sound good. [Journal Star]
Well, That's One Way to Handle a Teacher Shortage
It has come to light that schools in the Charlotte-Mecklenburg district in North Carolina suspended nearly a thousand students last year … wait for it … just from pre-K through second grade. It isn't clear what all of these children had done to warrant suspension, but we bet they were being childish. [WRAL]
HAPPENING TODAY
Boeing Begins Distributing Parachutes
Boeing will announce a new round of layoffs today. Nearly all of the employees facing reduction come from the company's BDS program, which deals with space and defense programs. The cuts will affect workers at plants all over the country. [KOCO]
Can't Wait for Next Week's Bachelorette?
Presidential hopeful Hillary Clinton is expected to announce her pick for vice-president today. On the short list are Agriculture Secretary Tom Vilsack, Virginia senator Tim Kaine, and New Jersey senator — and the one you might actually have heard of — Cory Booker. [Fox]