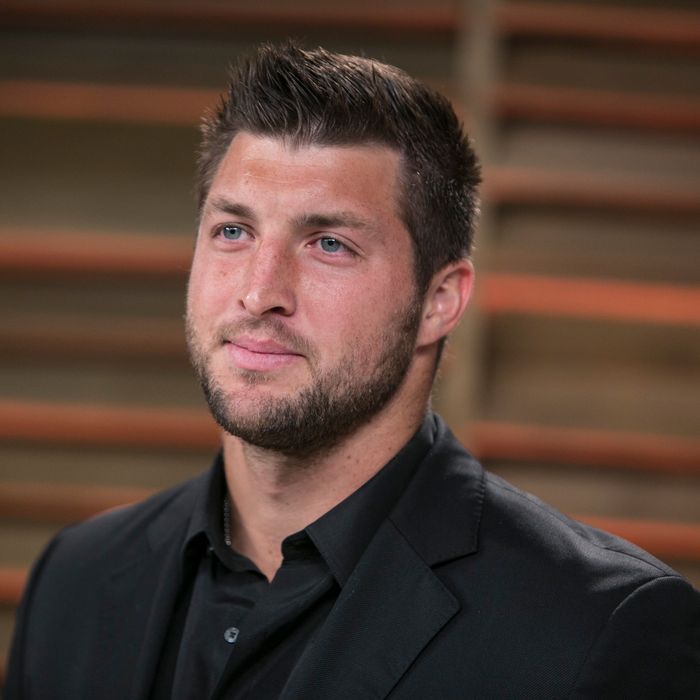 Future Secretary of Labor Tim Tebow?
Photo: ADRIAN SANCHEZ-GONZALEZ/2014 AFP
Over Fourth of July weekend, Donald Trump boasted that speaking slots for the Republican National Convention were "totally filled," and that the full list of speakers would be revealed within a matter of days. More than a week later — and with party officials arriving in Cleveland on Wednesday — there was still no schedule. Rather than mulling over the content of the reality-TV-infused, four-day Trump infomercial, reporters were forced to focus on the chaos taking place off the stage, such as the effort to cut the platform from 60 pages to two, the plot to hold a vote that could strip Trump of the nomination, and the emptying of Cleveland's jails to make way for mass arrests of potentially gun-toting protesters.
Meanwhile, on Wednesday afternoon, a Washington Post headline proclaimed, "Trump promises 'showbiz' at convention, but stars on stage will be relatively dim." Tell that to former quarterback Tim Tebow. And UFC president Dana White. And, well … we're already stretching the definition of "star," but can we interest you in an entire night devoted to the Benghazi scandal, and a "presentation detailing former President Bill Clinton's sexual misconduct"?
Late on Wednesday night, the New York Times revealed the lineup, which it says was confirmed by two people with direct knowledge of convention planning:

Night 1: A Benghazi focus, followed by border patrol agents and [Jamiel Shaw Sr.]. Senator [Tom] Cotton, [Rudy] Giuliani, Melania Trump, [Senator Joni] Ernst and others.

Night 2: A focus on the economy: Mr. White, president of the U.F.C.; Asa Hutchinson, the governor of Arkansas; Michael Mukasey, the former United States attorney general; Lt. Gen. Michael Flynn, a vice-presidential possibility; Senator Mitch McConnell of Kentucky, the majority leader; Tiffany Trump; Donald Trump Jr. and Gov. Scott Walker of Wisconsin.

Night 3: [Pam Bondi, the Florida attorney general]; [Eileen Collins, the first woman to command a space-shuttle mission]; Newt Gingrich, a former House speaker; Senator Ted Cruz of Texas; Eric Trump; [professional golfer Natalie] Gulbis; and the nominee for vice president.

Night 4: Mr. Tebow; Representative Marsha Blackburn of Tennessee; Gov. Mary Fallin of Oklahoma; Reince Priebus, the Republican National Committee chairman; Gov. Rick Scott of Florida; [Peter] Thiel; [Colony Capital's Thomas] Barrack; Ivanka Trump; Donald J. Trump.
Take a minute, because there's a lot to absorb here, from Mitch McConnell's remarks being followed by 22-year-old Tiffany Trump's thoughts on the economy to the presence of billionaire PayPal founder Peter Thiel, who successfully funded the Hulk Hogan lawsuit to get revenge on Gawker Media. (Though, his seemingly unlikely support for Trump was already known, and it highlights interesting new forms of right-wing politics.)
The schedule may also provide some clues about who Trump has selected as his running mate. Potential VPs Lieutenant General Michael Flynn and Newt Gingrich are named, suggesting they will not be speaking as the "nominee for vice-president." Governors Chris Christie and Mike Pence do not appear on the list, but the Times reports Trump is still inviting people and more speakers may be added.
Weirdly, House Speaker Paul Ryan is not on the list, though he told Politico he'd be delivering a speech. Also missing are several people Trump said he would invite, such as Don King, Sarah Palin, and Tom Brady.
Here, Dana White says he's "not too thrilled" with any of the presidential candidates, but he likes Donald Trump because he supported the UFC during its difficult early days.
On CNN earlier this year, Michael Mukasey, former U.S. attorney general under George W. Bush, said Hillary Clinton would have to be a "low grade moron" to not know that the emails passing through her private server were classified.
Tiffany Trump, Donald's only child with Marla Maples, made a rare media appearance in December, telling Barbara Walters, "he's true to himself, and he speaks in a way that the average person can understand. I think that's refreshing for everyone."
After the Orlando massacre, Anderson Cooper confronted Florida attorney general Pam Bondi on air, accusing her of hypocrisy for painting herself as a champion of the gay community after working against marriage equality.
Last week Oklahoma governor Mary Fallin said, reluctantly, that Trump is trying to campaign as a "racial healer."
Former New York mayor Rudy Giuliani has been publicly making the case for a Trump presidency since April, but he was in the news most recently for explaining on Face the Nation that Black Lives Matter is "inherently racist."
Of course, Giuliani's relationship with Trump goes back decades. If the nominee is looking for a convention stunt that will make everyone forget about Clint Eastwood and his empty chair, Giuliani's his man.