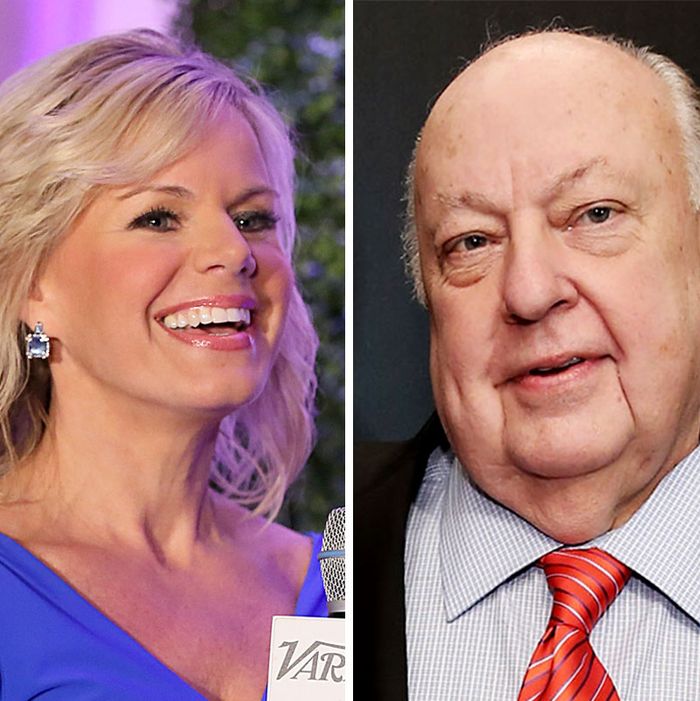 Gretchen Carlson (l) and Roger Ailes (r).
Photo: Getty Images
Throughout his five-decade career in media and Republican politics, Roger Ailes has demonstrated a remarkable talent for self-preservation. "I have been through about 12 train wrecks in my career. Somehow, I always walk away," he boasted in the mid-'90s to a senior NBC executive who'd alleged Ailes hurled an anti-Semitic comment at him. As the head of Fox News, Ailes deployed his survival skills frequently to weather scandals of career-ending proportions and a bitter power struggle with Rupert Murdoch's oldest son, Lachlan.
But in the wake of Gretchen Carlson's shocking sexual-harassment lawsuit against Ailes, there are signs that the 76 year-old's luck may have finally expired.
On Wednesday, Fox's parent company, 21st Century Fox, released a terse statement saying it took the allegations "seriously" and is conducting an "internal review of the matter." The wording and timing of the press release — Ailes had yet to issue his own response, which, when it came, described the lawsuit as "retaliatory" (Carlson was just dropped from Fox) and claimed it would be "vigorously defended" – signal that Ailes's standing with the Murdochs is precarious. According to one highly placed Fox source, Murdoch and his sons, Lachlan and James, approved the hiring of an outside lawyer to conduct the independent investigation. While it's common for large companies to bring in outside counsel to conduct inquiries during public scandals, the move is a radical one for Murdoch. "Unprecedented," one former senior executive told me. "It's not Rupert's style to investigate internal issues."
Executives I spoke with over the past 24 hours said the hiring of an outside lawyer is also an indication that Murdoch's sons may be capitalizing on the Carlson scandal to achieve a long-held goal: forcing Ailes out. "It's a coup," one person close to the company told me. If the investigation into Ailes's management confirms Carlson's account, or turns up additional episodes of harassment with other Fox women, it stands to reason the Murdoch children would have the leverage they need to push Ailes aside and install a less-right-wing chief. "This could be curtains for Ailes," another person close to the company said. Indeed, several months after NBC hired an outside counsel in 1995 to investigate Ailes's alleged anti-Semitic slur, he left NBC.
Based on what Carlson's camp is saying, it appears her lawsuit could unleash a torrent of new allegations from other women. "Someone suggested he's the Bill Cosby of media," Carlson's lawyer, Nancy Erika Smith, told me today. "My office is being deluged with calls and website contacts from women. I don't even have a count anymore … Women as young as 16 who said he demanded oral sex. Another said during an interview that he said, 'Take off your bra.' She was devastated." Smith told me she's forwarding the names of women who agreed to be interviewed to journalists. The New York Times currently has multiple reporters working on the story.
So far, no women have gone on the record. But Carlson isn't the first to publicly challenge the Fox chief. In my 2014 biography of Ailes, I reported three incidents where Ailes made inappropriate sexual comments at women in professional settings. One of the women, Randi Harrison, said that when she interviewed for a producing job at NBC in the early '80s, Ailes said he'd increase her salary by $100 a week in exchange for sex. After the incident, Ailes's friend John Huddy tracked Harrison down and asked her at a bar if she was wearing a wire.