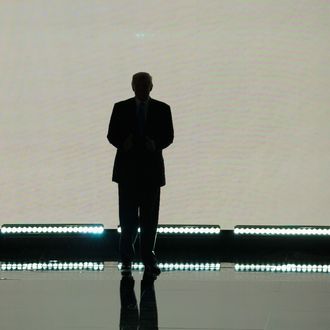 Donald makes his entrance.
Photo: Tasos Katopodis/2016 Tasos Katopodis
It's only been one night, but so far there doesn't appear to be much of a Trump bump boosting ratings for the Republican National Convention. According to preliminary Nielsen data provided by multiple networks, it looks like about 22.5 million viewers tuned in Monday during the marquee 10 p.m. hour, when ABC, CBS, NBC, Fox News, CNN, and MSNBC all offered coverage of the Donald's Cleveland coronation. That's up a modest 8 percent from the roughly 20.6 million viewers who caught the first evening of the 2012 RNC, which was delayed until Tuesday due to Tropical Storm Isaac. (Also making exact comparisons tough: The 2012 event was held at the end of August, when many folks are squeezing in end-of-summer vacations.)
While up certainly beats down in ratings, given the double-digit ratings gains for last fall's Republican primary debates, these numbers suggest Trump's Nielsen magic may be fading a bit. As for individual networks, Fox News Channel once again easily outdrew all other networks at 10 p.m. (as it has for at least the last two cycles), but its average of 6.3 million viewers for the hour made it the only cable network down in the hour versus 2012, when it captured 6.9 million viewers. CNN, by contrast, more than doubled its 10 p.m. audience compared to four years ago (3.9 million versus 1.5 million), while MSNBC (2 million versus 1.5 million) was up more than 30 percent. On the broadcast side, NBC came in first, but declined to 3.9 million and barely edged out ABC (3.6 million). CBS brought up the rear, attracting just 2.7 million viewers.