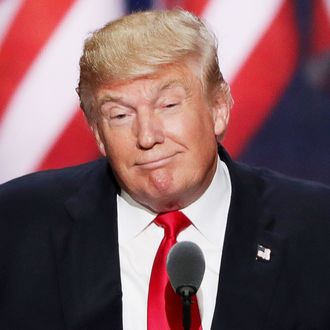 He don't give a Trump.
Photo: Alex Wong/Getty Images
Donald Trump has often framed his presidential campaign as an act of profound personal sacrifice.
"I've given up a tremendous amount to run for president," Trump told CNN in May. "I gave up two more seasons of Celebrity Apprentice."
But other than forfeiting another opportunity to evaluate Gary Busey's management skills, it's difficult to point to any genuine sacrifices Trump has made in service of his political ambitions. The mogul has been famously unwilling to perform the workaday duties of a presidential candidate. He refuses to make fundraising calls, spend more than a handful of nights on the road, skip out on the opening of his new Scottish golf course at a time of international crisis, or, apparently, to Google the name of Hillary Clinton's running mate before publicly opining on his (fictional) tenure as governor of New Jersey.
Now BuzzFeed reveals that Trump isn't even willing to temporarily increase his company's labor costs, for the sake of maintaining his campaign's central narrative. Back in February, the New York Times reported that Trump's Mar-a-Lago resort is staffed primarily by foreign workers, even though hundreds of American applicants have been denied jobs at the establishment. His GOP rivals seized on this story in the primary's final debates, but by then the Trump train was a long way from the station.
Even though Trump survived that initial story, any normal campaign would be careful not to revive a tale so illustrative of its candidate's hypocrisy. But the GOP nominee is not running a normal campaign. And American workers tend to be more expensive than foreign ones. And so, the same month that he promised to put "America first" at the climax of the RNC, Trump filed 78 temporary visa requests for new guest workers at the Mar-a-Lago resort and neighboring golf club. Per BuzzFeed:
This month, Trump is bringing jobs to Florida, as he looks to hire 78 servers, housekeepers, and cooks at his Mar-a-Lago Club in Palm Beach and the nearby Trump National Golf Club, Jupiter.

But instead of making sure those jobs go to Americans, he is seeking to import foreign workers for the positions, which pay $10.17 an hour for housekeepers, $11.13 an hour for servers, and $12.74 for cooks. He filed applications this month claiming he couldn't find enough Americans to do that work, and is seeking temporary visas to bring in 65 workers at Mar-a-Lago along with another seven waiters and six cooks at the golf club.
Trump promises to bring "our jobs" from China, but he won't even bring them back from Palm Beach.