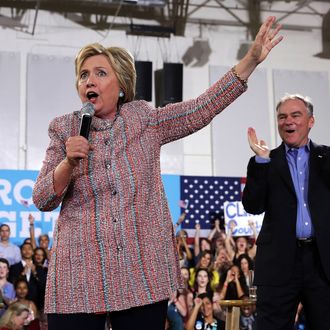 Yes We Kaine.
Photo: Alex Wong/Getty Images
Hillary Clinton's campaign teased the public all day by saying she'd announce her potential vice-president Friday. Just when everybody had given up on that and called it a night, she did this:
Kaine has long been considered a leading contender in the Democratic "veepstakes." And it's not hard to see why: The former governor of Virginia and current member of the Senate Armed Services Committee boasts both executive and foreign-policy experience, speaks fluent Spanish, has ties to a swing state, and is a known quantity, having been vetted by Democratic nominees in cycles past. In a race where most polls show Clinton with a solid lead, picking a moderate, experienced white man makes some tactical sense.
Still, Kaine has his drawbacks. His selection will likely prompt a 2017 special election to replace his seat. With Democrats consistently failing to turn out in off years, that could hand the GOP a precious vote in the upper chamber.
And the senator has, at various points in his career, been at odds with the party's left flank. He's irked advocates for reproductive choice by promoting abstinence-focused education and laws making parental consent a prerequisite for abortion access, and frustrated environmentalists by supporting offshore drilling in the Atlantic and expanding construction of natural-gas terminals. (That being said, the rest of his environmental record is fairly strong and includes opposition to the Keystone XL pipeline and support for the Clean Power Plan.) He has bucked the will of most Senate Democrats — including progressive leaders Elizabeth Warren and Bernie Sanders — by voting to give the White House fast-track authority to negotiate the Trans-Pacific Partnership. And just this week, he signed onto a pair of letters calling on the federal government to loosen up regulations on regional and community banks. That last action inspired the liberal advocacy groups Democracy for America and the Progressive Change Campaign Committee to announce their official opposition to his addition to the Democratic ticket on Thursday.
Nonetheless, the fact that Kaine has inspired such intense opposition reflects the degree to which the party's left has gained in strength and size over the past eight years (particularly after Bernie Sanders's primary campaign). While the senator is certainly to the right of the party's leading left-wing lights, like Sanders and Warren, he isn't Joe Lieberman, either. (Which would be a fair description of Joe Biden). A former civil-rights lawyer, Kaine has been a leading advocate in the Senate for eliminating housing discrimination, and has generally been on the left-wing of his party on matters of foreign policy, unequivocally backing the Iran Deal and calling for limits on the Executive's power to continue pursuing an open-ended war on terrorism.
Kaine and Clinton will appear together at a joint rally on Saturday.