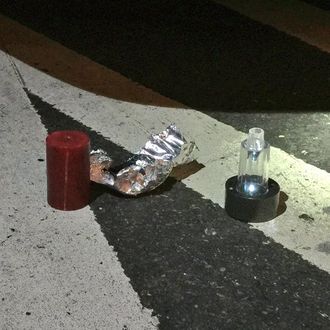 Photo: J. Peter Donald/NYPD News
An overnight police standoff ended Thursday morning after police took into custody a suspect who threw a fake bomb inside the open window of an NYPD squad van Wednesday night. Columbus Circle shut down as police surrounded the man, who was driving a gold SUV and wearing a plastic red helmet, and spent hours trying to coax him from the vehicle.
Cops tracked down the suspect's vehicle in Columbus Circle and closed in sometime around 2 a.m. Thursday. The man, who was also wearing some sort of vest, put on the red helmet and barricaded himself in his SUV. Armored vehicles and officers in tactical gear swarmed the scene. Police brought in hostage negotiators to convince the man to give himself up. The Daily News reports that the man, who was later identified as 52-year-old Queens cab driver Hector Meneses, had a bomb strapped to him and "wanted to die."
The standoff ended shortly before 8 a.m., after police used pepper spray and pulled Meneses from the vehicle. The suspect was handcuffed and taken away on a stretcher and will undergo a psychiatric evaluation. Columbus Circle, which was completely closed off, has reopened, and subway service has also resumed, though there are residual delays on lines that pass through the station.
No cops were hurt in the standoff, and authorities reportedly raided Meneses's house in Elmhurst, looking for explosives or arms. Right now it doesn't appear that the suspect was armed with a weapon or rigged with explosives. The bizarre incident also comes as the NYPD has stepped up security following the terror attack in Nice, and the force has been on high alert and patrolling in pairs following the killings of officers in Baton Rouge and Dallas.