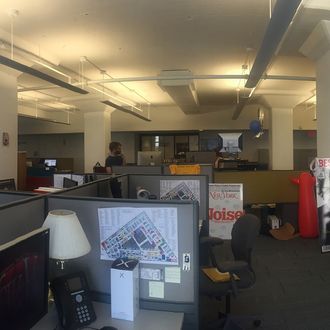 Picture this: You're on vacation, sitting on a sandy beach somewhere, and you think to yourself, I should really let all my internet friends see where I'm at right now (or, depending on how at peace you are, I should really make all my friends jealous). You could share a perfectly square picture on Instagram, sure, or Boomerang a cutesy video — and there's always Snapchat. But if you really want to show off this beach for more than a few, fleeting seconds — and if you really want to show off the whole beach — Facebook's got the best possible option: the 360-degree photograph.
Facebook's 360-degree photographs, which you may have seen pop up on your feed over the weekend, allow you to see up to a 360-degree view. But rather than squint at a panoramic photo squeezed onto your tiny phone, Facebook's app makes use of the phone's motion sensors, moving through the photo as you move your phone. If you tilt your phone left, you can see the left of the photo; tilt it right, you swing the view around. (On the desktop, the 360-degree photo is easy to look at just by dragging through it.)
Lucky for you, 360-degree photos are actually fairly easy to post on Facebook. You don't need any special software or photo-editing skills: just a smartphone camera with a built-in panorama mode. (Android and iPhone users, this is very easy for you.) Facebook supports a decently big list of devices, including every iPhone since the 4S. (You can find a complete list here.)
Step 1: Take a panoramic picture as you usually would, slowly and steadily filming your subject so everything lines up and you don't end up with six-headed humans in your shot. (Unless that's the effect you're going for.)
Step 2: Caption and upload to Facebook like you would any regular image. That's it. Your friends on new-enough phones will be able to see and engage with the image in 360 degrees, and everyone should be able to see the photo in 360 degrees on desktop.
A word of warning, Facebook requires an image be at least 100 degrees wide in order for this feature to work, but there doesn't seem to be any way to find out if an image is big enough before you upload it. You'll have to go with trial and error for now, so you might want to take a few different panos to make sure you've got one that will work.
If you want to take your photography to the next level, or at least the next price bracket, you can also purchase cameras specifically engineered for shooting in 360. The Ricoh Theta S will run you about $350 and meets Facebook's requirements. Which seems like a bit of a high price tag just to show your friends a few more degrees of your vacation. But hey, whatever works.