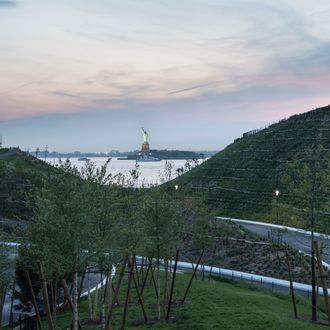 Governors Island's Outlook Hill.
Photo: Timothy Schenck
On a gilded summer morning I find myself scrambling up a hillside, surrounded by the flat water of New York Harbor. A rockfall of granite blocks salvaged from an old seawall brings me to Governors Island's highest peak: Outlook Hill, 70 feet above sea level. That may not seem like much in a vertical city, but out here on the water the altitude feels practically alpine, and from here I can scan the city from Red Hook to the World Trade Center, Ellis Island, and the harbor's mouth, all by twirling in place.
Thirteen years after the federal government sold off Governors Island for a buck, its park is finally gorgeous and complete, which means that the rest of it is just getting going. The first phase opened in 2014, after years of slow-cooked design and valuable delays that allowed visitors to shape the park. Leslie Koch, president of the Trust for Governors Island, and the Dutch design firm West 8 effectively crowdsourced landscape architecture. They opened the unimproved island to the public, watched how its users behaved, then followed their patterns. The process yielded a park notable for its optimism and lack of fussiness. Young trees promise future shade; avenues follow curves that both accommodate and slow down bikes without the need for admonitions. Low, rounded curbs are carved with amoeboid squiggles that could be fossils. On the plaza near the 19th-century neoclassical Liggett Hall, shrubs are planted in cursive whorls, as if they someone had been writing notes to passing planes.
West 8's last and grandest stroke is the Hills, a range of artificial mounds on the island's southwestern corner that opens to the public July 19. On one, a velvety expanse of grass invites children (and boisterous adults) to roll down. Another features the city's longest slide, a snaking, riverine chute that calls out even to a middle-aged writer. On Discovery Hill, a set of switchbacks covered in wood chips leads to a Rachel Whiteread sculpture: "Cabin," a white concrete ghost of a New England shack, looks out over the Statue of Liberty and the tip of Manhattan. Then there's Governors Island's brand new six-story Everest, forested with a grove of saplings.
The sense of spaciousness makes these $71 million piles of dirt — actually construction rubble, earth, metal mesh, and topsoil, plus nearly 43,000 trees and shrubs — feel like a good use of money. (The city paid for roughly half, and private donors covered the rest.) The hills will evolve, as greenery grows and roots bind. Governors Island is a tough place for a plant, what with the sea-salted air and the rampaging kids, not to mention the occasional hurricane. The former military base is more fragile than it looks.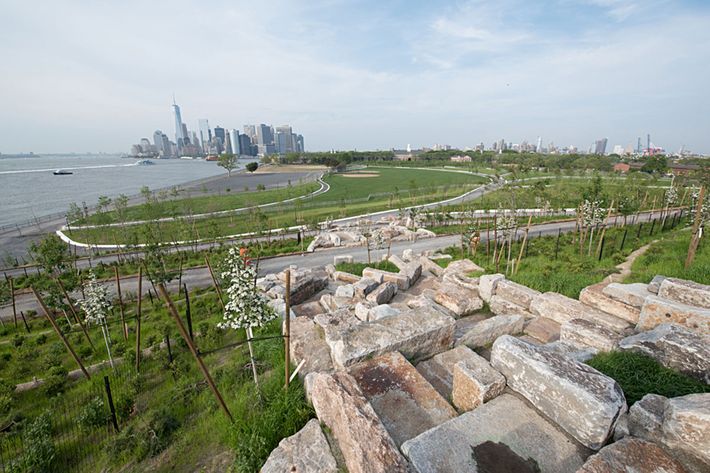 It's not too late to ruin this gorgeous place. On its way from the historic district to the Hills, the park squeezes between two gray zones on the map, 33 acres of rubble-strewn blanks, waiting to be developed. From a real estate point of view, the park is merely expensive bait, a $96 million upfront investment to lure commercial or institutional tenants. Progress has been slow. To a developer envisioning a hotel, university, or conference center, the hourly seven-minute ferry ride can feel like a Trumpian wall. So far, the only business that has committed to the island is a European day spa, which will renovate three former military buildings into a sprawling destination with a pair of outdoor pools and therapeutic views. Wish the spa well, since the rent it pays will also cover year-round ferry service operating every 20 minutes until 10 p.m.
But it still won't be easy finding gainful employment for those fallow acres and the rest of the historic buildings, which still sit vacant and unheated most of the year. In February, Mayor de Blasio announced a plan to create an "innovation cluster," where academic institutions and businesses could intermingle in a campus setting. At Roosevelt Island, that model is yielding a tech hub; at Governors Island the future looks more vague. The Trust for Governors Island, essentially a private subsidiary of City Hall, has argued that new zoning should wait for a concrete plan. But Koch is stepping down at the end of the month, her successor hasn't been announced, and questions about who gets to put up how many buildings, and how tall and bulky they'll be, and how much money they'll need to bring in all remain open for negotiation.
I can imagine both the worst- and best-case options for those two patches of earth. A massive hotel block could loom over the Hills, turning them into so many fancy pitcher's mounds by comparison. But a sensitively sized campus, green, contoured and low to the ground, could cap Governors Island's glory. I hope that those who have the power to hand out the remaining land will find their consciences on a tour of buildings by living architects that link land and sky, structure and landscape, nature and technology, innovation and reverence. I'd start with Alvaro Siza's 1956 Boa Nova Tea House outside of Porto, Portugal; Tod Williams and Billie Tsien's Neurosciences Institute, in La Jolla, California; Weiss/Manfredi's visitor center at the Brooklyn Botanic Garden; Renzo Piano's California Academy of Sciences, in San Francisco; and Hiroshi Nakamura's ravishing Sayama Lakeside Cemetery. In the meantime, I offer a small invocation: Please don't make it big or bad.