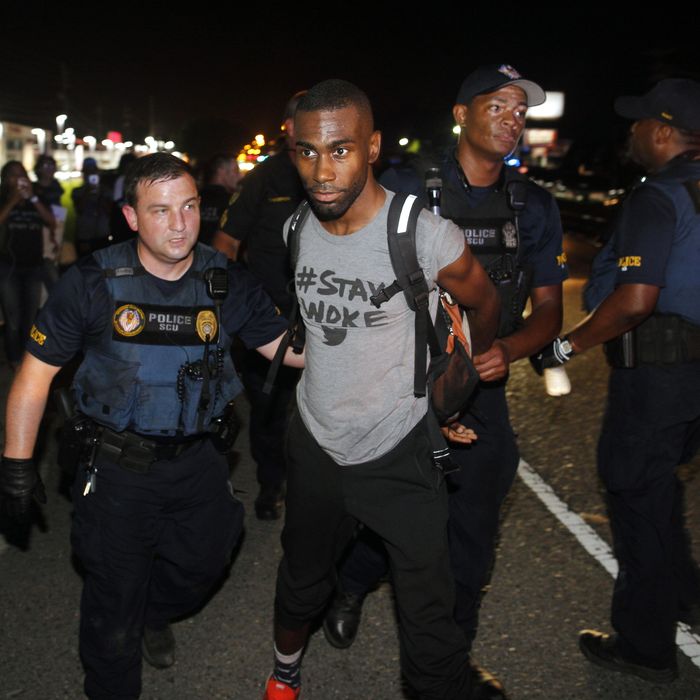 Deray McKesson being arrested on Saturday night.
Photo: Max Becherer/AP
Black Lives Matter leader DeRay McKesson was among the more than 200 people arrested during anti-police-brutality protests throughout the country this weekend. Like most of the protesters arrested in Baton Rouge, McKesson was charged with obstructing a highway when he was taken into custody on Saturday night. He had traveled to the city from Baltimore to demonstrate against the deaths of two black men at the hands of police over the last week, including Baton Rouge resident Alton Sterling. McKesson livestreamed much of Saturday night's protest, including the beginning of his own arrest, which a police report says was because he ignored orders to stay out of a road.
McKesson was released on Sunday afternoon after spending 16 hours in a  jail cell. In an interview following his release, he told the New York Times that Baton Rouge police did not have room to house the dozens of people arrested. While in custody, they took turns sitting on packed benches or sleeping on the floor, and overnight they were told to change into prison jumpsuits and given breakfast.
McKesson, who was released on his own recognizance, said he believes that the mass arrests were unlawful, and he intends to keep protesting. "The police want protesters to be too afraid to protest, which is why they intentionally created a context of conflict, and I'll never be afraid to tell the truth,"
he said. "What we saw in Baton Rouge was a police department that chose to provoke protesters to create, like, a context of conflict they could exploit."
As the Washington Post explains, for the first two nights following Alton Sterling's death, demonstrations in Baton Rouge were peaceful. But when protesters showed up at police headquarters on Friday night, the day after five officers were killed in Dallas, they were met by riot police. There were 31 arrests that night, then 102 on Saturday, and tensions remained high on Sunday night, with 48 arrests reported so far.
Protesters claim Baton Rouge police were giving unclear instructions, and purposely provoking them. The Daily Beast reports that 90 minutes into a peaceful protest on Sunday evening, police pushed protesters off of private property and into the street, then arrested them for blocking the road.
Amnesty International sent an open letter to the Baton Rouge police department on Sunday. "We would remind you that police authorities are required to act in accordance with international human rights standards and the U.S. Constitution," the letter read. "Specifically, law enforcement must ensure that any decision to disperse an assembly is taken only as a last resort and carefully in line with the principles of necessity and proportionality."
Louisiana officials said they support the right to protest, but some demonstrations have turned violent. The Advocate reports that officers confiscated eight firearms from protesters demonstrating in front of police headquarters on Saturday. That may be connected to the presence of New Black Panther Party members, who had arrived in the city to join the protests. In addition, one police officer had several teeth knocked out when he was hit by a projectile allegedly thrown by a protester, one of two reported injuries suffered by police officers over the course of the night. Baton Rouge police warned in a press release that the protests appear to be becoming "more violent as out-of-town protesters are arriving."
And as a scary reminder of why so many cops are on edge right now, on Saturday night in San Antonio, Texas, an unknown person fired multiple rounds at the police headquarters, though no one was injured. That shooting was not related to any protest, and police are still searching for a suspect.
"We don't question people's right to peacefully assemble or protest, and we're gonna protect that right," said East Baton Rouge sheriff Sid J. Gautreaux III. "But in the same token, we made it clear that we aren't gonna tolerate any lawlessness. We're not gonna tolerate any violence or destruction."
In the city of St. Paul, Minnesota, both city authorities and a local Black Lives Matter organizer are decrying the violence that occurred during a protest there on Saturday night. Cafeteria supervisor Philando Castile was shot and killed by a police officer in the St. Paul suburb of Falcon Heights last week, and protests over his death have followed in the Twin Cities area every night since. Reuters reports that Saturday night's protest blocked and closed Interstate 94 for hours, and 21 officers and six state troopers were ultimately injured after protesters threw rocks, bottles, bricks, and fireworks at police.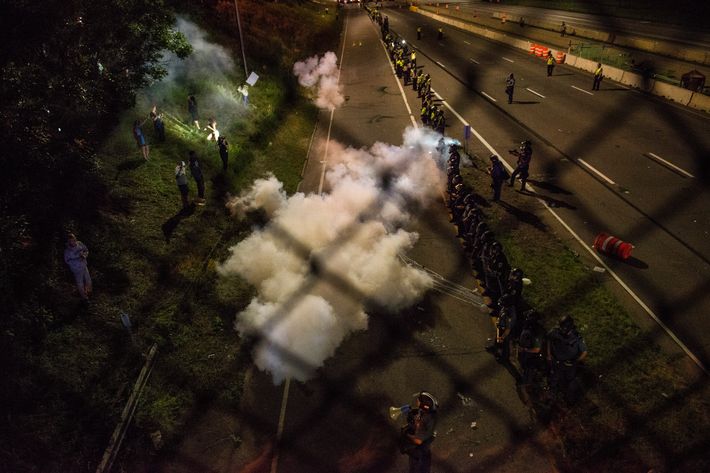 Black Lives Matter organizer Rashad Turner told a local news station that he believed the people throwing projectiles were not a part of the official demonstration, but outside agitators from nearby neighborhoods. Said Turner of the violence, "It's ridiculous. It cannot happen. It's not what we do here in St. Paul. It does not honor Philando Castile."
Police in riot gear eventually used smoke bombs and pepper spray to disperse the demonstration on the highway, and arrested about 50 of the protesters involved there, and another 52 later on near the governor's mansion. Fifty of those arrested now face third-degree riot charges. St. Paul police chief Todd Axtell called the violence against police officers "a disgrace," adding that protesters had "turned into criminals. I am absolutely disgusted, [and] I am not going to tolerate it … I just can't believe this occurred. This is just something that doesn't happen in St. Paul."
Roads and highways were blocked by other protests in Atlanta, Memphis, Miami, Nashville, San Francisco, and New York over the weekend as well. In New York, 20 protesters were arrested throughout the city on Saturday. At one point they shut down FDR Drive, and the NYPD said they were creating a dangerous situation. "People here are fighting for justice for all in a country that promises it," said one protester.