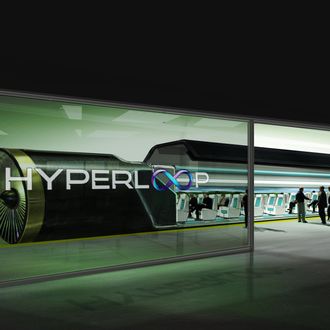 Earlier this summer, SpaceX engineer turned Hyperloop One co-founder and chief technology officer Brogan BamBrogan left the company with seemingly very little warning. Now, BamBrogan (along with several other Hyperloop One employees) is suing his former company and colleagues in a move Hyperloop One is calling "unfortunate and delusional."
Documents first published by CNBC show that BamBrogan (whose name used to be Kevin Brogan, before he married a woman named Bambi and legally changed his name, yes, really, and, honestly, we haven't even gotten started here) has filed a formal lawsuit, naming fellow co-founder Shervin Pishevar, Palantir's Joe Lonsdale, and Hyperloop CEO Robert Lloyd as defendants. The suit claims BamBrogan's former colleagues have mismanaged funds and responsibilities "to augment their personal brands, enhance their romantic lives, and line their pockets (and those of family members)." Specific complaints include Pishevar dating the company's PR rep and significantly raising her salary and Lonsdale hiring his brother's firm as the company's investment bank. (Alleged nepotism! Fun!) Hyperloop One, for its part, says "the claims are pure nonsense and will be met with a swift and potent legal response," according to a statement provided to Select All from Orin Snyder, a partner at law firm Gibson Dunn.

The suit also details a charming anecdote about a particuarly tense business dinner with Hyperloop One investors in Russia which BamBrogan did not attend, citing "critical issues facing the company." Following the dinner, Afshin Pishevar (former Hyperloop One chief legal officer and brother of Shervin Pishevar) allegedly placed a noose on BamBrogan's chair back at the Hyperloop One offices. (The incident was caught on security cameras.) Which might just explain the restraining order which BuzzFeed News reports BamBrogran filed against him before heading out the door.
Prior to leaving the company and filing the suit, BamBrogan and the other plaintiffs (which include the company's former assistant general counsel and former finance vice-president) had reportedly sent, earlier in May, a letter to the company voicing their concerns. The letter was dismissed by Shervin, Lonsdale, and Lloyd, who are now probably wishing they'd given it a second thought before everyone in town got their hands on a picture of BamBrogan brandishing a noose at the office. Hope that PR rep is good at her job!
A representative for Hyperloop One called the lawsuit against the company "frivolous" and provided the following statement to Select All.
Today's lawsuit brought by former employees of Hyperloop One is unfortunate and delusional. These employees tried to stage a coup and failed. They knew that the company was aware of their actions, and today's lawsuit is their preemptive strike. The claims are pure nonsense and will be met with a swift and potent legal

response.

Frivolous lawsuits like this one have become all too common against start-ups that achieve breakthrough success. The lawsuit filed today by these disgruntled ex-employees is almost a cliche. It is also a measure of Hyperloop's success. The company continues to recruit top talent, secure significant funding from global investors and accelerate toward its technology milestones. Hyperloop is on track, its board and team are united and today's bogus lawsuit will have no impact on its goal of becoming the first company to bring the Hyperloop to the world.