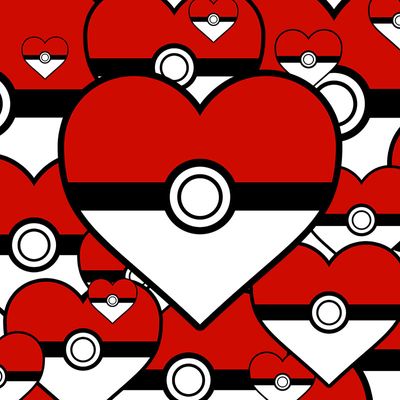 It's only been a week since Pokémon Go was unleashed into the world, but the app has quickly taken on an evolved form beyond what anybody could have possibly expected. The game has surpassed Twitter and Tinder in users, drawn crowds of thousands, sent people exploring the furthest reaches of the Earth, inspired a crime ring, and even turned up a dead body. Now, people are using the game to find love, or, um, something like love, via Craigslist's "Missed Connections" section.
"You asked me about Pokémon Go at the cafe today. I like Pikachu ears. I had to eat and run, but want to say hi," writes one man in California looking for a fellow Pokémon Go–playing lady. After all, what better way could there be to find a potential soul mate than in the augmented-reality space that is the internet. How very Pokémon Go.
"If you are cool enough to catch a Jinx, you are cool enough for me," writes another player in North Carolina. And they say romance is dead.


"I thought you were really cute and wanted to hook up but didn't want my friend to interfere or think it was weird to try and pick you up over Pokémon Go." Because wandering the streets, phone in hand, trying to track down invisible monsters isn't weird. But asking somebody out for coffee might be. Right.

Male owners of polarized Ray-Ban sunglasses in the San Francisco Bay area, take note here. You may remember him as the man close enough to you in the park to tell that your sunglasses had polarized lenses, if that helps jog any memories.

There's the potential for a Pokémon threesome with this one, if you're into that sort of thing.

"You told me where the magmar was and I told you which way to find the sandslash….sorry I gave bad direction…I hope you did find it. Also..I thought you were very cute. I'd like to get too know you better if you even see this lol," writes a man in Arizona. LOL.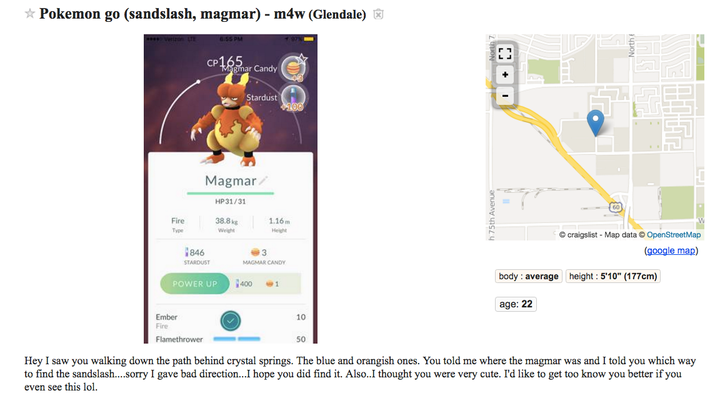 And finally, this woman, also in Arizona, is looking for the man who ran off after she helped teach him how to play the game. Sir, if you are out there, do not be intimidated by a powerful, Pokémon-playing woman.

If you or anyone you know posts an ad on Craigslist and actually succeeds in finding the Pikachu to their Ash Ketchum or the Jessie to their James Rocket (oh wait, I think they were siblings, never mind), please let me know. Otherwise, I'll assume everyone is still just wandering hill and dale looking for sex, love, and a Charizard.