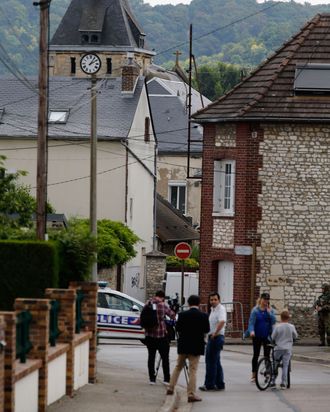 The church of Saint-Etienne-du-Rouvray, blocked by police following an ISIS-linked attack.
Photo: Matthieu Alexandre/AFP/Getty Images
Two attackers brandishing knives stormed a church in Normandy during a Catholic Mass, killing an elderly priest and gravely wounding another person. French prime minister François Hollande said the assailants had ties to ISIS; this strike comes less than two weeks after the massacre in Nice.
The attack on the Catholic Church in the Normandy town of Étienne-du-Rouvray began as a hostage situation. The assailants rushed the chapel as Mass was in session or just about to wrap up. They captured a priest, two nuns, and two church attendees. Police, along with a special kidnapping unit, swarmed the church shortly before 11 a.m.; at some point, the attackers emerged and were fatally shot by police. But before they were taken out, the men slit the throat of the priest,Reverend Jacques Hamel, who was in his 80s. A nun, Sister Danielle, who witnessed Hamel's murder told a French television station that the knife-wielding men "forced him [Hamel] to his knees. He wanted to defend himself. And that's when the tragedy happened."
She added: "They recorded themselves. They did a sort of sermon around the altar, in Arabic. It's a horror."
A churchgoer, who hasn't been named, was critically wounded. One hostage received minor injuries; the others were unharmed. Police cased the church, searching for explosives.
ISIS also said its "soldiers" were behind the church siege, though the murderers have not publicly identified yet. A French official did say at least one of the assailants was a local man who attempted to cross into Syria but was caught at the Turkish border. He was ordered to wear an ankle-monitoring bracelet in March 2016, reports The Guardian. French anti-terrorism police are investigating the latest attack in a string of recent incidents across Europe. The carnage in Nice, where 84 people were killed when Mohamed Lahouaiej-Bouhlel plowed through a crowd on Bastille Day, stands out as France's third major terror attack since January 2015, when gunmen stormed the Charlie Hebdo offices and the Paris rampage in November. At least two smaller-scale attacks linked to ISIS in Germany this past week — a train attack and a suicide bombing at a music festival — have put the continent on edge.
This post has been updated throughout.